Opinion: Dion Boucicault's After Dark shows how innovative, socially engaged and challenging 19th-century popular theatre was in its time and still can be in our own
Dion Boucicault's plays are rarely performed today, though the Irish-born playwright still invites sporadic revivals in Ireland and elsewhere. For example, over the past two decades the Abbey Theatre staged The Colleen Bawn (1999), The Shaughraun (2004) and Arrah-na-Pogue (2010). Phil Willmott's excellent production of Boucicault's 1868 sensation drama After Dark; or, A Drama of London Life has just finished a run at the Finborough Theatre in London.
Set in 1860s London, Boucicault's grimy streets in After Dark are peopled with homeless veterans of the Crimean War, dissolute aristocrats, and the gambling-house keepers, ruthless swindlers and prostitutes who seek to make money from them.
We need your consent to load this rte-player contentWe use rte-player to manage extra content that can set cookies on your device and collect data about your activity. Please review their details and accept them to load the content.Manage Preferences
From RTÉ Radio 1's Arena, Evelyn O'Rourke reports on rehearsals for Druid Theatre's 2013 production of Boucicault's The Colleen Bawn
The chief target for illicit money-making schemes in the play is the dishonourable George Medhurst, who we meet in distressed circumstances after he has forged his father's name. However, the gambling-house keeper, Dicey Morris, and the ex-bush ranger and all-round scoundrel, Chandos Bellingham, find out that Medhurst is set to inherit a fortune if he consents to marry his cousin, Rose Egerton. Thus they conspire to dispose of Medhurst's current wife, Eliza, and then blackmail him with their knowledge of his forgery for half of his fortune.
Dicey and Bellingham's scheme at first appears successful. Poor Eliza is alone and vulnerable, and, when she discovers that Medhurst is willing to desert her, she attempts to commit suicide by leaping off of Blackfriars Bridge. Luckily, she is saved by Old Tom: a destitute army veteran, who turned to drink after his wife eloped with Bellingham. He is also – you guessed it – Eliza's lost father.
Meanwhile, Captain Gordon Chumley is working to help Medhurst and to foil Bellingham and Dicey's plan, even though he is forced to put aside his and Rose's mutual love in doing so. Chumley confronts Bellingham, and, in the play's climactic sensation scene, Bellingham attempts to silence Chumley by tying him to the tracks of London's newly built underground Metropolitan railway. But, saved in the nick of time by Old Tom, the play ends with the appropriate couples united, and Dicey and Bellingham being handed over to the police.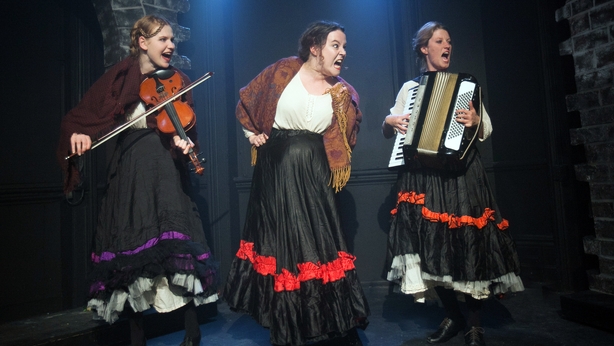 The original production of After Dark at the Princess's Theatre in London on August 12th 1868 was lavish. One of the appeals of sensation dramas, popular from around 1860 to 1880, was eye-popping special effects. Just as we might enjoy spectacular car chases or explosions in action movies today, Victorian playgoers were also thrill-seekers, and Boucicault's speeding train offered to gratify this taste for extreme and exciting situations.
In an age of austerity, Boucicault's association with this expensive genre of spectacular theatre is one reason why his plays are no longer frequently staged. Indeed, when I went to see Willmott's production, played in the cramped Finborough Theatre upstairs from a pub, my first question was: how on earth will they manage the train?
But though the visual spectacle is important to how sensation plays were conceived, emphasis on visual effects can detract our attention from how innovative, socially engaged and challenging 19th-century popular theatre was in its own time - and still can be now. In spite of the gorgeous costumes and occasionally high-flown dialogue, what really struck me about After Dark was how modern Boucicault feels.
After Dark presents a decidedly modern vision of a world that capitalism has emptied of meaning
The tired story that great playwrights took a very long nap from the turn of the 19th century until the fin de siècle was challenged decades ago by the noted theatre historian Michael Booth, and many others since. Nevertheless, the myth that 19th-century popular theatre is identifiable for its dull reliance on stock characters, over-the-top sentimentality and predictable plots is alarmingly enduring both in the academy and in our wider culture. What this view fails to notice is that generic tropes of plot, characterisation or performance style were not used naively or uncritically.
Willmott's production engages with our expectations of Victorian theatre and his production of After Dark is unapologetically silly. But while this sense of fun is appropriate to sensation drama, it also serves to redirect our disbelief of the play's sentimental elements to draw our attention to Boucicault's more pointed social or political critiques.
After Dark dramatises a vision of London ruled by capital accumulation or loss, where people are there to be exploited. Dicey is a pimp as well as a gambling-house keeper. The representation of Tom's destitution refers to a longstanding issue: the limited support offered to ex-servicemen and their families following active service, which was drawn into focus by the widely-reported mismanagement of the Crimean War. Even the sentimental dialogues between the romantic couples are cynically undermined by the priority afforded to capital gain.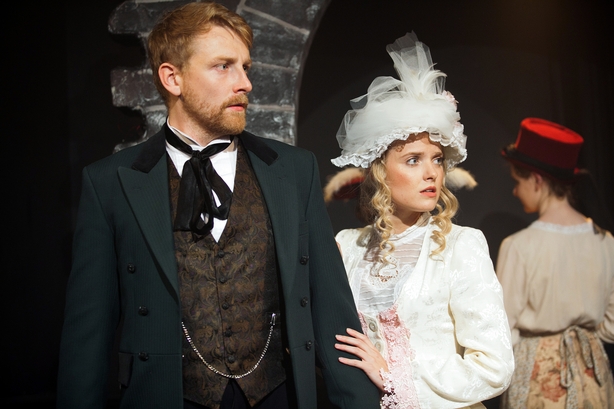 Of course, Boucicault also profited from the contexts of global capitalism that his drama explores. After Dark is an adaptation of Eugène Grangé and Adolphe d'Ennery's 1854 play "Les Oiseaux de Proie" and its famous sensation scene – the speeding train now considered such a cliché – was appropriated from the American playwright Augustin Daly's 1867 drama Under The Gaslight.
It is difficult to see Boucicault as socially radical, given that he sued others for infringing his copyright with one hand, while pinching ideas or situations with the other. But even if After Dark does not offer solutions to the social problems he observes, his humorously sardonic drama certainly presents a decidedly modern vision of a world that capitalism has emptied of meaning.
---
The views expressed here are those of the author and do not represent or reflect the views of RTÉ
---