Opinion: fashion may be the second most polluting industry in the world, but alternative modes of practice are possible
There is mounting attention focused on climate crisis right now. Citizens are putting pressure on governments to take action. In Ireland we have seen a surge in support for the Green Party in local and European Parliament elections. The Extinction Rebellion movement mobilised this year, staging significant protests countrywide. And we have seen schoolchildren rally in great numbers behind Swedish teenager Greta Thunberg's Fridays for Future climate strikes.
It appears the Irish government are listening and declared a climate emergency in April. More recently, they launched their climate action plan to hit carbon emission targets by 2030 and subsequently achieve carbon neutrality by 2050.
So what's all this got to do with the clothes on my back? Actually, a lot. It is argued the fashion industry is the second most polluting industry in the world after oil. The textiles industry consumes huge volumes of water, energy and chemicals to fuel the voracious appetite of the current fast fashion business model. To put it in context, it takes 10,000 litres of water to produce one pair of jeans. That is the equivalent of one person's drinking water for ten years. And the knock on effect of this rapid and vast production process is increasing water, air and solid waste pollution.
We need your consent to load this rte-player contentWe use rte-player to manage extra content that can set cookies on your device and collect data about your activity. Please review their details and accept them to load the content.Manage Preferences
From RTÉ Drivetime, Geraldine Carton and Taz Kelleher from Sustainable Fashion Dublin, and Damien O'Reilly from Technological University Dublin discuss sustainable fashion
But how did we get here? Fast fashion today is a well-established business model, yet it was not always the case. Prior to the Industrial Revolution, clothing was typically produced at a small scale in homes and distributed within the nearby community. People produced only what they needed, with local resources. This method of production is referred to as the "cottage industry". Clothing production was, naturally, sustainable.
The invention of the sewing machine in the mid-1800s marks a significant shift in dressmaking. People could produce more garments faster. Over time, economies of scale rendered it more cost-effective to buy ready-made clothing than to make it at home.
And to showcase these wares? Department stores were emerging across Europe and the US from the early 1900s onwards. These spectacular arenas became the ideal space to exhibit the latest fashions. The television series Mr Selfridge nicely captures the newness and excitement that American entrepreneur, Harry Gordon Selfridge brought to London in 1908 with his revolutionary marketing strategies at Selfridges & Co. Retailers recognised the opportunity to market new, ready-to-wear fashion to the modern consumer.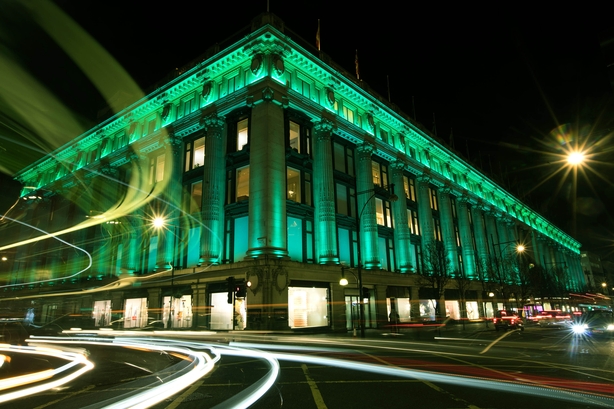 This appetite for newness intensified throughout the 20th century. Fashion brands responded by developing faster, more geographically stretched supply chains. Consumers have come to expect vast ranges of fashionable options. Further accelerating the fast fashion business model is the rise of e-commerce fashion sites like Boohoo, Missguided and PrettyLittleThing. We are hurtling into a "see-now-buy-now" retail model.
Yet how can it be possible that these excessive and impulsive consumption patterns are encouraged when our planet is in a state of climate emergency? On the one hand, it might sit more easily with our conscience to point an accusatory finger at large retail operators harming our planet.
However, it is potentially more empowering for consumers to take ownership of these facts and statistics, and ask ourselves what we can do? How can the decisions we make as consumers bring about wider changes in production processes, sustainable global supply chains and working conditions for garment workers?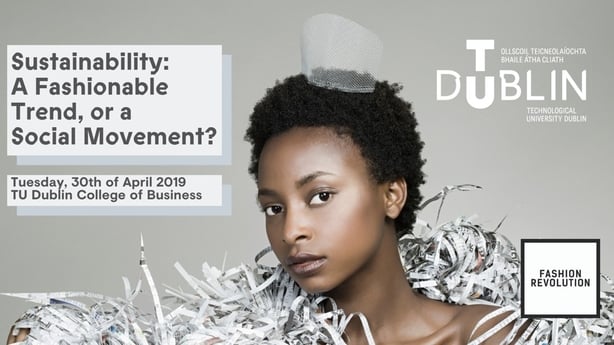 For the past year, fashion and retail students at Technological University Dublin have been tackling these difficult questions. Taking inspiration from the global Fashion Revolution movement, our students have been active in raising awareness of the industry's most critical issues. Fashion Revolution Week runs in April each year since the Rana Plaza garment factory collapse in Bangladesh which killed 1,138 people in 2013. In support of the Fashion Revolution movement, TU Dublin students coordinated interactive awareness campaigns and created online video content to inform fellow students of the challenges and inequities knitted into their fashion choices.
To solidify student learning, a number of events and study trips were arranged. These included a study trip to The Rediscovery Centre in Ballymun hosted by Carrie-Ann Moran; an international study trip to Fashion for Good, the world's first sustainable fashion museum in Amsterdam; an on-campus panel discussion with industry experts from the Irish fashion and retail sector to include Dr Dorothy Maxwell, Sustainability Director at Brown Thomas and Arnotts and Ali Sheridan, Country Sustainability Leader at IKEA and a clothes swap shop organised by Geraldine Carton of Sustainable Fashion Dublin.
By placing ourselves at the centre and asking 'what can we do?', we can begin creative and alternative thinking
Through the subject matter of fashion, focusing on sustainability and ethical business practices, students honed multiple skills including reflective thinking, critical thinking, teamwork, and the consideration of real-world business challenges. These projects have also inspired our students to think entrepreneurially about alternative modes of fashion retail practices. Our students can certainly take encouragement from the growing number of inspiring Irish innovators trailblazing the way in ethically-produced fashion including Jump the Hedges, The Upcycle Movement and GROWN. 
We need your consent to load this rte-player contentWe use rte-player to manage extra content that can set cookies on your device and collect data about your activity. Please review their details and accept them to load the content.Manage Preferences
A RTÉ Brainstorm video on the high cost of fast fashion
The larger questions about complex fashion supply chains can distance individuals from the problem. Yet by placing ourselves at the centre and asking "what can we do?", we can begin creative and alternative thinking. And surely universities are the ideal space wherein to foster meaningful knowledge production? As cultural anthropologist Margaret Mead advised "never doubt that a small group of thoughtful, committed citizens can change the world; indeed, it's the only thing that ever has".
RTÉ Brainstorm is one of hundreds of worldwide news outlets taking part in Covering Climate Now, a project headed by the Columbia Journalism Review, The Nation and The Guardian to strengthen the media's focus on the climate crisis in the lead-up to the United Nations Climate Action Summit in New York on September 23rd.
---
The views expressed here are those of the author and do not represent or reflect the views of RTÉ
---