Opinion: we can't blame all men for the actions of a few so it's dangerous and unhelpful to label the arrogant behaviour of some sportspeople as toxic masculinity
If women write with a level of compassion toward men, they can be labelled a sympathiser and even a traitor to the women's movement. On the other hand, if they criticize men too harshly, they can be dismissed as another angry feminist looking to emasculate mankind. And herein lies the problematic nature of the continuing "them against us" narrative percolating within and sustaining the gender war. It is futile and harmful to society as a whole.
In the wake of the recently concluded rape trial in Belfast, the Irish nation took to social media to express their opinions of rape, abuse, consent and male entitlement. Unfortunately, many uninformed, ignorant and antagonistic statements are out there in the digital ether. Fortunately, other more nuanced discussions and debate exist arguing the position of the male or female protagonist in the alleged rape scenario.
This is a complex issue, a contentious issue. The violation of another human, be it physically upon their body, or verbally upon their character, is wrong.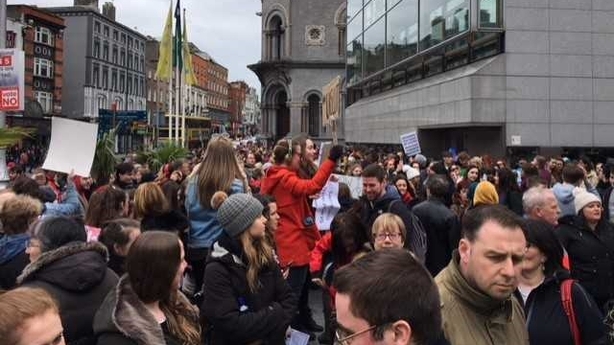 Yet it is the behaviour of the men in this case which sets the scene for a related but separate discussion: what it means to be a man in today's society? How do young Irish men learn to be men? And what does "being a man" even mean?
Society has become more individualistic, fluid, transient. We are told we can be whoever or whatever we want to be. And yes, this can be interpreted as progressive, giving each person the freedom to be masters of their own destiny. However, it can also be an incredibly difficult, conflicted and confusing existence without a blueprint to guide one's decisions. How do I become a master when I have not experienced the student learning curve? Where is a moral code to follow? Without some code of ethics, surely it's the blind leading the blind into oblivion?
As traditional pillars of society corrode and lose their relevance in today's society, individuals seek alternative sources to make sense of everyday life. Take men's position within the Irish family unit. Once, men were the breadwinners of the house while women took care of the household. Now, almost 60 percent of women in Ireland are employed outside of the home. Another significant societal shift is in the family structure. Traditionally the Irish family unit consisted of a heterosexual, married couple with children. Now, one in five people in Ireland live in a one-parent family according to Census 2016 and 84 percent of these lone parent families are mothers. While these fathers are not necessarily absent from their children's lives, it can be inferred they are not involved in the daily parenting role.
Popular culture is highly influential to young men's interpretation of men and masculinity
The dissolution of men's traditional roles in family and society is referred to as "masculinity-in-crisis". While this phrase is often contested, it serves to highlight the ambiguous space men find themselves in. In this turbulent space, where are young men turning to interpret the world around them? One obvious source is popular culture. With Its pervasive reach into the daily facets of everyday lives, popular culture is highly influential to young men's interpretation of men and masculinity.
Another source of entertainment viewing readily available online is pornography. The ease with which one can access hard-core porn has served to normalise its viewing and indeed the content within. Scenes of a violent and graphic nature, typically objectifying women's body for men's pleasure, are readily available to very young men who lack the ability to critically decipher the content and its disconnect with reality.
The sporting world has produced many positive role models for young people. In my lectures, I often discus this issue, asking students their opinion on strong role models for young men. Time and again, Irish UFC fighter Conor McGregor is mentioned. And, in theory, this makes sense. McGregor excels at his sport and has reached international success in a phenomenal space of time, the classic "rags to riches" story. And I believe McGregor could be a great male role model, if he incorporated his sporting traits into his everyday life: discipline; respect; bravery; stoicism and self-control. 
We need your consent to load this rte-player contentWe use rte-player to manage extra content that can set cookies on your device and collect data about your activity. Please review their details and accept them to load the content.Manage Preferences
From RTÉ Radio One's News At One, sports marketing executive, Mick O'Keeffe on the damage to the Conor McGregor brand following his arrest in New York
However, McGregor does not always exhibit these traits outside the ring. Instead, he presents himself as a cocky young man previously accused of sexist, racist and homophobic rhetoric. His recent arrest in New York further distances him from the positive male role model young Irish men desperately need.
The arrogant behaviour of McGregor, along with Ulster rugby players Paddy Jackson and Stuart Olding, could all be labelled as men exhibiting "toxic masculinity". However, this would be dangerous and unhelpful for Irish men and society as a whole. When this term is broadly applied to men, it can demonise men and masculine attributes.
We cannot blame all men for the acts of a few. The egotistical and bestial behaviour of a few men, cannot represent the entire population of our men: brothers, sons, husbands, cousins, friends, fathers and grandfathers. 
Who teaches these men right from wrong in their everyday lives?
Instead we must accept that gender is a social construct, and understood as such, it is our culture that contributes to the making of our men. Young men learn how they should think, behave and evaluate themselves and others so where are their blueprints? Where are their guidebooks? Who are their inspirational guides? Who teaches these men right from wrong in their everyday lives? Have young men any moral code that could guide their decision-making? 
To blame this generation of young men for "toxic" behaviour is not entirely fair. As a nation, we too need to take responsibility. Our society structure has shifted. Young people, and in particular young men, are falling through the cracks. Blame is futile. We all need to work together to build a community of support and offer guidance for young men so they can learn to be strong, brave, respectful and disciplined men throughout every aspect of their lives.
---
The views expressed here are those of the author and do not represent or reflect the views of RTÉ
---