Opinion: a new exhibition of Irish fashion since the 1950s also offers remarkable insights and stories about Irish people and culture
The Little Museum of Dublin's latest exhibition Ireland's Fashion Radicals pays tribute to Irish fashion design pioneers. But more than this, it offers rich insights into Irish consumer society from the 1950s through to today. 
Anyone who dismisses fashion as a frivolous pastime does not understand fashion. Fashion reveals a multitude about individuals, subcultures, societies and communities. Tech giant Google have come to appreciate fashion as a cultural resource and only last year set about digitising the world's fashion archives, launching the We Wear Culture initiative in June 2017. Programme Manager Kate Lauterback explained the motive behind the project: "We wanted to show that fashion is much deeper than just what you wear; that there's a story behind it, there's people behind it, there's influences that come from art, that come from music, that come from culture more broadly". 
While Ireland's Fashion Radicals exhibition is a more modest archive of indigenous fashion talent, it too offers remarkable insights and stories about Irish people and culture. I was struck by the international profile of those commissioning Irish design. Clients include dignitaries such as one-time US First Lady and fashion icon Jacqueline Kennedy Onassis and British socialite Anne Parsons, Countess of Rosse (mother of Anthony Armstrong-Jones, 1st Earl of Snowdon and husband to Princess Margaret).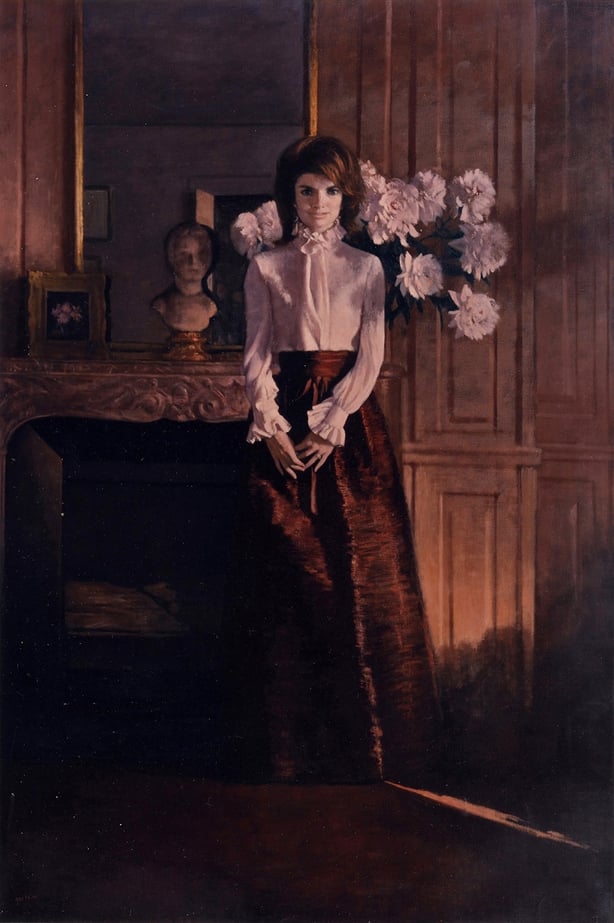 Still there is a significant lack of Irish public figures showcasing Irish design and initially wondered if we needed affirmation of our worth through international recognition. But this search for clientele across the pond was a pragmatic business decision for these Irish trailblazers. Fashion has historically held more relevance to the upper echelons of society. In 1899, economist and sociologist, Thorstein Veblen's essay The Theory of the Leisure Class articulated the desire of affluent classes to showcase their wealth through sartorial displays of conspicuous consumption. In the Ireland of the mid-1950s, the market for such idle rich patrons was certainly limited.
A stroll around the exhibition documents the trials and tribulations of a restored Irish state struggling to find its economic and political position and to forge a cultural identity. The business of fashion was indeed a lesser priority for the masses. But while Ireland was getting on with the business of modernising, business-savvy designers found commercial viability in a romanticised Ireland of yesteryear and were capitalising on "old Ireland" as an exportable commodity.
We need your consent to load this rte-player contentWe use rte-player to manage extra content that can set cookies on your device and collect data about your activity. Please review their details and accept them to load the content.Manage Preferences
From RTÉ Radio One's Today with Sean O'Rourke, the curator of Ireland's Fashion Radicals Robert O'Byrne talks to Richard Curran 
Take Sybil Connolly's billowing red quilted evening skirt displayed with white shirt and black Connemara-style shawl. This look was showcased in her 1959 collections, the same year Walt Disney released the fantastical Darby O'Gill and the Little People, a movie exporting the old country to an Irish-American audience, complete with roguish leprechauns, mythical banshees, shawl-clad cailíní and a tight community oriented around the pub. Like Walt Disney, Connolly recognised the appetite in the US for a rose-tinted version of traditional Ireland that was fading (if it ever existed at all) and cleverly translated this desire into her fashion design to win over the American fashion world.
The romantic Ireland business formula, combined with her stunning craftsmanship, secured Connolly a front page cover on Life magazine in August 1953. Model Ann Gunning wore a full-length red Kinsale cape teamed with a white crochet evening dress. At a glance, one could easily mistake Gunning for the infamous Katie Scarlett O'Hara, born of Irish-decent, in the movie classic, Gone With the Wind. The American market was captivated.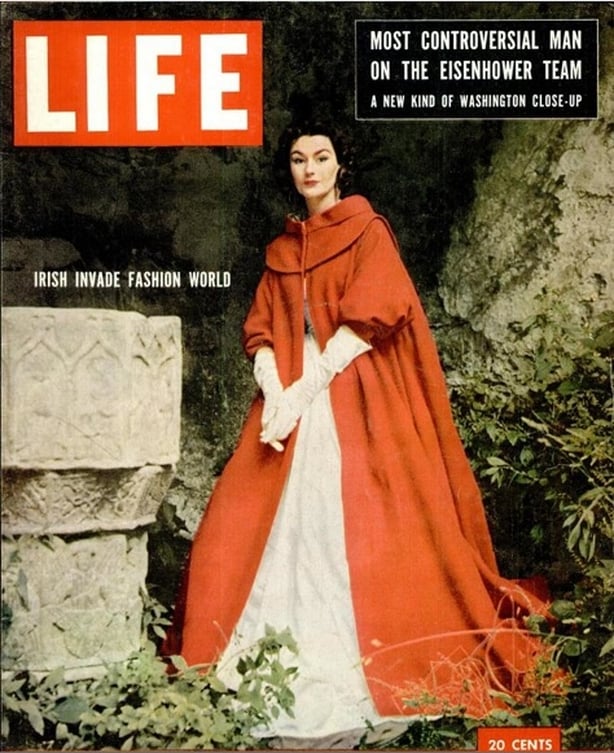 Sociologists Patrik Aspers and Frédéric Godart have defined fashion as "an unplanned process of recurrent change against a backdrop of order in the public realm". Fashion is ever-changing, and what is en vogue inevitably becomes passé over time. And alas, such was the trend for these Irish fashion radicals. Perfect craftsmanship and respect for indigenous fabrics fell out of fashion in favour of ready-to-wear, mass-produced fashions inspired by popular culture. As acclaimed Irish designer Neillí Mulcahy explains, "denim and jeans came in [in the 1970s] and killed off a lot of fashion". 
Ireland was pushing forward with economic progress and development, forging industry links and trade globally. In 1952 the Irish export board Córas Tráchtála Teoranta was established to facilitate this process. As Ireland opened up its borders to trade, it inadvertently exposed its people to the "immoral" ways of their neighbours in the UK and the US.
The BBC music television show, Top of the Pops, came to command a cultish following across Irish households. Young people were bedazzled with a variety of outrageous outfits and styles worn by flamboyant popstars who fast became fashion icons. Irish-based designers such as Michelina Stacpoole successfully translated popular fashions using Irish knits, but indigenous Irish fabrics were just not cool for many.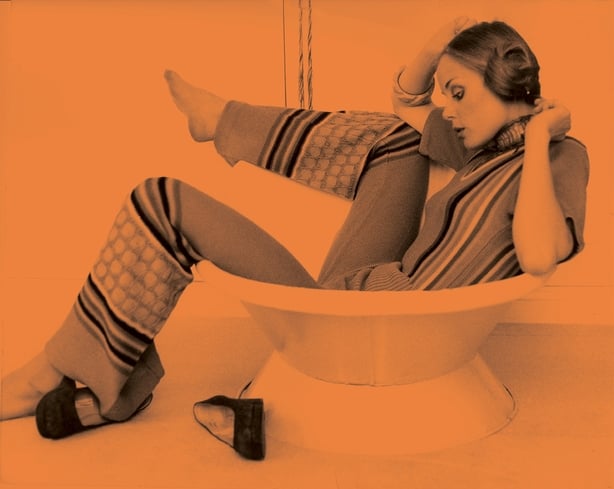 I recall when Jervis Shopping Centre opened in Dublin in 1996 and revolutionised fashion consumption for the city's teenagers of the 1990s. Prior to this, brands such as Topshop were more or less out of reach. We could ogle Topshop's fashions in Just Seventeen magazines or you may get lucky and know someone heading over the border to Newry's Buttercrane Shopping Centre. But other than that, it was slim pickings in the capital until Jervis Street revolutionised the high street.
Having access to new, fashionable styles and a variety of choice was, and still is, fantastic. The difference between high street fashion twenty years ago, and today? It wasn't frenetically fast. We were somewhat more conservative in our consumption patterns, and clothing was bought to be worn multiple times.
We need your consent to load this rte-player contentWe use rte-player to manage extra content that can set cookies on your device and collect data about your activity. Please review their details and accept them to load the content.Manage Preferences
An RTÉ News report by Anne Marie Smyth on the opening of the Jervis Shopping Centre and its 65 shops in 1996
The rise of disposable fashion has fuelled the fast fashion industry over the past two decades and young consumers don't expect their clothes to last. We often hear the dismissive refrain "sure it was only a tenner". This lack of expectation, and indeed appreciation, for clothing production has contaminated various aspects of the fashion industry.
But time is running out. Consumer trend reports point out how clothes shopping is falling out of fashion. A gradual shift toward a more astute, socially-conscious fashion consumer  is on the horizon. And an appreciation of indigenous craftsmanship may well be, the next fashion trend. 
Ireland's Fashion Radicals runs until March 25th at The Little Museum of Dublin, St Stephen's Green, Dublin 2
---
The views expressed here are those of the author and do not represent or reflect the views of RTÉ
---