Analysis: the clothing retailer which the late Arthur Ryan founded in 1969 has come a long way, but now faces unprecedented challenges
Most people have uttered the reply "Thanks, Penneys" at least once in their life and the phrase has become as much a part of the shared Irish experience as "okey dokey, we'll leave it there so." Last week, the founder and chairman of Penneys, Arthur Ryan, died aged 83, after 50 years at the helm of Ireland's beloved retailer. He remained CEO of the company until he stepped down in 2009 and chairman of the board until his death.
But in the very early days, after the first store opened on 47 Mary Street in 1969, "it wasn't a roaring success," says Amanda Ratcliffe, lecturer in Retail Marketing and Strategic Management at Technological University Dublin.
Mary Street was at the "wrong end" of Henry Street and when Arthur heard there were plans to pedestrianise Henry Street that didn't include the location of his store, he banded together with Marks and Spencer and the retailers paid for Mary Street to be pedestrianised. "It really changed the nature of the location then," Ratcliffe says. "A few weeks later, Arthur saw a busker in the doorway and he knew that they were a success now."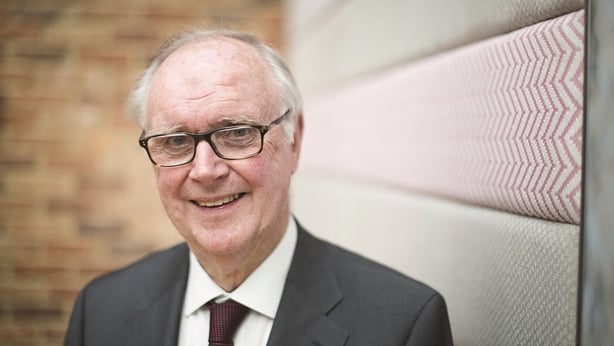 Ratcliffe says Penneys gave fashion-conscious Irish women the opportunity to "go in and buy a dress for a pound or two and to be fashionable, but for it not to be hurting your purse." In 1973, a second location opened in Derby in England and the name was changed to Primark because of a conflict with American retailer JCPenney.
"The Irish retail landscape was not very rich at the time", Ratcliffe explains. "There were some boutiques, there was Dunnes Stores, but Dunnes would have been much more old fashioned then. It would have been very much the fashion for the mammies and the grannies. There was very little for younger, fashion-conscious women. Penneys definitely, pretty much single-handedly changed that".
Irish women think a bit more about fun fashion rather than fast fashion, and they're used to getting it at a good price
Today, Ratcliffe says Penneys has around a 38% share in the Irish fashion market and by contrast, global fashion giants H&M and Zara have about 5-7% each. Primark employs over 75,000 people in over 360 stores across 12 countries. When American retailer Forever 21 opened in Ireland, they had plans for eight additional stores, which never materialised. The first one opened a stones-throw from Penneys HQ, says Ratcliffe, and Forever 21 "completely underestimated what they perceived to be a local player… they just could not compete with Penneys" and it closed its doors eight years later with a €44 million loss.
There's no doubt that the clothing chain has changed the way Irish women shop for clothes and "how demanding they are, as well," Ratcliffe adds. "They're used to getting their nice fashion items, their fun fashion, I think Irish women think a bit more about fun fashion rather than fast fashion, and they're used to getting it at a good price."
From RTÉ Radio 1 The Ray D'Arcy Show, illustrator Aoife Dooley on her popular "HUN" character who's always 100 metres within a Penneys
However, it's hard to ignore fast fashion when it comes to Penneys. Fast fashion means clothes that are designed and manufactured quickly and sold to customers at a low price. Sometimes it comes at a high price to the people who make it and to the environment. "Undoubtedly, major sins have been committed against workers in developing countries, against the environment in developing countries, major sins have been committed by the fashion sector, but major change is also underway," Ratcliffe says.
On the day of Arthur Ryan's funeral, at the exact same time as he was being laid to rest in Dublin, Extinction Rebellion held a peaceful, fast fashion protest outside the Primark megastore in Birmingham, the biggest Primark store in the world. Protestors carried placards proclaiming "Fast fashion kills","Mend more, bin less" and "What we do every day matters."
Primark has been embroiled in a number of controversies, most notably in April 2013 when an eight-storey building, Rana Plaza, collapsed in Bangladesh, killing over 1,100 people and injuring over 2,500 more. The building contained multiple factories creating produce for 28 of the world's biggest fashion brands, including Primark. A 2008 BBC Panorama investigation led Primark to cease work with three suppliers in India for unauthorised subcontracting.
From RTÉ Six One News, a report on the funeral of Penneys' founder Arthur Ryan
"Fast fashion is the dirtiest industry in the world after oil, it uses up so many resources," says Alacoque McAlpine, lecturer in the School of Marketing at Technological University Dublin. "A lot of companies now are using fast fashion techniques and they are essentially making throwaway fashion that is designed and made as quickly as possible and sold at very low prices."
McAlpine believes companies say they're "just meeting consumer needs" but the constant renewing and refreshing of stock makes consumers feel like what they just bought is already out of fashion. "I think the onus really is on the industry, rather than just the customer" to change things, McAlpine says. Customers who do want to make a change should ask 'who made my clothes?' and tell companies what they would like to see them doing.
From RTÉ 2fm's Dave Fanning Show, RTE business journalist Conor Brophy on the global phenomenon that is Penneys
Though there are environmental initiatives that counteract landfills by reusing or donating unsold stock, McAlpine points out that companies "shouldn't be producing so much to start with." The clothes "can't be recycled because the materials are too synthetic and also because (companies) mix the material, so they go to landfill and they sit there for about 200 years before they can be broken down… It takes 2,700 litres of water to make one cotton t-shirt. That's as much water as one individual will drink in 2.5 years. Producing a pair of jeans uses as much greenhouse gas as driving for 80 miles. After all that is gone, the clothing doesn't break down or cannot be recycled."
There are some tangible changes that companies could implement to make a difference in fast fashion, according to McAlpine. The first is addressing the living wage. "Companies could certainly be profitable and still pay the workers more or ensure the suppliers paid them more," McAlpine says. Secondly, McAlpine explains that "companies sometimes make changes at short notice and expect fast turnaround and it puts huge pressure on workers," which could be alleviated.
The third thing companies could do, is to help suppliers develop more efficient factories. "IKEA has gone to suppliers and trained them or invested in them or loaned them money, so they can buy better machines or improve the conditions, so they can be safer and more productive," McAlpine adds. Lastly, fast fashion companies could choose to use more sustainable materials that "don't go into our rivers and lakes and our foods. Materials that we can break down and re-use," she says.
From RTÉ Radio 1's Morning Ireland, a report on why retailers must take responsibility for working conditions of suppliers
In the UK, the Environmental Audit Committee has established an investigation into the "social and environmental impact of disposable 'fast fashion' and the wider clothing industry," deeming it unsustainable. According to the group, Primark is one of the "most engaged" retailers in terms of their commitment to sustainable fashion. The retailer has been a member of the Ethical Trading Initiative since 2006, is a founding member of the ACT initiative on wages and operates its own Ethical Trade and Environmental Sustainability Team. In Europe, since 2010, the company has been donating unsold clothing to charity Newlife and the Code of Conduct sets out standards on pay, health and safety at the supply factories it works with.
There's some evidence that what they're doing works. At a time when a lot of clothing retailers are struggling to maintain their high street presence, Primark appears not to be. Celebrity collaborations seem to do well for the brand, but influencers in particular form a bigger part of the company's strategy now, TU Dublin's Amanda Ratcliffe explains. There's no traditional "above the line advertising" though people will remember the heart-warming "Penneys got a whole lotta things for Christmas" ads. There are no frills, you still get the same brown bag at the till, though the business has expanded into beauty and homeware.
From RTÉ Radio 1's Ryan Tubridy Show, Freya Drohan in New York on how her desperation for Penneys led her to take a five hour journey in search of some bargains
"Up until a number of years ago they were heavily criticised for not having a good online presence. With the growth of social media and the growth of influencers they knew that they had to address this," Ratcliffe says. Primark now uses the hashtag #primania online and encourages customers and influencers to post their outfits, which "works very well for them because that's actually very low maintenance."
Ratcliffe believes Click and Collect is on the way for Primark because the costs involved with online shopping, such as packaging, shipping and returns, don't factor in. "It gives the customers more options, but it keeps the costs down and keeps the margin protected. One of the things that really drives the whole model is efficiencies. Efficiencies in manufacturing, efficiencies in the supply chain, efficiencies in in-store operations. I think you will struggle to find any retailer that works to greater efficiency than Penneys."
RTÉ Brainstorm video on the high cost of fast fashion
On the man behind the legend, who had the Arthur Ryan Retail Research Centre named after him in TU Dublin, Ratcliffe says "he just had a consummate retailer's brain, he was a retailer with every fibre of his body. He knew exactly what he wanted to do with this business, he had the vision from the get go. By all accounts he was an absolutely lovely man, tough but very fair and he inspired great loyalty."
How Penneys and other companies progress in the future will be interesting to watch. According to Ratcliffe, research being done in the retail faculty at TU Dublin has found that Generation Z, born between the mid 1990s and the mid 2000s, is much more informed and very aware of the ethical consequences of their purchases.
"The bad news for companies is, Generation Z want their brands to be ethical, they want their brands to ascribe to the same set of values that they ascribe to, but they're not willing to pay more for it. And that is only going to become a stronger trend as that generation increases its spending power. By the mid 2020s, that's going to be the biggest purchasing group worldwide. So companies who are not prepared for that will really lose out. I don't expect Primark to lose out."
---
The views expressed here are those of the author and do not represent or reflect the views of RTÉ
---