Owners of a listed building in Dublin halt the construction of a Luas line extension in an effort to save Clonlea House.
The owners of Clonlea House in Sandyford have begun a legal challenge to stop its demolition to make way for the Cherrywood extension. Authorities want to demolish Clonlea House to make way for a Luas stop along the seven and a half kilometre Cherrywood extension.
Clonlea House is a listed building but the authorities want to demolish it.
The owners of Clonlea House do not want to move. However, tens of thousands of people in south Dublin have been waiting for the Cherrywood extension for years and local politicians say that the delay is causing frustration.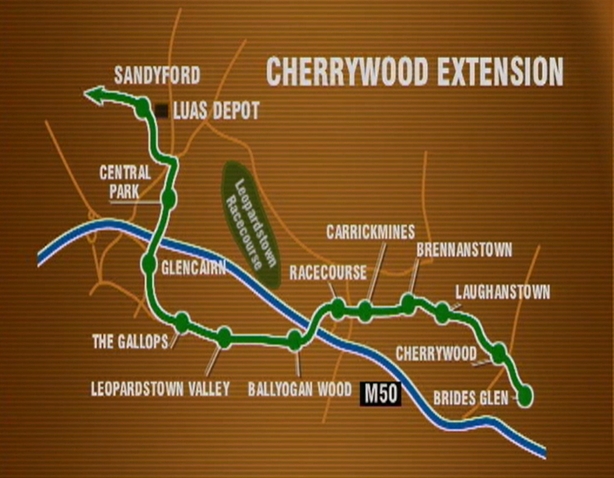 According to Fine Gael TD Olivia Mitchell, the whole area was developed on the basis of their being a high speed Luas line available to residents.
It's making their life hell.
Four months have now passed since the government gave the final go-ahead for the extension to the line which is due to take four years to complete.
Dublin Chamber of Commerce say that there are further challenges facing the development of the Tallaght Luas line and are blaming the government for delays.
The issue of Clonlea House is now set for a three day judicial review hearing in the High Court next month.
An RTÉ News report broadcast on 15 December 2006. The reporter is John Kilraine.