National Kidney Week promotes the need for people to carry donor cards and highlights the need for further research.
National Kidney Week opens on 15 September and the Irish Kidney Association Magazine is highlighting the urgent need for more research.
There are over three hundred people on dialysis machines throughout the country. Some patients have dialysis machines in their own homes while others have to travel long distances to special hospital units.
The number of people who need dialysis continues to grow year by year as diagnostic techniques improve and the list of patients gets longer.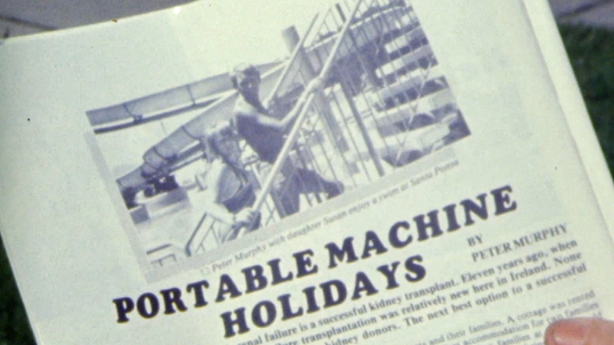 Portable Machine Holidays article in 'Support' magazine.
The associations' magazine 'Support' features articles by kidney patients. One patient who has contributed to the magazine is 36 year old supermarket manager from Dublin Peter Murphy. For the past 11 years, Peter has spent six hours on dialysis 3 nights a week at his home in Artane. For the last three years, Peter has had access to a portable dialysis machine which has enabled him to take a holiday overseas. Peter says these portable machines are particularly useful for people who receive dialysis at home and are trained in how they operate. While on holiday, Peter did his dialysis at night when it was cooler and then was free to live normally during the day.
In 1984, 80 kidney transplants were carried out at Dublin's Jervis Street Hospital but 60 patients are still waiting for donors even though 800,000 donor cards have been distributed throughout the country.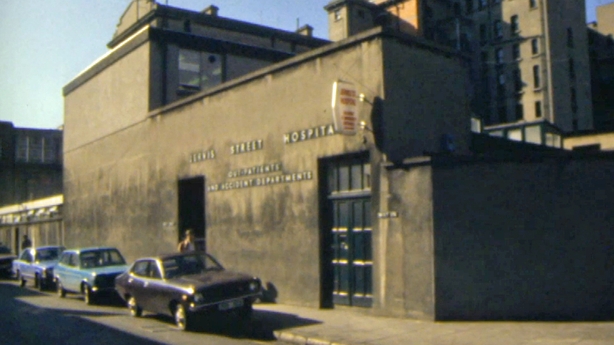 Jervis Street Hospital (1985)
An RTÉ News report broadcast on 6 September 1985. The reporter is George Devlin.