Crowds flock to the beaches as the sun shines and temperatures soar across Ireland for the holiday weekend
The summer finally arrived in Ireland in time for the August Bank Holiday weekend, and looks set to stay for the rest of the week.
People are making the most of the sunshine and high temperatures, heading to the coast and the beaches. For a short while Irish people can imagine what it is like to live in warmer climes, as the temperatures matched those across Europe. As one lady put it,
I close my eyes, I think I'm in Spain.
The warm weather is good news for the tourism industry and owners of ice cream vans. Those who want to be out on the water are seizing the day, as calm seas are busy with pleasure craft and speedboats.
In Ireland, we have to make the most of the sunshine when it comes, because the rain is never too far away.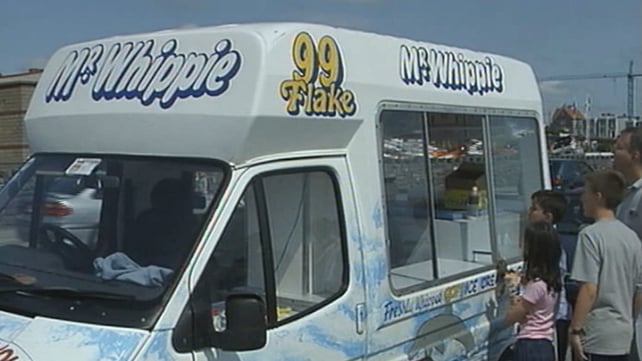 Queue at ice cream van, Dublin (2003)
An RTÉ News report broadcast on 4 August 2003. The reporter is Ray Kennedy.