Tallymen provide the media and politicians with the first indications of election results.
The campaign for the 1997 general election may have been lacklustre, but the election count will be anything but. Based in the election count centres around the country the tallymen and women will closely observe proceedings as the the ballot boxes are opened and the papers are arranged by the official counters.
Tally master Eimear McAuliffe enjoys the general election count immensely.
You get a buzz being there, seeing the boxes opened, seeing how the votes come out and being the first to know really.
Basic tallying is a relatively simple affair. The tallymen hang over the barriers and notice the first preferences as the boxes are being sorted. The real art is in the interpretation and figuring out where the transfers will go. Political analyst Sean Donnelly will be crunching the numbers on RTÉ Radio One and he can predict 90% of the seats once he has the first count.
Most predictions are that the last seat is going to be very tightly contested in most constituencies, so you may not be able to predict the full outcome. But if there is a definite trend for one particular party, it will be seen very early on in the counts.
While tallymen may love the thrill of a general election, what they are really doing is gathering information for the next one. Eimear McAuliffe points out the benefit of having a series of general elections tallied and computerised
You can compare, box by box and road by road and any party can then zone in on where their core vote is, and where they lost, where they gained, where they need to work.
For the first time ever, all 41 constituencies will be using computers but they will just be an aid as the count will still be done manually and an electronic election is still a long way off.
In the case of a full recount, the Dublin City returning officer Brendan Murphy does not believe a computer could do the job as properly.
Presenters of RTÉ Television's coverage will have access to results on screen, but runners will be on hand with paper versions. While acknowledging the importance of computers in RTÉ Television's coverage, presenter Brian Farrell says
In the end we're still dependent on people, we are dependent on reporters on the ground and they are dependent on the tallymen. I think without the tallymen the Irish general election would be incomprehensible to all of us.
An RTÉ News report broadcast on 6 June 1997. The reporter is Margaret Ward.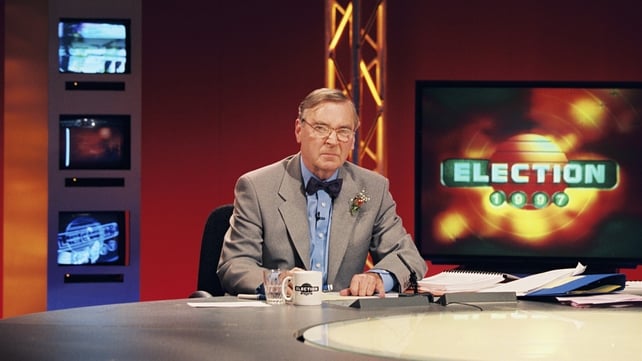 Brian Farrell presents 'Election 1997'.