Girls from Loreto College Fermoy perform 'Gaudete' in a candlelit procession through Cobh Cathedral.
A concert of Christmas carols from Cobh Cathedral, also known as St Colman's Cathedral, broadcast on Christmas Eve, with choirs from all over the Diocese of Cloyne taking part.
Among those taking part were Cór Cois Cuan, St Colman's Cathedral Choir, St Colman's Cathedral Folk Group and Cobh Schools' Choir. Readings and reflections were given by people from the locality. The Naval Pipe Band, Cobh Confraternity Brass and Reed Band, and soloists Kevin and Gerda Owens also performed.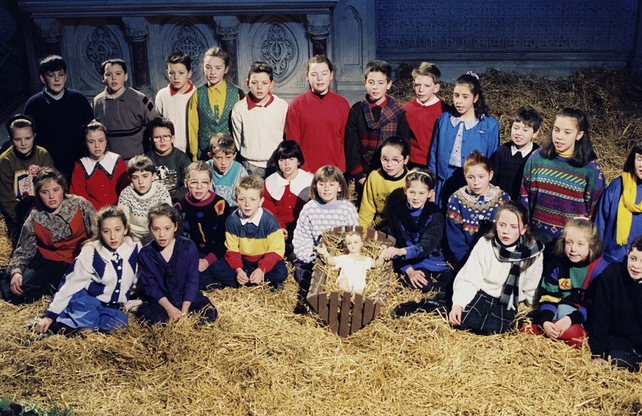 Schoolchildren around a crib during the recording of 'Carols from Cobh' in 1991
'Carols From Cobh With Choirs From Cloyne' was broadcast on 24 December 1991.
The programme was produced by Fr Dermod McCarthy.