What actually goes on the scenes at the Miss Ireland and Miss World contest?
Miss Ireland is selected from entrants representing each county in Ireland during a live television transmission from the Shelbourne Hotel in Dublin.
Prior to the show, the contestants are put through their paces with a gruelling five hours of rehearsals that include numerous costume changes. They are happy to ignore the chants of women's rights protesters shouting slogans and carrying banners outside the venue.
We want our rights we don't want prizes.
The judges for the Miss Ireland contest include singer Red Hurley and Mecca organiser Julia Morley. Morley, who also runs the Miss World contest, describes the qualities she is looking for in a Miss Ireland.
The most important thing is to have someone that Ireland is proud of representing them and must base more importance on personality as opposed to just a pretty face.
The Miss Ireland winner is Miss County Dublin, 17 year old Jakki Moore, a first year archaeology student at University College Dublin. Her prize is £250 in cash and the equivalent in clothes from a Dublin fashion house. She will take part in the Miss World contest in the Royal Albert Hall in London where she will compete with women from 76 other countries.
This episode of 'Tuesday Report' was broadcast on 14 December 1976. The reporter is Cathal O'Shannon.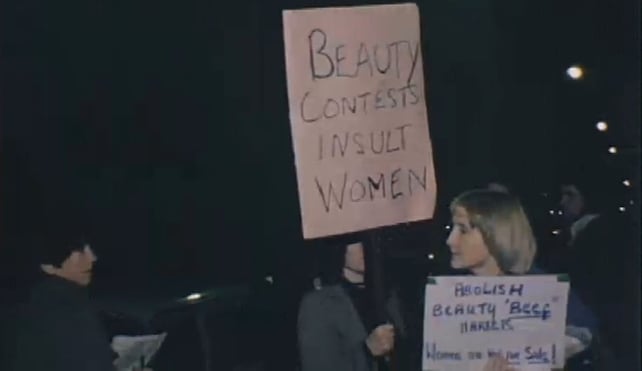 Women's Rights Protesters