After a sleepless night, reactions to the Taoiseach Jack Lynch's statement regarding "the handling of the Northern situation".
Taoiseach Jack Lynch announced early in the morning of 6 May 1970 that he had demanded the resignations of Charles Haughey and Neil Blaney from cabinet. Haughey, who was Minister for Finance at the time, and Blaney, Minister for Agriculture and Fisheries, had been put in charge of a subcommittee on Northern Ireland the previous year when the troubles broke out. It was now being alleged that they had conspired to import arms for the IRA.
This RTÉ News Special was broadcast on radio that morning when little information was forthcoming and speculation was rife. Jack Lynch had called a meeting of the Fianna Fáil parliamentary party for 6.00 pm that evening. What support would there be for Haughey and Blaney? Minister for Local Government and Social Welfare Kevin Boland had resigned in protest at their treatment.
Michael Mills of the Irish Press, Arthur Noonan of the Irish Independent and Joe Fahy of RTÉ give their reactions to the news.
Joe Fahy comments
The timing of the announcement did I think cause as much shock as the announcement itself.
An RTÉ News report from 6 May 1970.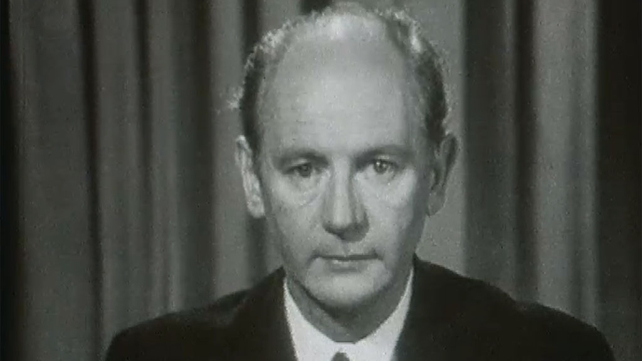 An Taoiseach Jack Lynch