Awards for rural drama 'Bracken' and entertainment show 'The Live Mike'.
The annual Jacob's Awards, honouring excellence in television and radio in 1979, took place at the RDS, Dublin on 11 April 1980. The ceremony was hosted by Frank Hall.
Actor Gabriel Byrne and broadcaster Mike Murphy were among the winners on the night. The awards were broadcast on RTÉ Television on 12 April 1980.
Gabriel Byrne received the award for his role as Pat Barry in RTÉ's rural drama Bracken. The final award of the evening went to Mike Murphy who was honoured for his work on the programme 'The Live Mike'.
His success in balancing the serious with the hilarious and for his performances as presenter, interviewer, and actor extraordinary
Frank Hall, MC on the night commented that Gabriel Byrne had
given sheep farmers everywhere a new charisma... but mainly for his understated acting skills and commanding screen presence.
Others who received awards on the night included Pat Feely, Dan Treston, Marian Finucane, and Morgan O'Sullivan, for their work in radio. In television, winners included Con Bushe, Michael O'Carroll, Mick Lally, and Joe Mullholland.
RTÉ television also won an award for its outstanding coverage of the papal visit.
The awards were broadcast as part of the Late Late Show on 12 April 1980.
The Jacob's Awards ran from 1962 to 1993.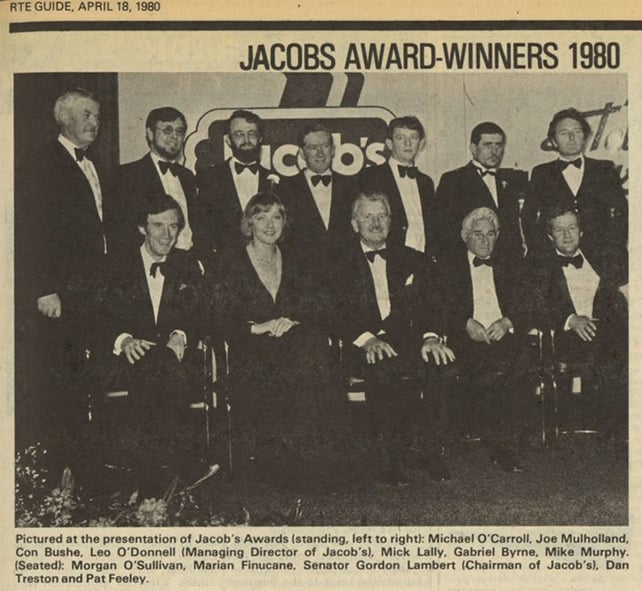 RTÉ Guide 18 April 1980, Jacob's Awards Winners