On 3 September, 1939 Britain and France declared war on Germany marking the beginning of World War II.
In response to the break out of war and to reaffirm Ireland's position as a neutral state, Taoiseach Éamon de Valera made a radio broadcast to the people of Ireland. On 19 February 1939, de Valera had announced that the Irish Free State would be neutral if war broke out.
With our history, with our experience of the last war and with a part of our country still unjustly severed from us, we felt that no other decision and no other policy was possible.
In reaction the outbreak of war the government passed the Emergency Powers Bill, which gave the government new powers to retain Ireland's neutrality.
Radio Éireann reported that war had broken out at 2.00pm on 3 September. Éamon de Valera's address followed at 7.00pm.
The Emergency was a challenging time for Radio Éireann. Censorship was rigorously enforced over all the Irish media between 1939 and 1945 under the Emergency Powers Act. As a state run service and accessible overseas, Radio Éireann broadcasts received particularly close attention. All news bulletins were read over the phone to Head of the Government Information Bureau prior to broadcast.
Neutrality brought other changes. All three Radio Éireann transmitters at Dublin, Cork and Athlone were synchronised onto a single frequency. This measure was intended to prevent the transmitters being used for direction-finding by aircraft.
Furthermore, weather forecasts were prohibited as they were considered strategically important.
Censorship brought in under the Emergency Powers Act was lifted on 11 May 1945.
The image above shows Éamon de Valera in 1932. The photographer was Joseph Cashman.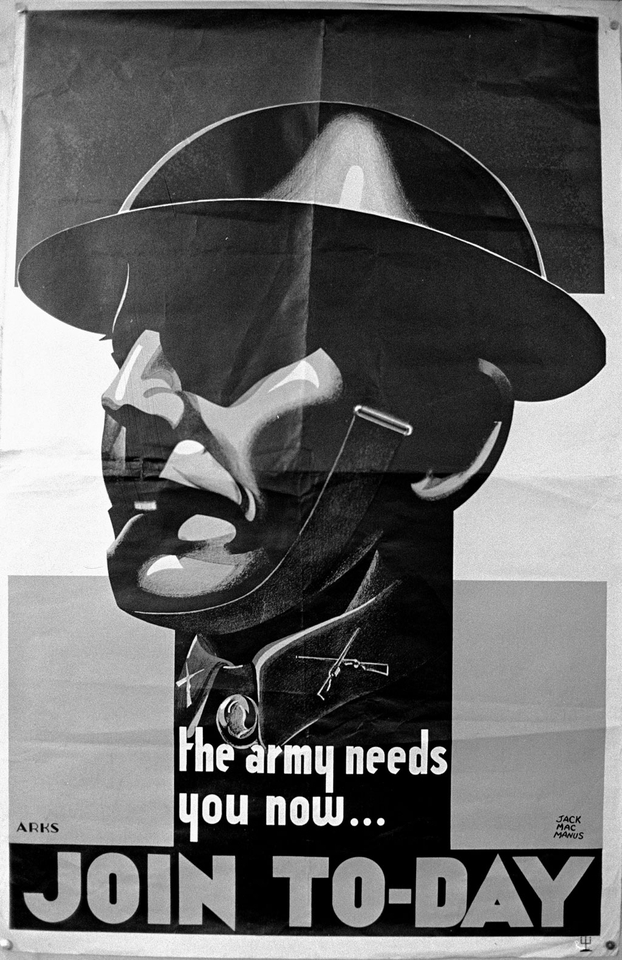 WW2 Army Recruitment Poster.
An army recruitment poster used during World War II. This still was taken to publicise the RTÉ Radio 1 documentary series 'The Emergency', broadcast in eight parts from 6 September 1978.