RTÉ Archives was sorry to hear of the death of former head of drama with RTÉ Louis Lentin.
Louis worked with RTÉ Television from the beginning in 1961 until 1989 when he left to set up his own production company.
In 1978 he was appointed head of television drama at RTÉ and in the same year won a Jacob's Award.
While at RTÉ he directed many key productions, including 'Insurrection' on the 50th anniversary of the Easter Rising.
Having left RTÉ he continued to produce programmes for RTÉ including 'Dear Daughter' telling the story of the childhood experiences of the late Christine Buckley and others at the Goldenbridge orphanage in Dublin.
Louis was also heavily involved in theatre and founded Art Theatre Productions in 1959. He was responsible for the first Irish productions of Samuel Beckett's Krapp's Last Tape.
Louis Lentin died after a short illness and is survived by his wife Ronit and two children.
The accompanying photograph was taken in 1963 at a time when Louis was producing the Late Late Show. The photograph was taken by Roy Bedell.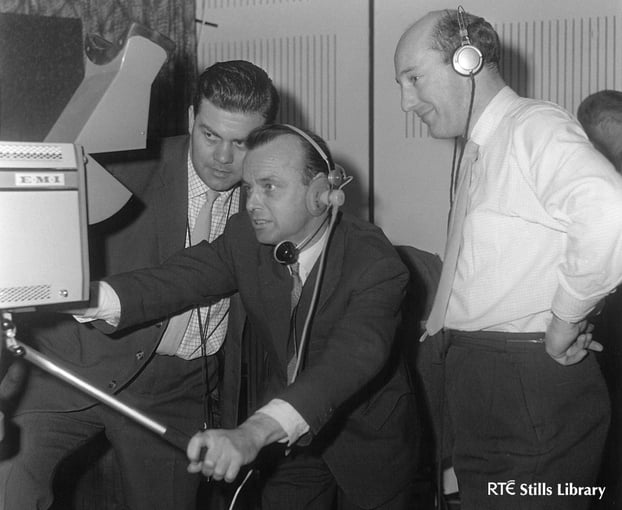 Producer/director Louis Lentin (first right) at the Television Centre building at RTÉ's Montrose campus in Donnybrook, Dublin, during Telefís Éireann's opening night on New Year's Eve 1961.