On this day in 1984, it was announced that politician Seán MacEntee had died overnight.The 94-year-old had fought in the GPO in the 1916 Rising and was a member of the First Dáil. He opposed the Anglo-Irish Treaty in 1921 and was interned during the Civil War. Afterwards, he returned to his original profession as an engineer, but was re-elected to the Dáil in 1927 as a founding member of Fianna Fáil. He was Minister for Finance from 1932 to 1939 and Tánaiste from 1959 to 1965.
'The Life and Times of Seán MacEntee' looks at his political beliefs and career from his childhood as a Catholic in Belfast. In this extract, Jack White asks him how he went from this tradition to fighting in the GPO in 1916. MacEntee, a member of the Irish Volunteers, says this movement was a counterpoise to the Ulster Volunteers, who were threatening home rule with force. This led to a natural transition from constitutional means to means outside the law.
'The Life and Times of Seán MacEntee' was broadcast on 26 March 1975.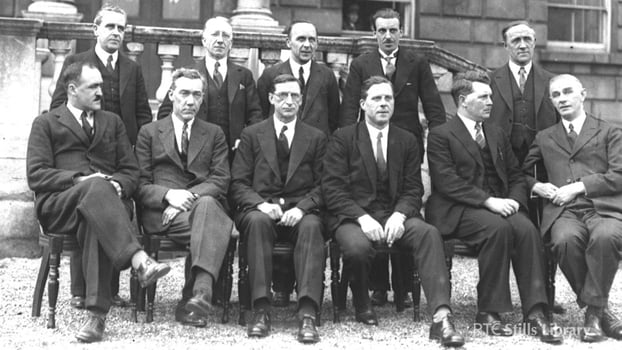 The cabinet of the first Fianna Fáil Government, Dublin, 9 March 1932. From left to right (back row): Seán MacEntee, Seán T O'Kelly, Joseph Connolly, Seán Lemass, Gerry Boland. From left to right (front row): Frank Aiken, PJ Ruttledge , Eamon de Valera, Doctor James Ryan, Tomás Ó Deirg, unknown.© RTÉ Archives 0508/009