11 November is Remembrance Day marking the end of World War One in 1918.
RTÉ Archives looks back 25 years with some reflections from World War Veteran Jack Campbell. Jack Campbell was one of five brothers who fought during the 1914-1918 war. He tells Gay Byrne how he came to join the British Army.
A desire to see something of the world prompted Jack Campbell to join the British Army. Jack's eldest brother was keen to travel and explore the world and encouraged his siblings to do the same. For the Campbell boys the only way to see the world was to join the army. Jack also describes how he was encouraged by a recruiting sergeant to lie about his age so that he could join up.
This episode of the Late Late Show was broadcast on 11 November, 1988.
Exhibition: Ireland and the Great War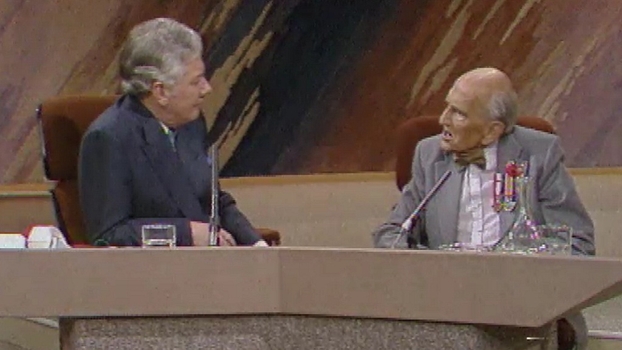 Jack Campbell and Gay Byrne (1988)