Rarely have the highs and lows of football been as crystallised for Republic of Ireland midfielder Jamie Finn as they have been in recent weeks.
There are a lot of good things happening right now for the 23-year-old Dubliner. She has really caught the eye for Vera Pauw's side in their pursuit of a World Cup play-off spot - the assumption being that Sweden will top the group - with the player excelling in a more advanced role in the 2-1 victory over Finland last time out.
Finn has also been a regular starter for Birmingham City since making the move from Shelbourne in August, while earlier this month she got to watch on in euphoria as her former team claimed the league title in the most dramatic of circumstances as Peamount United stumbled against Galway on the final day with the Reds just holding off Wexford Youths to take full advantage.
But it hasn't all been plain sailing as Finn prepares for Thursday night's crucial World Cup qualifier against Slovakia in Tallaght with another home tie against Georgia to come next Tuesday.
For a start, part of her can't help but wish she was at Tolka Park helping to lift the league trophy with Shelbourne having played a key role earlier in the season while she was present at Tallaght Stadium yesterday, along with the entire Irish squad, as Noel King's side lost the EVOKE.ie FAI Cup final to Wexford.
It's also been a difficult period for her new club Birmingham with the side picking up just one win in their opening eight Super League games. That led to head coach Scott Booth's dismissal with Darren Carter now taking on the role on an interim basis, their third head coach in just seven months.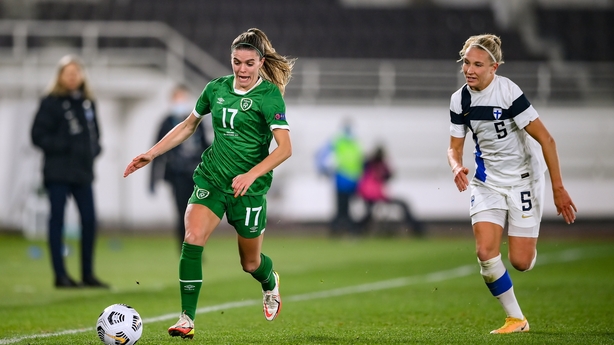 For Finn, Carter is another face to try and impress, something she has managed to do with Pauw and the Irish coaches.
"I mean it's not nice to see your manager go in that way," she said of Booth's exit.
"But they've already appointed in the new manager, and listen, for me, it's a time to impress again, to get to work and just show the new manager what I'm about and hopefully be on the teamsheet in the back end of the week, and continuing that."
Before that though, Finn will attempt to help Ireland take another big step towards a play-off when they meet Slovakia on Thursday. The side are currently fourth in Group A but any sort of victory would see them move into second should Sweden, as expected, win at home to Finland on the same evening.
"I think momentum is really, really building," Finn continued.
"Obviously that game against Finland was brilliant - away from home, to beat them [and get] three points was great, but I think we need to bring that momentum into this camp.
"To this first game, hopefully get the result there and then move on. Taking it game by game, really just staying positive and the results will come hopefully."
There is no doubting that the Irish squad is as competitive as it has ever been in Pauw's reign, yet Finn is integral to their ambitions moving forward. It's not always been the case and she is delighted that so much trust is being placed in her in a number of different positions across the pitch.
"It's been great. Obviously to pull on the green jersey, it's been a dream since I was young.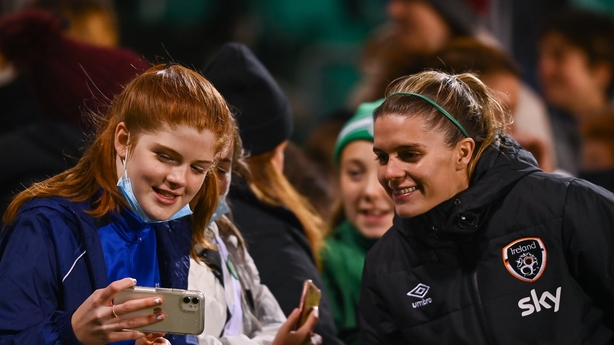 "I played underage, all my career, and then there was a stint where I just didn't get into senior team. I always pushed and pushed, and hoped to get back in. That was a dream, and I did against Greece [November 2019], so that was amazing and something I'll never forget. But I always wanted to stay in the squad then and prove that I deserve to be here."
Injuries have opened the door to some late call-ups that are of particular interest to Finn. Housemate and fellow Birmingham player Emily Whelan is in, as is 16-year-old Jessie Stapleton who she knows from her Shelbourne days. Celtic's Isibeal Atkinson has also been drafted in with Glasgow City's Claire Walsh, Wexford Youths midfielder Ellen Molloy and Liverpool forward Leanne Kiernan ruled out.
"Jessie's done brilliant this season," Finn said of the talented youngster.
"I've played with her and then watched her when I left but she's done brilliant. I'm delighted for her to be called in here. Now she can come in here and show she could do. So yeah, delighted."