"We definitely thought you'd beat us."
Signs of a lack of confidence were difficult to detect as a deafening rendition of Land Of My Fathers rang out around the Millennium Stadium on Saturday but after the match, plenty of Welsh people were happy to admit they had no real expectation of victory.
More than happy.
It was a wintry weekend in Cardiff but this is a rugby city and it was basking in the pleasant afterglow of unexpected success.
Wales had heroes all over the field.
Leigh Halfpenny was superb – quick, athletic and tidy, whereas Alex Goode was rushing around trying put out fires for England.
In the centre, Jonathan Davies showed that there was more to his Lions selection than blind nationalism. The 26-year-old was the outstanding attacking back and, while it only came into play once, his booming left-footed clearance kick from his own line was another big moment. Jamie Roberts, meanwhile, was a wrecking ball against Ireland's flat attacking structure.
In the pack, Luke Charteris garnered headlines for his statistically freakish number of tackles (though the originally reported 37 has since been downgraded to 31) and Alun Wyn Jones was again immense. Not for the first time in a clash between these sides, he was a match for Ireland's spiritual leader Paul O'Connell.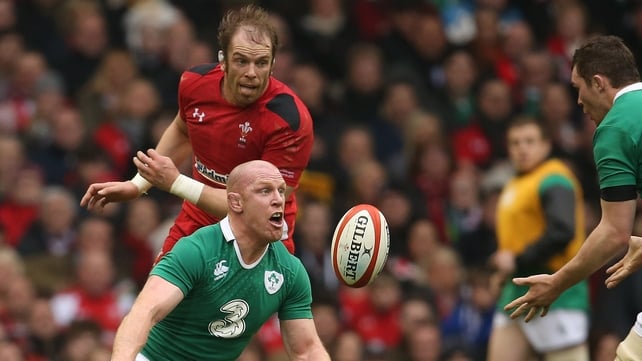 The Welsh back row also produced a superb display, tackling Ireland to a virtual standstill around the ruck - just as they had done four years ago in the Rugby World Cup quarter-final in Wellington. Starting with Halfpenny's high catches and diving mark in the opening minutes and continuing through key lineouts on both try lines and Wales epic defensive stand, the home side owned the big moments.
As a result, Cardiff 2015 joins a grim list of Irish misfires at big moments, which includes Wellington in 2011, the loss to France at Croke Park in 2007 and the entire Rugby World Cup that year. Stretch back a little further and another Rugby World Cup defeat comes into view: Lens in 1999.
On that occasion, Warren Gatland was the Ireland coach and saw his side crash out against a totally unheralded Argentina. As happened on Saturday, Ireland went to a novelty 12-man lineout combining backs and forwards. As happened on Saturday, Irish players ended up unmarked on the wing waving their arms in desperation as their team-mates attempted to bash their way over from close range.
It was one of a few hugely frustrating moments for Ireland and one of the reasons a new Joe Schmidt narrative is already beginning to emerge.
While it would be wrong to say there were rumblings of discontent coming from inside the camp prior to the Wales game, there were certainly tremors to the effect that the atmosphere had become too controlling, the play book too prescriptive and the environment overly claustrophobic.
It is the potential for that narrative to get legs that makes this an important week for the wider Irish rugby community as much as anyone else.
It could be argued that when he was building the machine ahead of this championship, Schmidt made small miscalculations. But the prioritisation of accuracy at the breakdown, a pin-sharp kicking game and the selection of a set-piece oriented tight-five might well have proved enough if a few small thing had gone Ireland's way.
For example, if the original refereeing appointment of Steve Walsh had not been changed Ireland might well have fared that bit better (the change was made at the beginning of March due to Walsh's "business commitments").
In hindsight, it is also easy to argue that with Brian O'Driscoll no longer in the team, more needed to be done to ensure Ireland were effective in the wide channels. It is no surprise that having lost one of the great attacking talents in the game, they have not been as good behind the scrum in 2015 as they were in 2014.
It might also be argued, again with hindsight, that Ireland under Schmidt made the same mistake in 2015 as they did under Declan Kidney in Wellington in 2011, keeping the back-rowers too close to the ruck and allowing the Welsh back five to do what they do best and tackle Ireland to a standstill. That type of rugby discussion between supporters, journalists and analysts is good and vital for the health of the game.
The Gatland story is worth considering again. Every coach has a fingerprint and the Kiwi's longevity and commitment to a few easy-to-recognise core principles mean he is inevitably beaten with the Warrenball stick.
But there is much more to Gatland than so-called 'Warrenball' (and he was more than entitled to his little "I'm only a simple Kiwi boy…" pop at the media). It has not always been plain sailing but the willingness to stick by him has served Wales well since he took over in 2007.
For Schmidt, "controlling", "risk-averse" and "overly prescriptive" look like they will become the go-to phrases when there is a mis-step.
They are essentially the flip side side of the coin to the "attention to detail" and "accuracy". No-one is calling it 'Schmidt-ball', but as the style becomes more familiar to more people, the hallmarks are hard to miss.
The passion, sophistication and quality of the Welsh performance shows just how misleading such a simplistic framing can be, and just how rewarding backing the right coach through thick and thin can be.