'The try heard round the world'
"If the greatest writer of the written word would have written that story, no one would have believed it. That really was something."
Those are the words Cliff Morgan used when describing Gareth Edwards' stunning try against the All Blacks in 1972 and it is a description that would have been equally apt on September 19 2015 at Brighton Community Stadium.
I watched this in a room packed full of rugby journalists deep inside the Millennium Stadium. It looked like a familiar storyline was playing out. Japan would surely fold in the final quarter. But they didn't, and by the time Karne Hesketh had dived over the line, everyone in the room was caught up in the emotion of it all. It was a moment that seemed to transcend rugby with even the most casual fans reporting that they cried tears of joy when Hesketh crossed the line.
It really was something.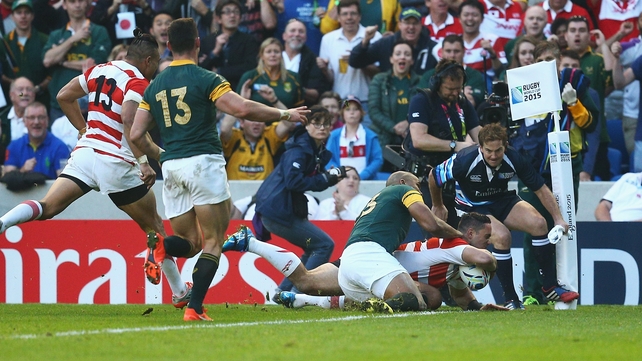 Gareth Davies' try against England for Wales
One of the moments this tournament really took off. England seemed to be home and hosed when they went seven points clear with minutes remaining in this Pool A clash, not least because Wales had been decimated by injury. Warren Gatland had been reduced to deploying sub scrum-half Lloyd Williams on the wing. But a dart down the wing and a perfectly weighted cross-kick found Gareth Davies in splendid isolation in the middle of the pitch and he kept his composure to gather and score to set up a nail-biting finale that ultimately saw Wales snatch the most unlikely of wins.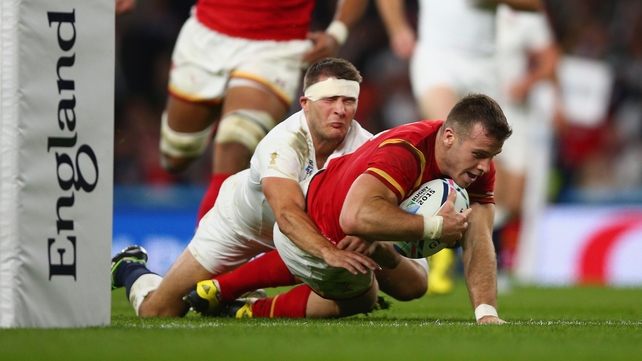 Mamuka Gorgodze is Man of the Match against New Zealand
It's very hard to find a decent picture of this but it is undoubtedly one of the best images of RWC 2015. It takes a fair bit to earn the respect of the New Zealand rugby public but Georgia's Mamuka Gorgodze did just that when he set about the All Blacks pack in the pool clash. A towering performance was given the perfect grace note when the camera picked him out as the Man of the Match winner. A moment that was – no doubt to the delight of the Man of the Match sponsor – priceless.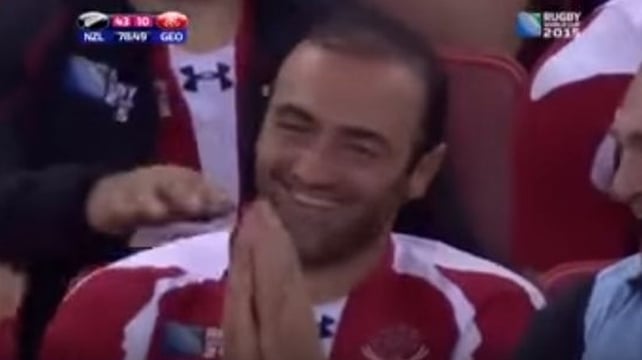 Stuart Lancaster faces the press
Not a defining image perhaps, but certainly a ubiquitous one. It is easily forgotten, but England's Stuart Lancaster had achieved quite a bit before the Rugby World Cup. But changes to the England culture mattered for little when the hosts crashed out and the media scrutiny was immensely intense. A host of images of Lancaster and his coaching team flooded the world media, and photographers were particularly keen to capture images of the head coach looking, well, like this.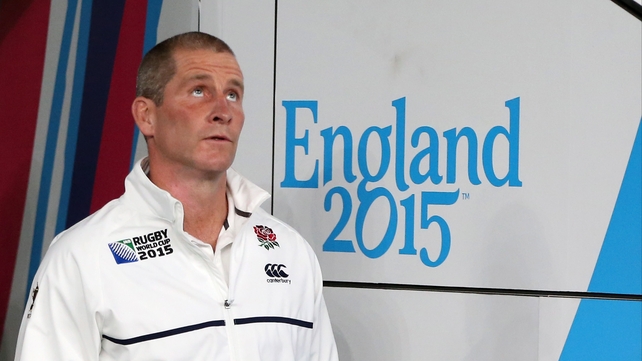 Fiji clap the crowd after playing Wales
Not many teams brought as much to this tournament as Fiji. Yet again, the south sea islanders reminded us just how spectacular the game can be, marrying athletic ability with incredible imagination and skill. Leone Nakawara showed he can do what he does for Glasgow Warriors in the Guinness Pro12 against the very best, while Vereniki Goneva scored a sensational try in this outing against the Welsh. They like their rugby in Wales and the two teams put on a fantastic show in this match. They were - as usual - an incredibly charismatic group of rugby players.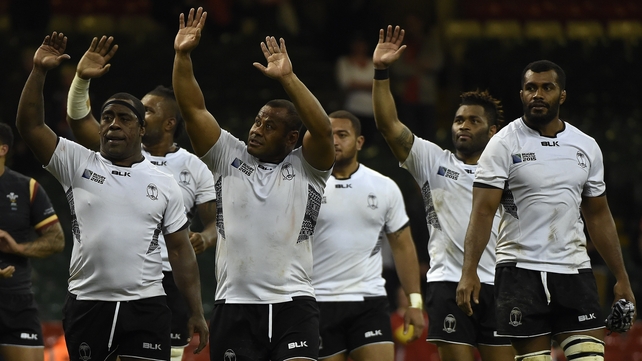 Irish fans take over in Cardiff
Cardiff was turned green three times with Irish fans travelling from far and wide to be part of the Rugby World Cup. The city – warts and all – played a blinder while one of the features of the crowd was the number of second and third generation fans who put on their green jerseys and made their way to Wales. We all know how it ended but against Canada and France – a night when the anthems alone were worth the price of admission – the Irish support was something special.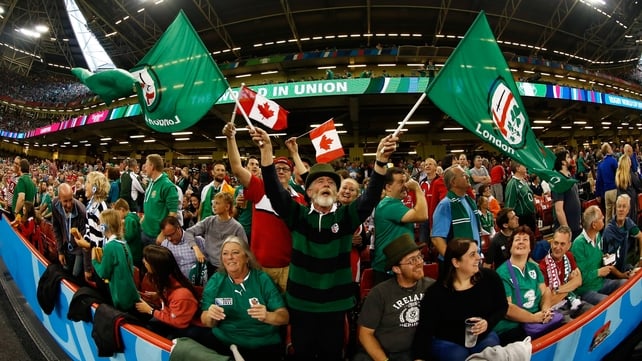 Sonny Bill Williams commiserates with Jesse Kriel
Sonny Bill Williams is one of the biggest names in rugby – though right now he can't quite displace Ma'a Nonu or Conrad Smith in the New Zealand team – while big things were predicted for Jesse Kriel in this tournament. Williams continues to have a walk-on part while Kriel was probably outshone by centre partner Damian De Allende for the Springboks. But none of that mattered at this particular moment immediately after the Rugby World Cup semi-final.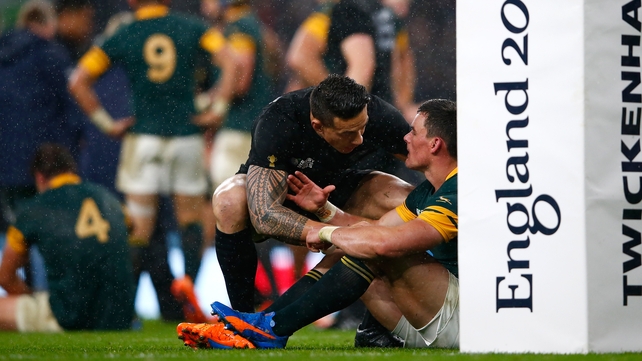 Paul O'Connell is injured against France
Not an image we want to remember but certainly a turning point. It takes a lot to make Paul O'Connell cry out in pain. Injured attempting a turnover during the final play of the first half against France, this picture captures the serious discomfort of the Irish captain. The usual flow of fans towards beer stands and bathrooms was slower than usual as the Irish captain was treated on the pitch, the crowd hoping against hope that he would recover in time for the second half. That didn't happen and while Ireland won they progressed without the Atlas-like figure who had carried so much on his shoulder for the previous 15 years.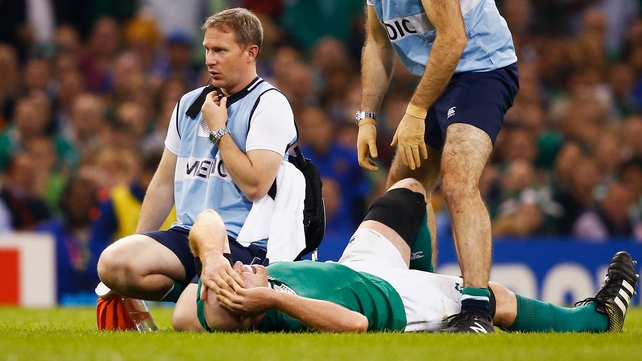 Juan Martin Fernandez Lobbe after Argentina's exit
Argentina go about their rugby with a heady combination of machismo and high emotion. They are still rugged, but that hardness was married with a pace, vision and ambition that was not always apparent in the past.
That formula took the Pumas and their fantastic supporters on a journey that ended in the semi-final. This brilliant photo by James Crombie of Inpho captured the moment the dream of playing in the decider ended for Juan Martin Fernandez Lobbe. With all the angst and introspection about Ireland, it is easy to forget what this tournament means to other teams.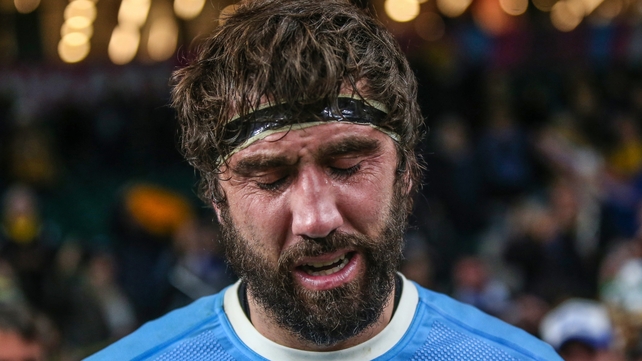 Ian Madigan in tears after Ireland's win over France
Tears are something of a theme of this selection but this was a defining moment for Ireland and Ian Madigan in particular. Nobody doubted his talent but there were doubts about the young utility back's ability to deliver a sustained solid performance at out-half. Replacing Jonathan Sexton with the match on a knife-edge after 30 minutes, he did just that, steering Ireland to a 24-9 victory and into the quarter-final. It all got the better of the 26-year-old at full-time – as he revealed on Instagram, "Seeing mum and dad got the better of me at the end". Fair enough. This was, after all, Ireland's biggest win over France in 40 years.