As the raw emotion and disappointment of letting the opportunity for a tilt at another Grand Slam slip away dissipates, so the post-mortem begins.
From a coaching point of view it will be quite an easy review, but the solutions will never be as easy. First of all, Wales were heroic beyond belief and the intensity of their support probably allowed them away with a few things which helped keep their line intact, but they were incredible nevertheless.
Coaches will always be more worried reviewing things if they are not creating opportunities, or there are not areas of the game where they can sit down with their squad and say, "If you execute these things better, then the result changes."
There was almost a perfect symmetry between Devin Toner's lineout steal five yards out against England, when Ireland led 6-3 at the Aviva Stadium, and Sam Warburton's steal of a lineout at 12-3 to Wales as Ireland went for the corner.
On such small moments do momentum and energy change in matches. That's probably why it's left to us as supporters to get emotional and over-run by things, and coaches and players to be more analytical. Ireland were masters of their own downfall as much as Wales gave one of their greatest defensive efforts.
Firstly, look at what Ireland could have controlled (and this is without even going into a forensic analysis of the game).
Two lineouts spring to mind: the one Warburton stole when Ireland were attacking and then also the defensive lineout five yards out in the second half, which Wales won and led to Scott Williams' try. Both were huge swings in the grand scheme of things.
If Ireland got those lineouts right the impact on the game could have been huge.

Then there is the white-line fever. Ireland suffered as the more they looked to get back into the game the more their runners became one-off and the team did not move the point of contact.
Much as the Welsh were heroic, Ireland made it easy; as hard as it is to say that given the intensity with which they put their bodies on the line.
The picture of Tommy Bowe and Jared Payne waving their hands in the air looking for the ball and a walk-in try summed up Ireland's plight. To be fair it may be hard to watch for the players, but it will also be comforting and the lessons learnt will actually make Ireland better.
Schmidt will also look at his side over-playing when they were chasing the game, but that is down to the key decision-makers taking control at the right time; also the turnover penalty on Cian Healy from Warburton gave Wales a seven-point buffer, when Ireland should have been putting the pressure back on Wales as they became tense.
So yes, the video analysis will be a horror show in camp in Carton House, but one which will be massively beneficial to Ireland.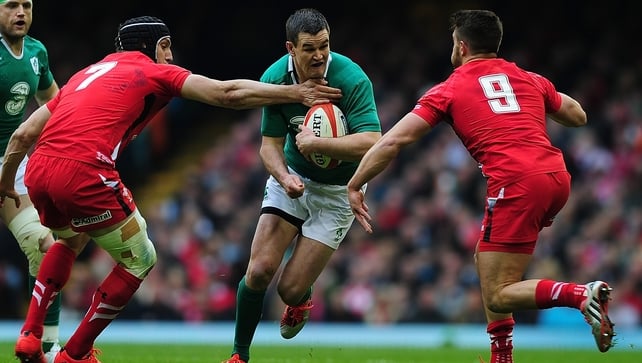 That may be hard to believe, but you always have to look at how you can make setbacks work in your favour. And after yesterday's matches, England will be kicking themselves because they should have put Scotland to the sword, the number of clean breaks they made without making them count was quite unbelievable, and with that profligacy could have gone their championship.
Like Ireland, they too will get a lot of heat, but like the soccer striker who is missing chances, they will be comforted by those chances they are creating.
But going into the last round of the Six Nations, and given the way the points differential stands, and the matches that are left, I think it's Ireland that are in pole position to win the title outright. 
England-France will in all likelihood be won by England, but it will be tight.
Wales have to put a huge score on a proud Italy in Rome to get back into contention.
Ireland have a difficult game at Murrayfield, but Scotland will give them chances to score so Ireland could rack up the points they need to win.
For the neutral it will make for an incredible Saturday coming, and even though the Grand Slam is gone, the championship could still be Ireland's.