It is easy to lose the run of yourself after a defeat but Joe Schmidt is not the type to do so.
He won't search for excuses because in top-level sport there are none but as with everything he will be realistic with what he has achieved with the team he has.
He knows they have delivered a draw against a good Welsh side and a loss by one point to a French team that, frustratingly, were there for the taking.
The issue with Saturday is that we just couldn't deliver the knock-out blow in the opening 60 minutes when we had the game under control.
There were decisions that were out of Joe's control made by the ref and whatever about the late challenge on Johnny Sexton, to me the high tackle on Dave Kearney was a cast iron yellow card in the modern game.
These are game-changing moments that you have no control over, especially in a one-point game.
The bottom line is, as ever, Joe and his coaches will be back in Carton House looking at what they control and the usual precision, even in the conditions, just wasn't there to allow Ireland capitalise on their superiority.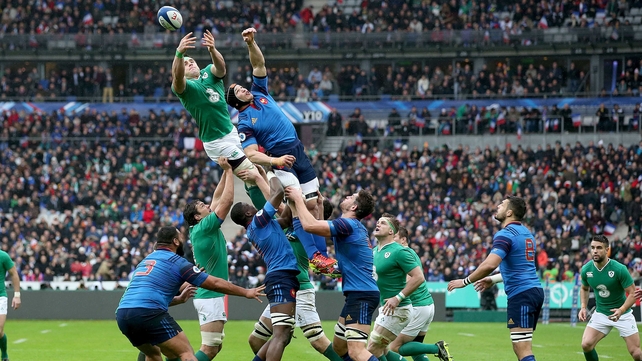 In the opening minutes we saw missed lineouts and fumbled passes, which set the tone of the game and even when we went 10-9 down to Maxime Medard's try, Ian Madigan proceeded to kick the ball out on the full.
It is the basics done well that matter at every level of the game and every mistake whether your own or officiating has a knock-on effect on the rest of the game.
Looking at the bigger picture we face a really tough test ahead.
Injuries always seem to be greater when you lose and we have shipped some huge ones.
Sean O'Brien just adds to that because, whatever happens in Twickenham, all you need to do is look at the attrition rate in the Italian ranks on Sunday to understand the physical battle that is coming our way in two weeks.
England were some way off being perfect but they wore down Italy with power before unleashing more power and we know in the backs England have that there is more to them than just power.
Eddie Jones must consider himself very fortunate to have come upon this group of players and with others to add to the mix he can really develop them.
I would be concerned for Ireland heading to Twickenham that the physical toll taken on the squad both before the championship and now during it is stretching us to breaking point.
There will be the usual calls to blood youngsters but going to difficult environments you have to make sure young players are given a platform from which they can do themselves justice and Twickenham is not the place.
We have lost enough experience and we have enough guys already learning about international rugby that we don't want to make that mistake now.
England are strong, powerful and have a Grand Slam on the line.
They have home games against Wales and Ireland to come as well as a trip to France and I don't think France can come close to them at the moment.
The only team that can stop England in this Championship is Wales because they can match them physically and the experience in the Welsh team and belief they have from their RWC win at English HQ can fuel them.
The secret for Joe Schmidt now is to make sure that we get all the little things right and we have a mindset to go at England.
If we go with a defensive mindset then we could have a long day.
We know the injuries that we saw, there will also be injuries that we have not seen and they will be on the treatment table, only Joe and his coaches will know that.
It was always going to be a difficult championship and so it is proving and I don't see it getting easier from here.