It seems no matter what Ireland do it is not good enough.
58 points scored and we are not happy. Why?
The answer is the same – we have been used to winning things and have been top of the tree but now we are in a scrap with Scotland next week to see do we finish mid-table or second from bottom.
When the full post-mortem of our Six Nations is complete we will see that we had a winning position against Wales but drew, we had the French game won but didn't finish them off, losing by a point.
Against England we fought and hung in there with the best team of the championship, ultimately coming up short.
The margins in sport are small and I will never tire of saying it. To me it won't be long before we are right at the top of the tree again.
What Joe Schmidt will have discovered over the past few weeks is who his potential new leaders will be and also that he has some new options.
When all is said and done the reintroduction to the group of Iain Henderson, Sean O'Brien and Peter O'Mahony will make us a significantly different proposition and that is exciting to me.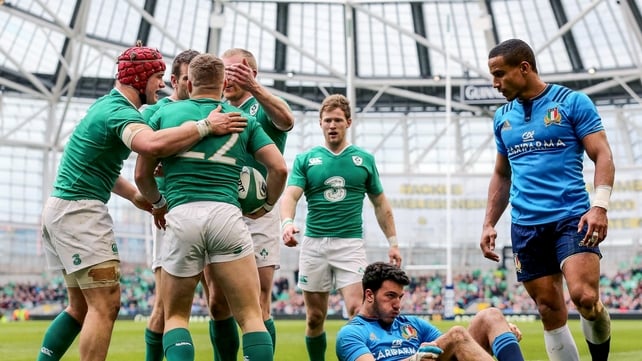 True we are lacking depth and need luck in certain positions, especially fly-half, but all teams revolve around special players and coaches need them to stay fit.
Ireland played an Italy team absolutely decimated with injury and one that had competed well during the first three Six Nations ties but the writing was on the wall from the moment Leonardo Sarto loosely tapped back the ball that lead to Andrew Trimble's first try.
If you add that to Edoardo Padovani's intercepted pass to Jared Payne, it was no wonder that Schmidt said that the shackles were off because the team were able to play without pressure.
It will be a fascinating week because I think people only ever look for fault without looking at so many of the good things that happen.
This week the whole focus will be on how good Scotland have been in this championship and the positive upward curve they are on.
You know it is easier to travel and be on a journey than it is to stay at the top.
Scotland are on that journey and within that they will be allowed to take steps backwards as they undoubtedly continue on their upward trend.
Joe Schmidt and Ireland are only allowed to win, they are not allowed to be in transition, say many commentators. 
This is the place you want to get to but it is a tough place to be because sometimes perspective can be lost, and I think in general we have lost perspective as a result of our success.
Make no mistake, Italy was the right game at the right time for this Ireland team but a real test arrives this week if Vern Cotter's men mentally recover to back it up and physically have not been drained by a six-day turnaround.
Changes for Ireland will be limited to injury-enforced and defensively we will need to switch on to the Scotland threat but it will be a game that will tell us a lot as to how long we will be in this transitory state, so to speak.
On the other side it is great to have Scotland back as a real force and I genuinely think they are.