I have always preferred being at matches because you get a greater sense of perspective as to how it is going - you are able to sense the momentum, the energy and the physicality of the game so much better.
"I haven't watched a match with as many talking points for a long time and the intensity that was brought to it was truly astonishing"
In watching the game from the RTÉ studios on Saturday I went through emotions of dread that it was going to get ugly, to admiration for the durability and courage shown by Ireland to hang in when lesser teams would have folded, to disappointment that when we gave ourselves a chance we missed it.
When you look back on the game with a coaches or players hat on Ireland will agree that England, at times, looked like they would overpower them - with Billy Vunipola particularly impressive.
But Ireland will point to little things that didn't go their way.
That, of course, is a rose-tinted view because there was plenty that didn't go England's way. But such is life and sport. Momentum ebbs and flows and you have to hang in when the going gets tough and take advantage when the force is with you.
So put your Joe Schmidt hat on and forget about the things you don't control. Things like the crossing penalty in the first half given against Robbie Henshaw when Johnny Sexton was set free, or the try scored (or not) by Josh van de Flier, or Henshaw nearly getting into the corner but for an amazing cover tackle by Jack Nowell.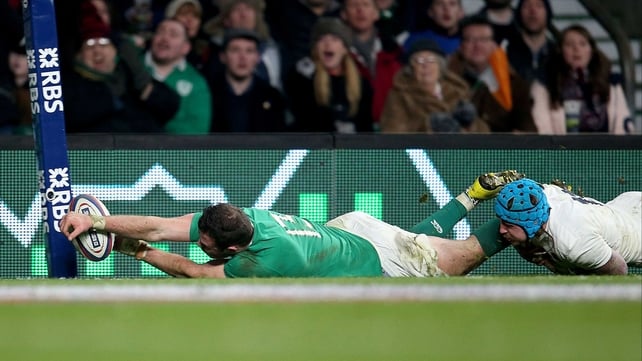 These are the bits you want to go your way but you don't control so much as we did the lineouts that we had in attacking areas but lost, or the times when we had the ball but did not keep it for long enough periods to exert pressure on England.
It is easy to look at execution of skills in isolation without taking account of the physical toll the battering Ireland were taking would have had. And that is a massive mitigating circumstance for anyone but, in the first half in particular, when we had to absorb so much we didn't help ourselves.
I haven't watched a match with as many talking points for a long time and the intensity that was brought to it was truly astonishing.
Joe will be delighted with the performance of the debutants. And the cameo from Ultan Dillane, when people around him were tired, was a massive statement in an area we need more depth.
As much as those young players stepped up; Rory Best, Conor Murray, Jamie Heaslip and Johnny Sexton did what I would expect of senior players - they stood up and fought for everything and Henshaw in midfield continued to look what he is - and that is potentially world class.

Winning and losing can colour your opinion of games, as essentially winning is all that you are judged on as a player or coach, but sometimes you have to take a look at the bigger picture and in time we will take huge positives from Twickenham once the disappointment of the loss fades.
On the flip side, England are looking like they are developing an incredibly powerful side - and I know we missed players - but if you think they can, in time, unleash the power of Manu Tuilagi back in the midfield with the hands of Henry Slade beside him and you look at the age profile of their team then you have to say they are developing something incredibly strong.
I know our Six Nations is over in terms of the Championship but in a couple of weeks time the intensity of the England versus Wales game will send shock waves around South West London.
That game will, given the history between both sides - both recent (RWC) and past - and given what is at stake, be pretty special. If you are a rugby fan, don't miss it.