The clash with Italy was the sort of game that is so difficult to be involved in as a player or a coach. The expectation or perception from the outside is that you will win the game easily, yet you know just how difficult the Italian team is to play against, especially at their home in the Eternal City in the first game of the Six Nations.
Ireland's template to play against the Italians was there for all to see last year and they employed the same one again this year.
Simply put: 
Ireland used the kicking game to play in the right parts of the pitch so as not to give away easy points - thereby denying Italy energy.
When in the Italian half, Ireland held ball through multiple phases to make Italian players make as many as tackles as possible - finally Italy didn't have the energy to keep making those tackles and their defensive shape broke.
For Ireland and for Joe Schmidt it will be seen as a job well done and he will now just get everyone into camp and ready for the challenge of France - a team that Ireland will, as a collective, be miles fitter than.
Schmidt's team will be looking to keep the ball in play against France this weekend to tire their pack out. Ireland's performance in Rome without Jamie Heaslip and Johnny Sexton was far from perfect, but it was satisfactory nevertheless.
Couple those absentees with the late withdrawal of Sean O'Brien who, along with Cian Healy, means so much to how a Schmidt side plays, then I am sure a 26-3 scoreline would have been snapped up before kick-off. It wasn't a game to set the pulse racing, but there will be enough of those kind of cliffhangers to come.

When you look at Schmidt's sides, you are always aware that they are based on massive attention to detail and knowledge of the role - hence Tommy O'Donnell slipping in so effortlessly at the last minute - but you also know that Joe will not prepare a side with a mindset of one size fits all. He will have a different plan of attack for France to the one he had for Italy, and a different one again for England.
He will also know that the psychology or arousal levels of his side will be at a completely different level this week; this week France are coming to town, the fear of losing will have been there at the weekend against Italy, but the players and supporters know this week will be a different level.
The atmosphere at the Aviva Stadium will be ramped up as will the intensity and physicality of the approach the players have. There will also be all sorts of talk of Rugby World Cup markers being laid down - forget it. This is the Six Nations and the World Cup will look after itself, and as France have proved time and again their form can flick at the blink of an eye so what happens this week will have no impact on the RWC pool match.
The changes Schmidt will look at for this weekend will be purely injury driven, Sexton, Heaslip and O'Brien will come back in to the squad if fit; I cannot believe Sean O'Brien will be fit.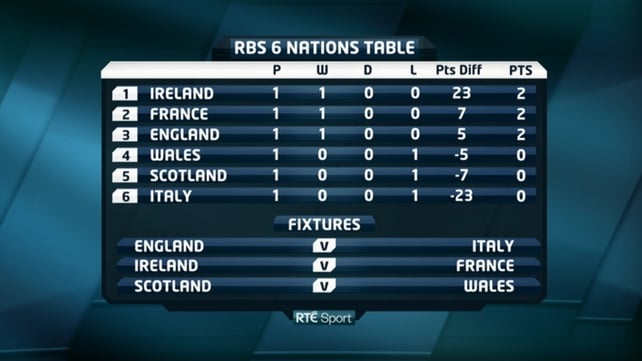 Everything else will remain the same. It is how we go about beating the French that will matter and the manner in which the game is played.
Against France you simply want a game where the ball is in play for as long as possible. This may go against the traditional thought process that French flair will kill you and you want it to be a set-piece orientated game.
It's true that the flair and talent of the likes of Wesley Fofana, Yohann Huget, Teddy Thomas et al can kill you, but you can only have that flair if your coach allows you to express yourself and you have 15 players who are used to playing in that way.
I have long thought that the Top 14 players, with all the depth of their squads, are just not used to games where the ball is in play. This French team is big, powerful and explosive, but aerobically the pack don't look built to run, hence when the pace was high against Scotland people like Stuart Hogg and Mark Bennett looked really good. In fact where Scotland wanted to break the game up, France looked like they wanted to beat them up.
Friday night in Cardiff opened the championship with a real bang and you were never going to replicate it on Saturday in Rome, but for me all roads are leading to Ireland versus England on 1 March.
France is a massive challenge, but I am incredibly confident we can overcome if Sexton - even after so long on the sidelines - plays. To defend the title will be a huge challenge and even winning against France and England wouldn't guarantee anything because Wales are hurting and are a good side. And Scotland look a lot better under Vern Cotter already. In fact Scotland are definitely turning the corner because they've got a really exciting looking backline and in Finn Russell a young out-half that they can really pin some of their hopes on.
There will be huge swings the whole way through this campaign, but I go into this week massively confident that Ireland will make it two from two. But France will look to come to Dublin and look to do what Toulon did to Ulster in the Champions Cup earlier this season and that is physically dominate us.