By Tadhg Peavoy at Carton House
Devin Toner believes Ireland will bring new ideas to the table this RBS 6 Nations following a 2014 filled with success.
The last calendar year saw Ireland win nine out of ten Test matches and soar to third in the world rankings, with lock Toner and Paul O'Connell's lineout prowess at the heart of that success.
And the Leinster man feels Ireland have new tricks up their sleeve in that particular set-piece.
"We alter it for every game we go into so, from November we've brought a few new things into the game," said Toner.
"You have to adapt during the game and work on it training. Each team has different strategies to counteracting it, so we're working on it.
"They do have an experienced pack and like to get up in the air. But we're confident in our lineout and we've done well over the past year or so.
"We're gonna hold that advantage - I suppose."
"They're at their best at the start of the tournament and at their best at home as well. So, we're under no illusions that it'll be a lot tougher a game than people think it will be" - Devin Toner
Italy in Rome on Saturday is first up for Ireland and Toner knows well how difficult the Azzurri are to face on at home on the opening weekend of action.
"They're at their best at the start of the tournament and at their best at home as well. So, we're under no illusions that it'll be a lot tougher a game than people think it will be," said the 28-year-old.
"They've got a vast amount of experience and they're going to be very passionate at home. So, we've got a tough game ahead of us."
And with that in mind, any talk of winning by a cricket score to crank up points difference advantage goes out the window.
"We let everyone else talk about the points difference, but our sole focus is getting the win in Rome," said Toner.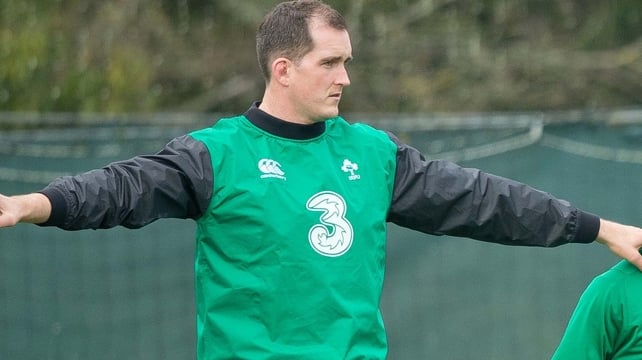 "We know how hard it will be so that's our sole aim."
Targeting the Italians has been the focus since Ireland met for a Christmas training camp, meaning two months homework has already been on the Azzurri challenge.
"The coaches are always putting work in behind the scenes. I don't think we see a percentage of the work that goes in. We had a little camp before Christmas where we worked on some of the things we were going to impose on them," said the forward.
"It was last week and this week that we really had a vision on them and had to counteract their attacking stuff.
"Our point of view is that we have to be going in as good as we can be. We don't want to be feeling our way into things around game three, game four. We want to hit the ground running. We want to kick on from the November series.
"100%, we don't want to struggle game one going into game two and three.
"You can tell in training if everyone has their detail and knowledge nailed on, you do get a bit of confidence going into the game.
"You can kind of tell if lads are clicking in training. It's a different ball game once the ball has kicked off. That's when we'll really know."
Toner worked under Schmidt at Leinster before the coach made his move to the Ireland set-up and he feels there is little issue with the challenge of switching from provincial to international teams.
"It might be for other players. But obviously I had Joe at Leinster. And I think everyone is prepared coming in as well," said the 20-cap international.
"I think that we have a lot of confidence in the players around us. And we've got a lot of confidence from the Six Nations results and November.
"We have confidence that we can pull it out of the bag and rely on the players around us.
"I think there is a confidence in the team. And it's all positive going forward."
As for Ireland being favourites to win the championship, the second row clearly doesn't take much heed of bookies' predictions or media columns, and feels the 2015 is as close to call as it could be.
"I don't care. I don't think about it at all. If we don't do well in Rome then that's out the door," added Toner.
"We just got get our performance right on Saturday.
"Lads don't take anything for granted.
"The competition is getting tighter and tighter every year.
"Scotland are getting better, Wales are getting better, Italy are getting better. I can't see a Grand Slam happening."