By Tadhg Peavoy at Carton House
Ireland forwards coach Simon Easterby has pinpointed Italy's experience and ability to perform the functional aspects of the forward game as key challenges to Ireland in this Saturday's clash in the RBS 6 Nations in Rome.
He feels negating these challenges and breaking Italy down are paramount to success in this first weekend of action.
"They're full of experience and caps and have [Martin] Castrogiovanni in there," said Easterby.
"[Sergio] Parisse, [Marco] Bortolami and maybe [Josh] Furno is a little bit newer into the mix.
"They pride themselves on their pack - on the platform that they give. On their physicality at line-out and maul time. They've always been that way and that's a big challenge for us - especially first up.
"It takes time to break them down. Our set-piece is paramount to that.
"As it possibly opens a little bit we can hopefully take advantage of that later in the game.
"We need to make sure we get our own house in order so as the game develops we can break them down."
"We need to make sure we get our own house in order so as the game develops we can break them down" - Simon Easterby
The Ireland coach also revealed that Ireland's pack will have a similar game plan for all five encounters in this season's Six Nations, but that that philosophy will be tinkered with from week to week.
"You try and adapt your game to the opposition you play against, but also you've got to get some fundamentals in your game right," said Easterby.
"I think we'll be happy if we can get them right at scrum and lineout time and keep it consistent in the way we do things.
"We will also look to throw certain things in there that are [prepared] for certain opposition, but might not be there next week.
"There's adaptation throughout the championship.
"A lot of players might have a couple of bumps after Rome. You have to adapt and be able to give players the opportunity."
Leinster's Sean O'Brien returned to playing action for the Ireland Wolfhounds last Friday and Easterby - understandably - is buoyed by his comeback.
"He's good. I think in his own assessment he was in pain a little bit, and he would be not having played rugby for as long as he did," said Easterby.
"He had a long time out of the game. But we all saw what he can be. The competitiveness of the man and he's not a bad guy to have around the squad.
"Having him in the mix for selection is a real positive, especially after losing Chris Henry and Rhys Ruddock in the autumn. A few players have stepped through. But having Sean back is great as a selection option."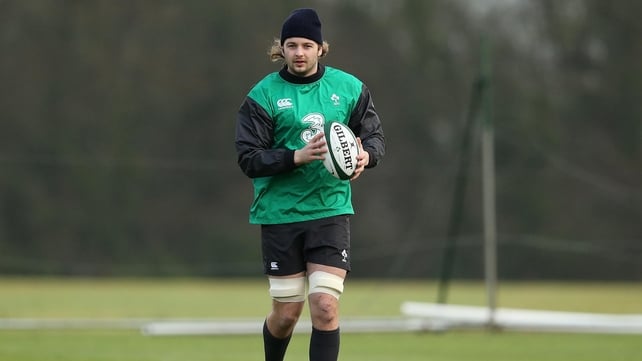 Ulster's Iain Henderson has also recently returned after a long injury lay-off and will provide a fresh option for Ireland in both the second and back rows, when he gets full match fitness back.
"He's a long way off as well. He played well against Leicester and against the Saxons. He adds to the competition in the second row where we are a little bit tight, with only four players in the squad," said Easterby.
While tighthead remains an area where Easterby feels Ireland are now in a position of strength and depth, it was a major problem area a number of seasons back.
"It's an area where we have a bit of depth there with [Mike] Ross and Nathan White coming back," said Easterby.
"Rossy did well against the Saxons. It's a tight call and we had a long selection meeting last night which is a good thing.
"It's good for the players to know there is a lot of competition for places. You want two or three of four players competing for places, which makes it difficult for us picking the team."
Ian Madigan and Ian Keatley will vie for the starting No 10 spot this Saturday, with Madigan in pole position if one reads into Easterby's thoughts following his performance for the Wolfhounds.
"He did okay. He put himself on the front foot quite a bit and in defence he came up quite a bit," said Easterby.
"They were fairly competitive at the breakdown and we didn't get the continuity we would have liked.
"Mads along with several other players put their hands up for selection this week."
This is of course Easterby's first Six Nations as a coach in the Ireland setup and he is enjoying the transition to the international set-up following his stint with Scarlets.
"It's a bit of a transition from club coaching week in, week out. We've all got a huge amount of ambition to take this team as far as it can go," said Easterby.
"My big thing as a coach is me giving the players the best amount of detail to perform. And I think we all have the same philosophy as coaches [in the Ireland set-up].
"Giving them the best information as a unit, as a team and they have to go out and deliver. If you know by the end of the week that you have given them as much as you can then that's what we can do as coaches."