By Tadhg Peavoy
Ireland scrum-half Conor Murray is fully fit and ready to fill the No 9 slot against Italy in the RBS 6 Nations on Saturday (2.30pm) having fully recovered from his recent neck problems.
Murray suffered a neck injury playing for Munster in the Pro12 back on 10 January and has been on the comeback trail since.
"I got injured for Munster against Zebre in the Pro12 about four weeks back and just kind of over-extended it and was a little bit touch and go for those European games [against Saracens and Sale Sharks] with Munster," said Murray.
"I maybe could have got back, but speaking with the specialists and the doctors and all that, they probably advised against it. I've rehabbed it well and came through well yesterday [in training].
"I ran into a fella's chest and squashed myself."
"If I play well, hopefully all the pressure and responsibility looks after itself" - Conor Murray
Rehab is part and parcel of every rugby player's life and Murray admits that it is one of the most frustrating parts of being a professional sports person.
"You have all different programmes for your rehab process: for your neck, for your shoulder. Rehab is annoying, you can't train fully," said Murray.
"You can't do your full weights programme in, you can't be out on the pitch with the lads, but it's just part and parcel of professional sport.
"I just have to get the head down and get on with it. I've done my contact, I've done bag work and I feel good.
"I've gotten through that first contact fear."
Murray's normal partner in crime at half-back for Ireland is Johnny Sexton at No 10, but the Racing Métro man will be missing with injury this time out against Italy.
However, Murray doesn't feel that places any more responsibility on his shoulders, but instead gives the new out-half - Ian Madigan or Ian Keatley - the chance to step in and shine in the Eternal City.
"I just try and play my own game and try and play well. And if I play well, hopefully all the pressure and responsibility looks after itself," said Murray.
"The two Ians that are going for the No 10 spot this week have been in and out of the team in training. They've been getting their reps in and doing well.
"We all have our roles within the team. We all understand how Joe Schmidt wants us to play the game. We just have to have a good understanding of the gameplan and how we want to approach the Italy game."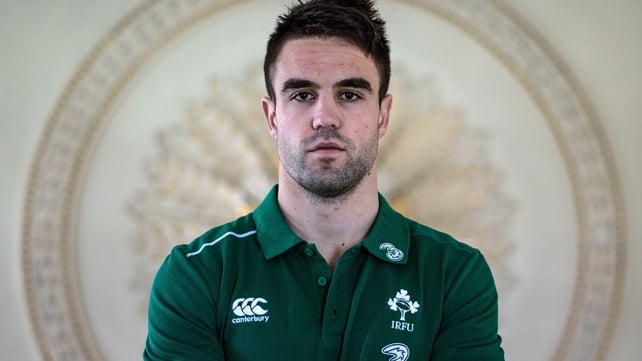 Murray also suffered a concussion back in November in the victory over Australia, but that injury is behind him, with the Ireland medical team having played a major role in treating the issue correctly.
"The lads handled it really well at the time. There's protocols in place and we followed each and every one of them. Sometimes you do get a delayed concussion onset and that's exactly what happened me," said Murray.
"I passed all the questions and the balance tests, which meant I was fit to play. I came back on and finished the game. But after the game I didn't feel right. It's hard to put your finger on it. You just don't feel right. You might just have a little headache.
"I had a slight headache, but nothing major. I just felt a little bit off.
"You can't put your finger on it, but I've had concussion before and felt the same and knew what was up, so I just followed the protocols and got back playing, which is what I did."
The Munster man also revealed that these days players are less likely to brush off concussion in order to stay on the pitch and that more and more player welfare is coming first in this important issue in the sport.
"In the Australia game I'm kind of shaking my head as though there's nothing wrong with me," said Murray.
"But in the days after I did have to tell the lads because I didn't feel right.
"We're all more educated on concussion now and the potential risks down the line. It's within our best interests to tell the coaches."
A lot of the talk this week is of how strong Italy are in the first week of Six Nations battle, and Murray is no exception in this way of thinking.
"They're hugely strong at home and in their first few games at home they've put together huge performances [in the last few years], so we've got to be ready for that," said Murray.
"Personally, I've put in my contact work and I've got no fears about making tackles or getting stuck into it.
"There's no easy games in the Six Nations and Italy in the first game is a huge task for us. I know people say 'you're defending champions' but this is a whole new season. There's potentially new players in our team so there's a whole different mindset."
But he admits confidence is high after an unbeaten November series and capitalising on that is crucial, saying: "You have to get confidence from the way November went, but then you go back to your clubs and play six or seven games before we're back together again.
"So, it's about individuals maintaining their form and confidence. As a team, we've a huge amount of confidence and we're really looking forward to it."