By Tadhg Peavoy
When was the last time Ireland played this well for three games in succession? The answer is 2009, in the same season that they won their only Six Nations trophy.
That season they managed to put five solid, competent attacking and defensively sound performances together under former head coach Declan Kidney.
Not since then has an Irish side showed the consistency of mental strength and fortitude of physicality to threaten teams the way Ireland did against New Zealand, Scotland and Wales.
The country was giddy with the sublime delivery Ireland executed at Aviva Stadium last Saturday, yet with that victory must come caution.
Two wins, or 40% of a Grand Slam, is a fine start to a championship, but little will those two wins be remembered if Ireland do not go on to claim a further two or three wins and secure a championship or Grand Slam.
Perspective that 40% is far, far short of the 100% desired by this Ireland squad and management is key.
Team ethic in the Ireland team
All that said, Saturday's performance against the Welsh dragon was magnificent. Ireland were by quite some margin the best team in Europe this weekend – as they were in the first round of the championship.
One of the most pleasing aspects of the victory was the quite evident stability across this squad.
Across the 23, Ireland are playing like a team that knows each other's game inside out. There is a connectedness about the side that inspires huge confidence. It appears to be the same kind of unity that Munster, Leinster and Ulster sides have possessed en route to victory in European Cups, and the kind that has often been lacking in Ireland teams in the past.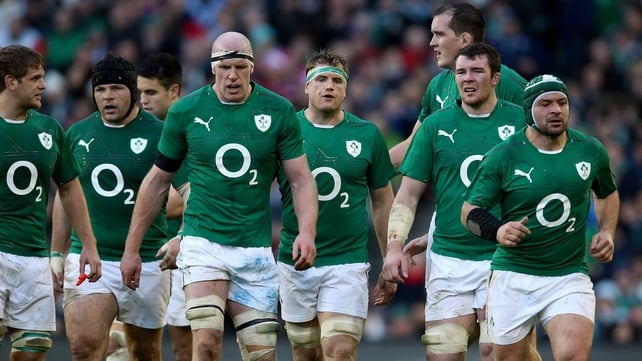 It's long been said that if Ireland's national side are to reach the same heights as its provinces, then this commonality of spirit needs to be present, and Joe Schmidt must be hugely pleased with the team ethic his team has displayed in Ireland's narrow defeat to New Zealand last autumn, and in defeating both Scotland and Wales.
Sexton's on fire
Jonny Sexton has been playing in a struggling Racing Métro team this season, and his comments before the Six Nations, when he revealed that he has considered ending his Parisian sojourn early and coming back to Ireland immediately, were worrying.
They gave the impression that he was totally unsettled mentally.
The worry from an Ireland perspective was that this turbulence would carry over into his performances in the green No 10 jersey.
Over the last two weeks there has been no evidence of that. Instead, he has delivered two top-drawer performances. He has delicately balanced his game, managing breaks with ball-in-hand, with kicks for territory and passing outside with clarity.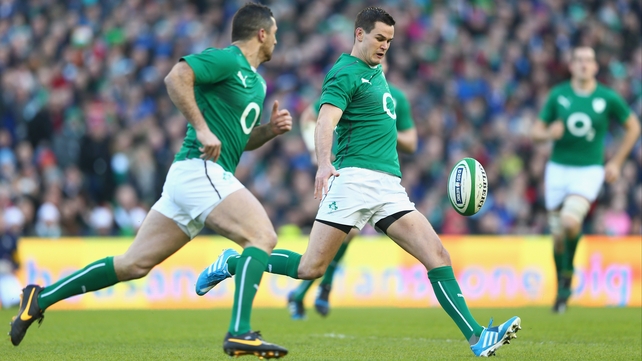 Rather than playing like a man unsettled at his club, he has looked incredibly fresh, hungry and motivated. It says mountains about the former Leinster player's mental strength and desire.
His fitness and form are key to Ireland's ambitions at all times. And if he continues in this vein of form, a significant element of Ireland's bid for the championship trophy will be in place.
Ireland's defence
Two games into this season and Ireland have conceded just nine points, and no tries. This is immense.
Collectively the team has just been outstanding when defending the ball across the pitch, especially in their own 22. Against Scotland, Ireland repelled David Denton in the corner with a triple tackle from Jamie Heaslip, Dave Kearney and Conor Murray.
Against Wales, after 67 minutes, with the score poised at a delicate 19-3, Wales were on the Ireland line, and battering hard. 
A try for the red team at this juncture would have potentially changed the entire course of the last ten minutes of the game. Ireland's defence needed to be watertight to ensure they denied the opposition a sniff of a comeback.
Tackles by Rory Best and Rob Kearney on Sam Warburton, as well as tackles by Martin Moore and Jamie Heaslip on Rhodri Jones, prevented this happening.
Those two incidents typify Ireland's resolute defence, and defiance in not letting their opposition cross the whitewash.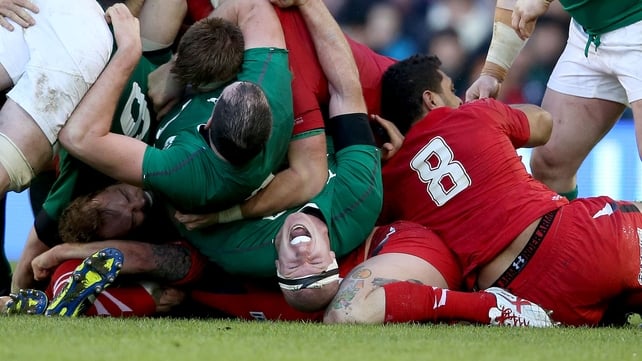 Tackles just have not been missed, and most especially not in Ireland's own 22. This defensive form has been the backbone of Ireland's brilliant displays, and to win the championship it must continue.
Ireland had a 94% tackle completion rate against Wales, missing just nine tackles out of 131. Against Scotland, Ireland had an 89% tackle completion rate, missing just 15 of 124.
After two matches of the championship last season, Ireland had conceded 28 points, and three tries. Unquestionably there has been a huge improvement in this area under the new management ticket.
The maul and getting basics right
Ireland's maul is now a fearsome weapon. Wales were totally destroyed by it and it led to both Ireland tries. As were Scotland for Jamie Heaslip's try in round one.
At this point in time, it is the best maul in international rugby. Ireland must – and will - use it again at Twickenham. But they must also realise that the England pack will have noted its devastating use and will be preparing for it.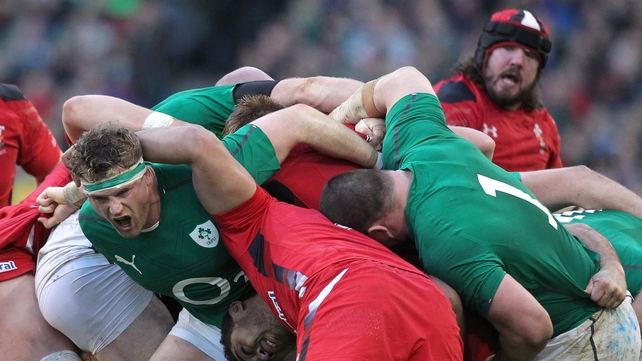 Nuances and wrinkles, such as runners on good angles off the maul, need to be prepared for Twickenham, in the possibility that the white defence in south-west London will not so easily cave under the pressure that the Scottish and Welsh packs did.
In addition to the maul, the scrum and lineout is functioning at an almost optimum level; over the last two weeks Ireland have only lost three out of 31 lineouts on their own throw, and two out of eight scrums on their own put-in.
Like the defence, the basics are just being hit time and time again. You can wax lyrical about the finer points of a game, but unless these basic targets are hit, victory will not come.
Plaudits must go to Rory Best and Devin Toner in this regard; they have both been outstanding in both elements of the game.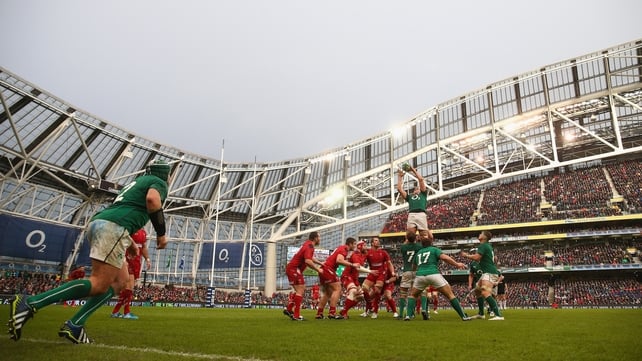 Dan Tuohy's broken arm has likely ruled him out for the remainder of the championship, and to that end there will be a chance for another second row to come in and do a job for Ireland.
It is imperative that this doesn't weaken the second row. Mike McCarthy is the likely man to fill the gap. Ireland need him to perform at the same level as Tuohy has done – or better.
The challenge of England
And so, onwards for Ireland to face the Red Rose at the home of rugby; England always represent a huge challenge, most especially on their hallowed home turf. Ireland will be salivating at the prospect of facing their oldest enemies at RFU HQ.
Most especially there will be an intense desire within the Irish camp to end a three-match run of defeats versus England, including a humiliating 30-9 defeat on their last outing in south-west London on St Patrick's Day in 2012.
The last time that Ireland lost four matches consecutively against England was in 1998, part of a six-game losing streak that extended until 2000.
That this was so long ago is testament to the success Ireland have had in Twickenham, and the lack of fear the Irish team have in going there.
But the challenge won't be underestimated. England are playing some fine rugby in 2014 and are very real challengers for this title.
Bar that late Gael Fickou try for France, England would also be on course for a Grand Slam, and their 20-0 victory over Scotland demonstrated what they do best: ruthlessly grind teams down, and physically overpower them to the extent that they collapse and are mentally exhausted by their brutality.
It has worked for England for decades in the world of rugby, and the current group of forwards is beginning to look like a crop of the finest ever assembled in the white jersey.
There is only one way to take on that England pack: face first and full blooded, and the clash of the green and white eights in London will be brutal.
From a scrummaging point of view, Ireland's six props will face their biggest test of the championship thus far. Joe Marler and Dan Cole will be a threat to Ireland, and they will no doubt attack the scrum ferociously in an effort to win penalties like England did in 2012.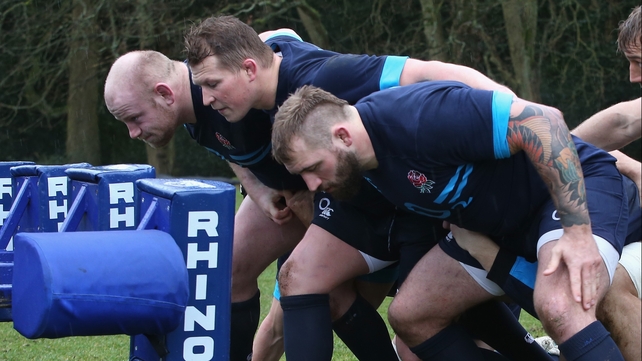 The Ireland front row has been immense thus far, if they can maintain that performance against England, then the belief that Ireland have turned a corner scrummaging wise will take further shape.
Jack McGrath and Martin Moore have looked so strong as front row replacements that there is in fact now the distinct possibility that England's front row bench players Mako Vunipola and Henry Thomas could be a major weak link in the Red Rose's armour, and it is in fact they that will leak penalties; time will tell on that front.
Danny Care at scrum-half for England has been in superb form also, and has been getting the English backline playing with a superb tempo; his decision making has been first rate.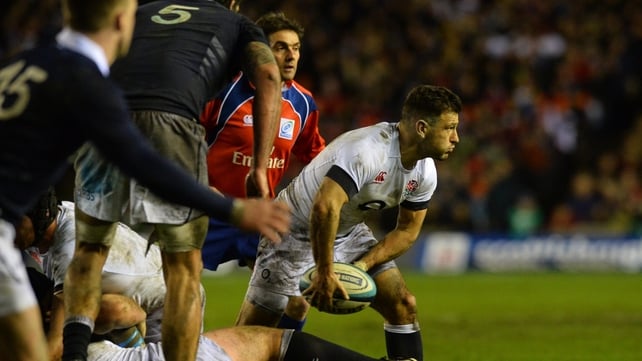 Conor Murray will need to use his size to bully Care around the fringes and ensure he is not given the same space Scotland, and even France, afforded him.
Owen Farrell has been roundly praised for his performances at out-half for England. However, he will given a huge test by the Ireland backrow, and I feel he will be targeted as a potential weak link in the England backline.
The truth is that the England's backline has been good, but not outstanding. Luther Burrell's angles of running and ability to make line breaks has been standout.
His face-off with Brian O'Driscoll will be a key clash at Twickenham. If BOD gains the upper hand, England will be forced to move the ball to the wider channels more frequently, where the relative inexperience of Jack Nowell and Jonny May can be tested by Andrew Trimble and Dave Kearney.
England made ten line breaks against Scotland and scored just two tries; this is extremely profligate and shows that the Red Rose is still not at its sharpest.
Perhaps the most interesting of all the potential battles will be Mike Brown versus Rob Kearney. The two full-backs have both been the most attacking 15s in the tournament, but whichever player has the better defensive display could be more important on the day.
It's a fascinating tie that lies ahead, with the potential for Ireland to continue to play with the organised chaos they've displayed, but add to it refined backplay, and wrinkles to their game, that take them to a 60% win rate in this year's Six Nations.
Only 11 days to wait...