Ireland captain Ciara Griffin says she and her team-mates were disappointed with the comments of women's rugby director Anthony Eddy this week.
The IRFU's director of women's and sevens rugby spoke to the media on Monday, with his comments about the support given to the 15-a-side game in Ireland sparking anger among current and former players.
Speaking ahead of tomorrow's Test match against the USA at the RDS, the Ireland captain Griffin was asked if she had been disappointed by Eddy's comments.
"Yeah, I was. We all were," Griffin confirmed.
"People have their comments, that's fine, that's what the review is for, we can put our feedback into that, we're just going to trust the review process.
"Anthony has addressed me in terms of that, he apologised in case people took offence to his comments. His comments were made, we now need to focus on the game, on the game at hand and we'll look at the review process after that and give our opinions there."
The most striking criticism of Eddy came from Ireland international Cliodhna Moloney, who described his words as "slurry".
A number of Moloney's current and former teammates have publicly backed the Wasps hooker, while others distanced themselves from the comments.
However, Griffin says Moloney's stance has not caused any discontent in the group.
"There's no split in camp," said the Kerry native.
"It hasn't really caused disruption because we have an international game in just over 24 hours.
"First game in the RDS and it definitely hasn't caused a split in camp. We all back each other, we all have each other's back, nobody is alone in this group and it's important that point gets across that we have each other's back at all times.
"I support Cliodhna 100%, we all do. This whole team backs Cliodhna, have her back, she's not alone. It's really important we get that point across, that this group is very close-knit, it's very tight and we have Cliodhna's back.
"We want to focus on this game as well, but we have Cliodhna's back, we support her, she's very passionate about this game, we all are, and we all just want the best and put our best foot forward."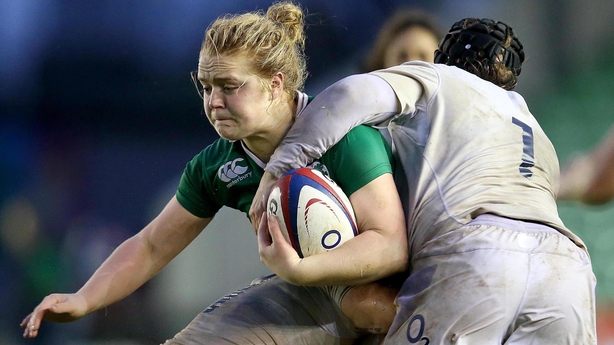 Two separate reviews are taking place into the state of women's rugby in Ireland, one specifically addressing the failure to qualify for the World Cup next year while a second review will look at the wider state of the women's game in Ireland.
When asked if she and the squad had full faith in Eddy as the director of women's rugby, Griffin was non-committal.
"We're putting all our trust in these independent reviews that our voices will be heard and these findings will be put forward and these changes will be made based on the findings," said Griffin, who will win her 40th cap tomorrow at the RDS (7.15pm, live on RTÉ Player).
"When that takes place, we'll see after that.
"I suppose we have to trust it. We have to trust the process.
"It's independent, it's external, our voices will be heard, everyone is getting talked to. All the voices of the squad will be heard so those changes will take place and should take place.
"We've to trust the process of this review, and we put all our thoughts and opinions into this review, and that's where we'll go. We've to focus on the game at hand.
"There's been a lot of outside noise at the moment this week, with all the comments and everything, but that's what the review is for, that's where we'll put our comments and thoughts and that's where we'll share them."
Follow Ireland v USA via our liveblog on RTÉ.ie/sport and the RTÉ News app, or watch live on the RTÉ Player.