Current and former Irish internationals have voiced their unhappiness with women's rugby director Anthony Eddy, after he attempted to defend the level of support given to the 15-a-side game in Ireland.
Hooker Cliodhna Moloney, who is part of the current camp preparing for the upcoming games against USA and Japan, likened his comments to "slurry spreading", while former international Jenny Murphy described his stance as "spineless".
Eddy was speaking to the media yesterday ahead of the upcoming Tests, where he denied that the women's 15s game in Ireland has become neglected in favour of the sevens program which he is also in charge of.
"That's incorrect to be honest with you," the Australian told RTÉ Sport.
"Both programs have had a lot of resources from the IRFU thrown at them in recent years. There were nine fully-contracted players representing Ireland at Parma at the World Cup qualification process. There are three full-time IRFU staff coaching that program with Adam (Griggs) and Steve (McGinnis) and Kieran (Hallett).
"I don't think either program has been favoured, because of our small playing number and small talent pool we have to share resources across both programs. People think one program is being favoured over another, I would clearly say they're wrong."
While several of Ireland's squad in the 15s game are professional players, they are contracted to the sevens program primarily, with no specific 15-a-side professional players in the country.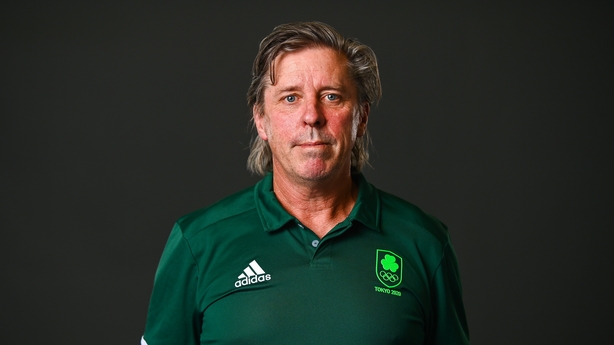 Eddy (above) continued to defend the resources given to the squad ahead of their ultimately unsuccessful World Cup qualification campaign.
"The team was well prepared, I don't want to contaminate any findings from the review that's in place at the moment either, but I know the girls, the coaching staff, the girls themselves are disappointed not to have qualified and disappointed in their performances," he said.
This afternoon, Ireland and Wasps hooker Cloidhna Moloney made her feelings known on Twitter, as she retweeted a link to Eddy's comments.
"I could have sworn slurry spreading season was spring… I stand corrected," she said.
I could have sworn slurry spreading season was spring… I stand corrected 👀 https://t.co/fgG8ef3CbR

— Cliodhna Moloney (@cmoloney3) November 9, 2021
Leinster star Jenny Murphy, a former Grand Slam winner with Ireland and member of the successful 2014 World Cup squad was just as forthcoming with her opinions on the comments of the Irish sevens and women's rugby director.
"Spineless," she tweeted.
"I honestly wish I was more surprised at this take from Eddy but I'm not.
"Is this the voice of someone who cares about the women's game in this country? Utterly deflating and I can only imagine what current players are feeling," she continued.
Recently retired flanker Claire Molloy later added her voice to the debate.
"Truly disheartening and disappointing read for everyone involved in women's rugby in Ireland," she tweeted.
"Where is the accountability? Oh sorry, that's for players alone to bear."
Members of the Ireland team are due to speak to the media tomorrow, ahead of Friday's international against the USA at the RDS.
Truly disheartening and disappointing read for everyone involved in women's rugby in Ireland. Where is the accountability? Oh sorry, that's for players alone to bear 🙄 https://t.co/m2jpDcwNaZ

— Claire molloy (@claire_mol) November 9, 2021