Ireland's director of women's rugby says it's "incorrect" to suggest that the IRFU have neglected the 15-a-side game, in favour of the sevens program.
Anthony Eddy, who heads up both Ireland's sevens and women's rugby programmes, says both formats of the women's game in Ireland have had resources "thrown at them in recent years".
Eddy was speaking to the media ahead of the Ireland 15s team returning to action this weekend, when they host the USA at the RDS on Friday night.
It's a first gathering for the squad since missing out on qualification for next year's Rugby World Cup, a failure which is seeing head coach Adam Griggs depart at the end of this month, to be replaced by Greg McWilliams.
When asked what he would say to those who feel the 15s game has been "neglected", Eddy defended the IRFU's approach to both codes.
"That's incorrect to be honest with you," the Australian told RTÉ Sport.
"Both programs have had a lot of resources from the IRFU thrown at them in recent years. There were nine fully-contracted players representing Ireland at Parma at the World Cup qualification process. There are three full-time IRFU staff coaching that programme with Adam (Griggs) and Steve (McGinnis) and Kieran (Hallett).
"I don't think either program has been favoured, because of our small playing number and small talent pool we have to share resources across both programs. People think one program is being favoured over another, I would clearly say they're wrong."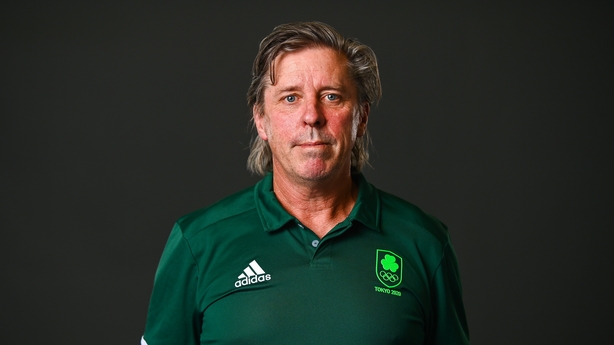 Currently, only sevens players are contracted to the IRFU. A number of those also represent the 15s side but there are no exclusively 15-a-side professional female rugby players in Ireland.
Last week, Wales announced that they would be issuing 10 professional contracts as part of their commitment to the women's game, with a further 15 players on retainer deals.
The WRU have not yet revealed the names of the players, or whether those contracted will be primarily contracted to sevens or 15s rugby.
"It was interesting what Wales have done, but those players will be across both programs as well," says Eddy.
"If you're looking at the likes of Jasmine Joyce, who I'm sure Wales will contract, she was player of the match for Wales against Japan. She's a sevens player, she plays 15s and sevens for Wales, she played sevens at the Olympics for GB, and I think they'll continue to do that across both forms of the game.
"They're in a similar position to us from playing numbers so they'll certainly be looking at sharing those players across both format of the game."
Eddy added that he doesn't believe the investment of their rivals will see Ireland ultimately being left further behind.
"There are nine of those players contracted, playing with the women's 15s program during the World Cup qualification process.
"There were another couple in the squad, there have been previous players in the squad that went playing 15s, from Hannah Tyrrell to Sene Naoupu and other numerous players.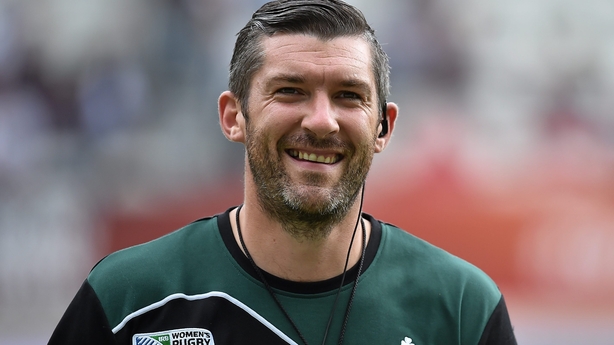 "We'll look at other opportunities to contract players. There are players that are still in our program who are on development pathways, whether it's sevens or 15s. Some of those players will be front and centre in both forms of the game and will be utilised by Greg (McWilliams) over the coming years as well.
"At some stage the game will go professional, but when that happens I'm not too sure.
"The majority of countries are in similar positions to what ourselves are, and speaking to them they're all in similar positions where they're trying to grow the game domestically and increase the player pool and increase player depth to be able to choose competitive teams who can go out and play against France, New Zealand and England, a lot more competitive than what we are at the moment."
While Ireland prepare for their final games under outgoing coach Adam Griggs, two separate reviews are taking place into women's rugby in Ireland, one examining Ireland's World Cup failure, and the second a "broader structural review" into the implementation of the 2018-2023 Women in Rugby Action Plan.
Eddy says he's confident the IRFU can use the findings of those reviews to improve the grassroots game in Ireland.
"There's no denying it's a huge disappointment. It is a setback, not just 15s game, but women's rugby not to have an Irish team competing in a World Cup. It's disappointing, there's no doubt about it.
"The team was well prepared, I don't want to contaminate any findings from the review that's in place at the moment either, but I know the girls, the coaching staff, the girls themselves are disappointed not to have qualified and disappointed in their performances.
"Obviously from the findings of the review and outcomes of the review we're in a position where we can continue to grow the game domestically and put ourselves in a better position for the game going forward," he added.