Ireland wing Amee-Leigh Murphy Crowe and lock Nichola Fryday have distanced themselves from comments made by team-mate Cliodhna Moloney yesterday.
In response to Anthony Eddy, women's director of rugby, commenting that the support given to the women's game was sufficient, Wasps forward Maloney suggested in a tweet that he was "slurry spreading".
Former players Claire Molloy, who retired following the failed RWC qualification round-robin in Parma, and Leinster and former Ireland player Jenny Murphy backed up Moloney, saying Eddy's comments were "disheartening" and "spineless".
"I'll support Cliodhna, she's my team-mate. I'll support all my team-mates but that's Cliodhna's comment and for me personally throughout the next three days I'm solely focused on the game," said Murphy Crowe, who is looking to win her sixth cap when Ireland host the USA at the RDS on Friday evening (7.15pm, live on RTÉ Player).
The build-up to Ireland's game against the USA on Friday has been dominated by reaction to comments made by Anthony Eddy, women's director of rugby #RTErugby pic.twitter.com/4h0nkUjUVl

— RTÉ Rugby (@RTErugby) November 10, 2021
"I don't like to delve into too many distractions because it could affect our performance and that's not what I'd like to do."
Asked if that was just Moloney's view, Murphy Crowe said: "That was her comment so yeah."
Three weeks ago the IRFU announced an independent review, led by former Wales international Amanda Bennett, into the failure to qualify for the World Cup and the players are still waiting to have their say with no date given for their consultations.
The process is expected to take eight to nine weeks.
Murphy Crowe also commented on Eddy's suggestion that the players were ultimately responsible for their failure to qualify.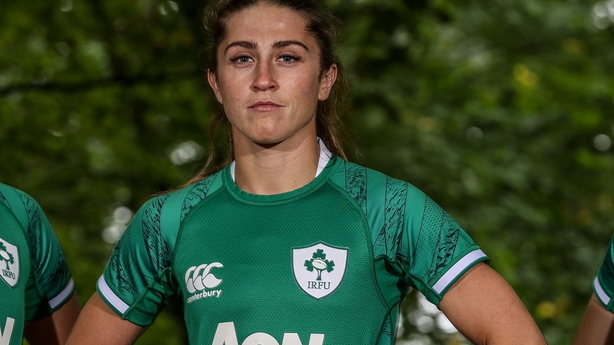 "I don't see it as blame, I see it as a failure to qualify for the World Cup," said the sevens stalwart.
"We've got the IRFU's side of it, the players' side of it.
"There's a review going on, and I think we leave that review there; let it go on.
"For this week, we have the game. Amanda will be in contact with us but, like that, she's not contacting us in the middle of a prep for an autumn international.
"We had a review with our management on the performance side of things.
"We got learnings from that and we are going to try and sharpen up for these games ahead. To be honest, I don't think we'll sit down and talk about what has gone on in the media the last few days.
"As I said, and I don't want to sound like I'm brushing things away, but we do have a game against a great international side and we have to respect that too. We have to put it up to them and play our game really well."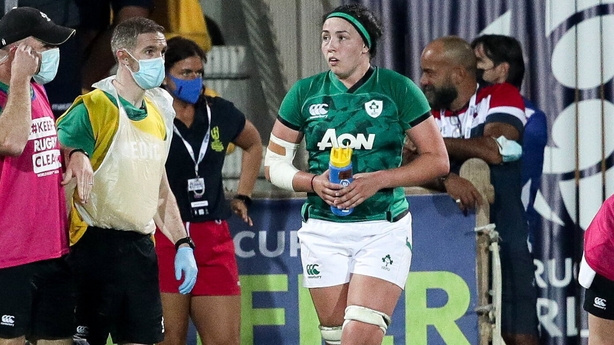 Fryday (above) also declined to back up the 29-cap hooker's tweet.
"I can't really comment on what Cliodhna has or hasn't said," said the 26-year-old Connacht player.
"For us as a group, we're very tightknit but we all have our individual thoughts on things.
"For me to comment on what Cliodhna has or hasn't said, it's not really my place."
Asked if it was important for players to use their voice, she added: "Yeah, 100%. I think we're entitled to put across what we are feeling or what we think about things, that's just the way life should be.
"We shouldn't be afraid of saying anything. We have a right to say what we feel.
"I can't speak for the group. I can only speak for me.
"For me, what happened in Parma was hugely disappointing, it's something I would have been working for since the last World Cup.
"I didn't get the opportunity to play in New Zealand and that was my sole focus, so to not achieve that, it was heartbreaking. We just have to regather and go again.
"I'm putting my trust in the independent review that is being done.
"There is no one thing that led to us not qualifying for the World Cup, so I'm putting my trust in the independent review, that we will feed into it, and that the other issues and factors that led to us not qualifying will come through that.
"At the moment that's all I really have to say because I'm trusting the independent review."
Follow Ireland v USA via our liveblog on RTÉ.ie/sport and the RTÉ News app, or watch live on the RTÉ Player.