Knowing what the opposition will do is one thing, stopping it is another thing entirely. It's a sentiment Andrew Conway readily agrees with given the challenge Ireland face this weekend in Twickenham.
Andy Farrell's men travel to the home of English rugby for their second outing in the Autumn Nations Cup having got off to a winning start against a struggling Wales side last Friday.
The head coach will know only too well that the bar will have to be raised on Saturday (live on RTÉ One), with Ireland's first defeat of the Farrell era coming against England back in February still relatively fresh in the mind.
Indeed since the high of a Grand Slam achieved on English soil in 2018, the sides have moved in different directions.
Joe Schmidt's final Six Nations campaign last year began with a comprehensive home defeat to the men in white followed by a record-breaking Twickenham defeat prior to the World Cup.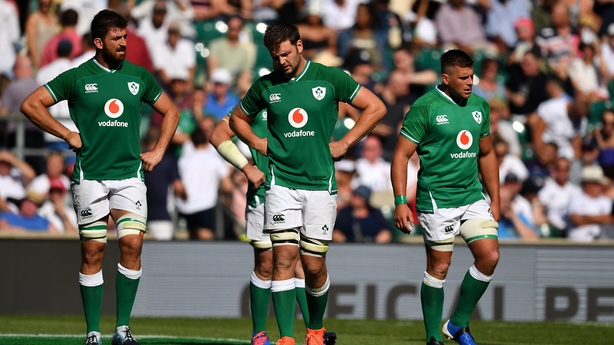 In Japan, the respective campaigns contrasted sharply; stuttering Ireland put to the sword by the All Blacks, who themselves were undone by an English side that fell short in the decider.
Throw in the February defeat to the eventual tournament winners and it's with good reason that many observers are pointing the way towards a home win.
"Going to Twickenham is one of the toughest environments I have ever gone to," Andrew Conway told RTÉ Sport.
"It's exciting. We'll be going there with probably not many people giving us a chance, but we are confident as a group with the work we have been putting in."
Conway's involvement in the 32-9 victory over Wales was unexpected. The Munster man was not even in the original match-day squad, but Jacob Stockdale's late withdrawal saw the 29-year-old slot in for his 24th cap.
Expecting the unexpected is now par for the course he insists.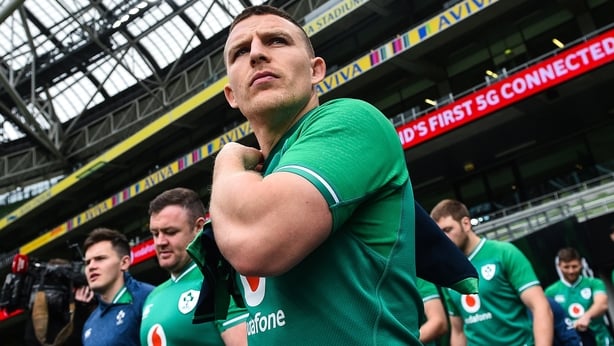 "Whether you are starting that week or whether you think you are fourth choice in a particular position and not looking likely to play, we have seen over the years that it happens more regularly than we'd like.
"Lads are getting called in with people picking up niggles, that's just the nature of the beast. I have benefitted from that a couple of times, so I know better than most that I need to be ready no matter what.
"Once I heard that it was a likely possibility, in my head, I was playing."
On three occasions Conway has faced England at senior level, including the two most recent encounters.
He feels the Irish team have a pretty good idea of what to expect, but counteracting their strengths is a difficult task to execute. A robust approach has often been the hallmark of English teams down through the years but their kicking approach reinforced their obvious strengths.
No team kicked more metres than England during the 2020 Six Nations, with Ireland at the other end of that particular table on 2,927 metres.
"They are one of the top teams in the world, and incredibly tough to play against," said Conway.
"They have a particular way of playing, which is kicking the ball a lot and put you under pressure, hoping you make mistakes.
"They have the ability to take advantage of that with the skill and power they have."
For those stationed in the backfield, it is the kicking game which gives plenty of food for thought.
Conway believes that at least five, "if not six or all seven" of Jones' backline will take on kicking responsibilities on Saturday.
"That makes defences have to respect everything from the run, to the kick from the inside to then moving the ball wide and putting the kick down the edge. There is a lot to do, and that is the challenge in playing England.
"There is a lot more thinking going on and you have to be really switched on."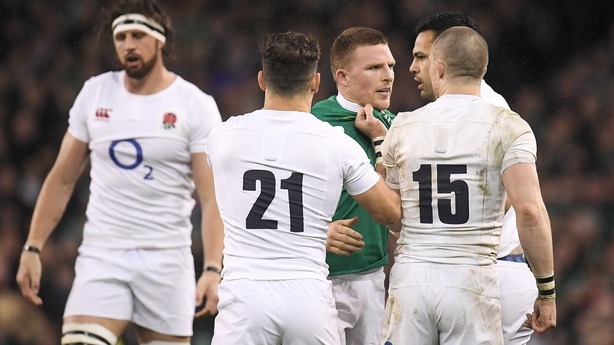 With the home side looking to make it four successive wins in the fixture, England's physical advantage over the men in green has been all-too-obvious in recent clashes. As far as Conway is concerned, it is about playing to a team's strengths.
Or more importantly, not playing into the hands of the opposition.
"There is no point playing into them if they have 14 fellas lining up ready to smack you," he says.
"They have bigger men than us at times, you will come off second best there. You have to be smart and use your head. Everyone has a responsibility to give accurate info that we are running into areas where they are strong."
Follow England v Ireland this Saturday via our live blog on RTÉ.ie/sport and the RTÉ News app, watch live on RTÉ One from 2pm, or listen to live updates on RTÉ Radio 1's Saturday Sport.