These are exciting, nervous times in the South East.
Waterford are looking forward to their first All-Ireland final in nine years and only their seventh ever after Sunday's second-half demolition of Munster champions Cork.
However, Déise excitement is tempered by nerves, with the county's hurling faithful waiting anxiously to learn the availability of two stars - including reigning Hurler of the Year Austin Gleeson.
Gleeson may have a ban proposed by CCCC after television footage captured the Mount Sion man removing Luke Meade's helmet with his left hand.
Given the bans meted out to his team-mates Stephen Bennett and Tadhg de Búrca for similar offences already this season, it is quite likely Gleeson will miss the novel final clash with Galway.
Gleeson's namesake Conor will also be facing an automatic one-match ban after he was sent off for an off-the-ball strike in the second half.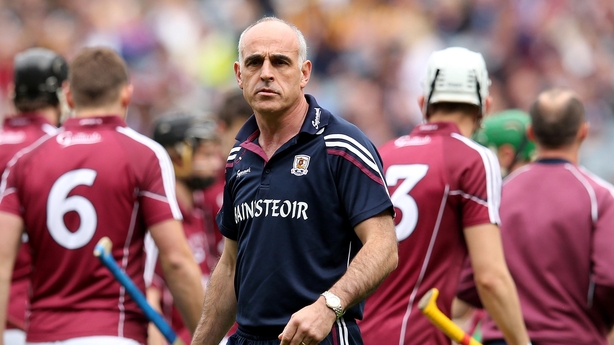 Former Galway manager Anthony Cunningham (above) has sympathy for the players, who are caught between a rock and a hard place.
On one hand you have managers and coaches encouraging more and more physicality in hurling and on the other, you have the GAA's alphabet soup of disciplinary bodies putting these young men through the wringer.
De Búrca - sent off for interfering with the faceguard of Wexford's Harry Kehoe in last month's quarter-final - was only definitively ruled out of Sunday's match in the early hours of Friday morning.
Cunningham believes the GAA's system of justice is out of kilter with the game's physicality.
"You are pushing players to make physical contacts, I will be the first to admit that," said Cunningham on RTÉ 2fm's Game On. "They are being coached and pushed to have a lot of physical contact."
The man who led Galway to their first Leinster title in 2012 does not believe those passing judgement on Gleeson and others, on these disciplinary panels,  are not necessarily qualified to do so.
"There are quite a few people involved in those who did not play with the faceguard or in the modern times of standing up players, pushing back players, getting bodies around.
"The ruck is a huge part of the game now, it wasn't there as much 10-15 years ago. It has changed and I think the policing policies and the citings and the guys who review these maybe haven't moved with the times."
Former Kilkenny forward and The Sunday Game pundit Eddie Brennan concurred, going so far as to suggest a rugby-style system of justice.
We need your consent to load this rte-player contentWe use rte-player to manage extra content that can set cookies on your device and collect data about your activity. Please review their details and accept them to load the content.Manage Preferences
"Maybe we adopt a model similar to the rugby, where a reviewing committee headed up maybe by a judge, barrister, ex-players or something, review the incident today, decide what they are going to do, make the recommendation, it is heard tomorrow tonight and there is a appeal Thursday or Friday and it is put to bed and Waterford can focus on preparing for the All-Ireland," said Brennan on Monday's show. 
"I think Derek McGrath might have looked at his phone because all the stuff was on social media, which is the world we live in now unfortunately, and said, 'Jesus, I could have done without this.' Given the late hours that were invested in trying to rescue De Búrca."
As Waterford braces itself for another saga, Brennan argued that his neighbouring county deserve better than another anxious wait.
"If we are going to ask our players to train like professionals and subject them to scrutiny then we need a professional body to deal with it and avoid Tadhg de Búrca sitting in a room till one in the morning."