For the second year running, Dublin and Kerry will contest the Division 1 final, while Galway v Kildare will battle it out for the Division 2 title, writes James McMahon.
SUNDAY 9 APRIL
Allianz FL Division 2 final
1400 Kildare v Galway, Croke Park
Allianz FL Division 1 final
1600 Dublin v Kerry, Croke Park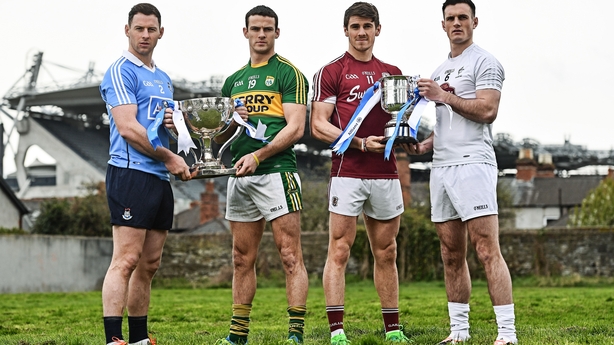 It all began on February 4 and 112 games later we have the finalists in each of the four divisions in the Allianz Football League. With no semi-finals in the top flight, there is an earlier finish to this year's competition - extra time then for preparations ahead of summer combat.
Indeed, with the restructuring of the championship from 2018, could we see a more condensed, perhaps even earlier start to the league?
The Master Fixture list will reveal all later this year with regard to next season's calendar.
Old foes collide again
It's 40 years exactly since Dublin and Kerry first met in a league final. On that April afternoon. the Kingdom prevailed by two points as another chapter was played out in their rivalry from the 1970s.
The counties met in two subsequent finals - 1987 and last year - with the Dubs winning both. The triumph from 12 months ago saw Jim Gavin's men ease to a 12-point victory. Second-half goals from Paul Flynn and Eric Lowndes saw Dublin achieve a fourth league title on the spin.
Their quest for a five-timer pits them against the last county to beat them in a competitive league/championship game. That was all of 36 games ago when Kerry had two points to spare in their spring clash in Killarney on 1 March 2015.
It's been a strange sort of league for Éamonn Fitzmautrice's side. Like a horse coming up on the inside rail they crept into the final courtesy of a strong finish that saw them account for Tyrone.
Their burst out of the stalls saw them whip Donegal, but much of their in-running was underwhelming as evidenced in their losses to Mayo and Monaghan and the draw with Cavan. They did rediscover much of their vigour in nearly toppling Dublin in Tralee on the Patrick's weekend.
Kerry are chasing a 20th league win and their first since 2009.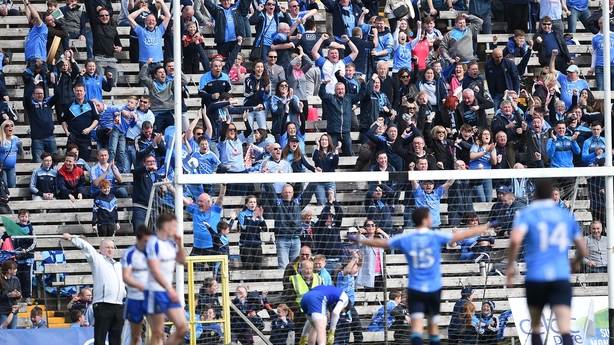 Dublin's strength in depth from the bench was again to the fore as they reeled in Monaghan to clinch their place in the decider. It continued a trend where Ulster teams put it to the Dubs in this spring campaign.
Dublin lie second behind Kerry in the league roll of honour with 13 titles.
Views from Marc Ó Sé, Ciarán Whelan, Éamonn Fitzmaurice and Jim Gavin ahead of the football league final pic.twitter.com/eVHX61tqA6

— RTÉ GAA (@RTEgaa) April 7, 2017
Manager talk:
Jim Gavin - "We had a very tough game against Kerry in Tralee a few weeks ago. It could have went either way.
"Over the last number of years, since I've been involved, there's been very little between both sides.
"It's another great challenge. They've got some players coming back from club football as well, so it's going to be a great game."
Éamonn Fitzmaurice - "Playing Dublin in a provincial venue and playing Dublin in Croke Park are two different things.
"That's the ultimate test really."
PATHS TO THE FINAL
DUBLIN
Dublin 0-18 Cavan 0-11
Dublin 0-10 Tyrone 1-7
Dublin 1-8 Donegal 2-5
Dublin 1-16 Mayo 0-7
Kerry 0-13 Dublin 0-13
Dublin 2-29 Roscommon 0-14
Dublin 2-15 Monaghan 1-15

KERRY
Kerry 2-17 Donegal 1-17
Mayo 0-15 Kerry 1-10
Monaghan 2-8 Kerry 1-10
Kerry 1-19 Roscommon 1-13
Kerry 0-13 Dublin 0-13
Cavan 1-10 Kerry 0-13
Kerry 1-21 Tyrone 2-11
Quick turnaround for Galway and Kildare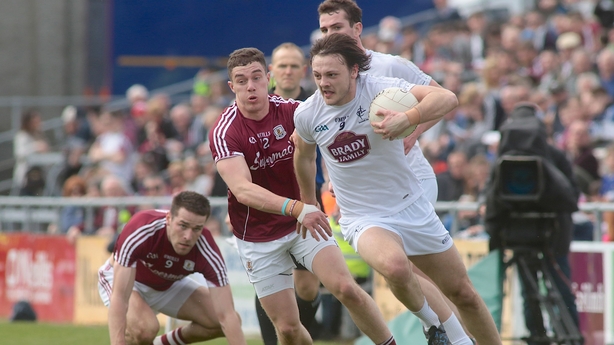 They meet for a second successive Sunday, with Galway having won in Pearse Stadium by a point, a result which clinched a return to the top flight for the first time since 2011. Kildare, who secured promotion in six rounds, return to Croker for a second league final in a year.
They lost to Clare in Division 3 decider last April.
Lilywhites boss Cian O'Neill opted for a much-changed side in Salthill, with only Fionn Dowling surviving from the win over Clare. All told O'Neill will be happy with that warm-up for this encounter.
That said, Galway played well within themselves to clinch their Division 1 ticket as they strive to win a first piece of silverware at Croke Park since 2001.
PATHS TO THE FINAL
GALWAY
Galway 0-14 Cork 1-11
Galway 1-13 Fermanagh 0-10
Galway 3-13 Clare 1-11
Meath 1-13 Galway 0-15
Galway 5-15 Derry 2-15
Galway 3-15 Down 1-13
Galway 0-14 Kildare 0-13
KILDARE
Kildare 3-17 Meath 0-16
Kildare 1-14 Cork 1-8
Derry 1-18 Kildare 1-17
Kildare 4-14 Fermanagh 0-14
Kildare 2-9 Down 0-10
Kildare 0-18 Clare 1-14
Galway 0-14 Kildare 0-13
Conor Sweeney on form as Tipp take Division 3 title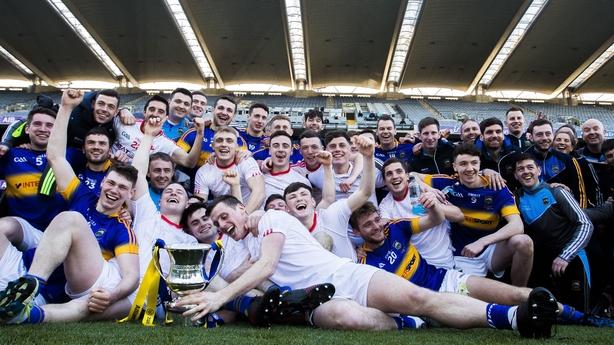 Conor Sweeney blasted 2-05 at Croke Park as Tipperary capped a thrilling 12 months with the Allianz Football league Division 3 title on Saturday.
All-Star Michael Quinlivan was named Man of the Match at Croke Park though Sweeney pushed him close with two second-half goals for the 2016 All-Ireland semi-finalists.
The nine-point win flattered Tipp whose third goal, Sweeney's second, didn't arrive until the 77th minute.
But they were deserved winners and will return to the Championship with high hopes of overcoming Cork in an anticipated June 10 Munster semi-final encounter.
Midfielder Liam Casey also netted for Liam Kearns' side while Quinlivan, who admitted afterwards he was a little baffled at beating Sweeney to the Man of the Match award, scored 0-03.
Heslin shines as Westmeath stroll past Wexford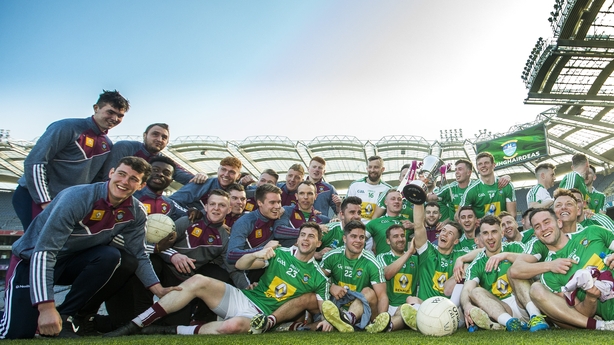 John Heslin continued his prolific scoring form for Westmeath with eight points at Croke Park to help cap Allianz Football League promotion with the Division 4 title outright.
Tom Cribbin's Lake County secured their first piece of significant silverware since the 2008 Division 2 title win with surprising ease and had key performers in Kieran Martin, Ger Egan and Paul Sharry.
Martin scored 0-04 and was named Man of the Match while Egan drilled the first-half goal that put the back to back Leinster finalists on their way to a comfortable win.
Substitute Shane Dempsey hammered home the final nail in poor Wexford's coffin with Westmeath's second goal three minutes from time.
It's Westmeath seventh win on the trot though Wexford, who play Carlow in the opening round of the Championship for the right to meet Dublin, have now lost three matches in a row.
ONLINE
Live blogs of Sunday's action on RTÉ.ie and the RTÉ News Now App from 1330.
TV
Live coverage of Galway v Kildare and Dublin v Kerry from 1330 on TG4.
Highlights of the day's action on Allianz League Sunday on RTÉ2 from 2130.
All live games streamed on GAAGO.
RADIO
Live commentary of Galway v Kildare and Dublin v Kerry on Sunday Sport from 1330.
WEATHER
Dry conditions are expected at Croke Park this afternoon, with temperatures up to 14 C. For more, go to met.ie