Donors to the World Bank-administered Afghanistan Reconstruction Trust Fund (ARTF) have decided to transfer vital funds to humanitarian organisations in the stricken country.
The board of the bank will now donate $280 million (€247m) from the $1.5 billion trust fund - frozen after the Taliban took power in August - to the World Food Programme and UNICEF.
UNICEF will receive $100 million (€88m) to provide essential health services through providers active in the Sehatmandi programme in partnership with the World Health Organization.
The WFP will receive $180 million (€160m) to scale up food security and nutrition operations in the country.
Afghanistan's 39 million people face a collapsing economy, a winter of food shortages and growing poverty since the Taliban seized control of the government and the last US troops withdrew from 20 years of war.
Afghan experts have said the aid would help, but big questions remain - including how to get funds into the country without exposing any financial institutions involved to US sanctions.
Afghanistan was cut off from around €8 billion a year in foreign aid as well as €7.8 billion in foreign reserves, most of which is held in the United States.
As a result, the Taliban has been unable to pay salaries or import essential goods. The IMF estimates GDP may contract by 30% in the coming months. And the UN estimates millions will go hungry.
The UN's World Food Programme (WFP) said a catastrophe is looming as a humanitarian crisis of staggering proportions unfolds in Afghanistan.
WFP said more than half of the population is facing acute hunger and 3.2 million children are suffering from malnutrition.
Already in a desperate state with drought, conflict and Covid-19, the situation in Afghanistan has spiralled since the Taliban took over, with the collapse of public services and a deepening economic crisis.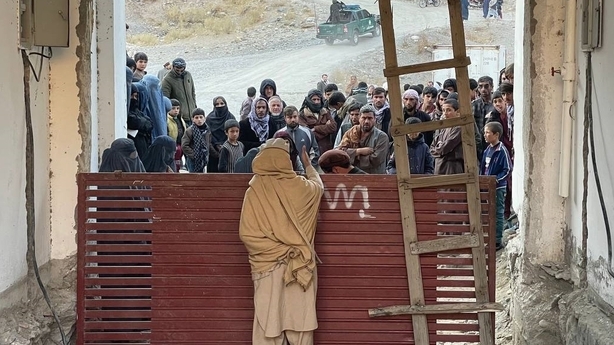 WFP said Afghanistan is at a point of no return and urged the international community to step up its funding before it is too late.
Donegal-born country director with the WFP in Afghanistan, Mary-Ellen McGroarty, said she and her colleagues "are terrified that this is only the tipping point... this is what we are already seeing before we go into the heart of winter.
"And these are the children that are making it to the hospitals. How many more are behind them that their families are unable to bring them to the hospital?
"So, behind those staggering numbers of food insecurity are individual young children who are paying the incredible price here in Afghanistan at the moment."
WFP said it is ramping up its life-saving support to meet the most pressing needs of Afghan people.
---
Read more
Worried Afghans in Ireland seek flexibility over visas for relatives
394 Afghan refugees have arrived in Ireland since Taliban took control
---
Already this year, the charity has provided cash and food to 12.4 million people, including malnutrition treatment and prevention services to nearly 437,000 pregnant and breastfeeding women, and 900,000 children under-five.
According to the UN Office of the Coordination of Humanitarian Affairs, Afghanistan tops the list when it comes to financial requirements, needing $4.4 billion for the more than 24 million people in need.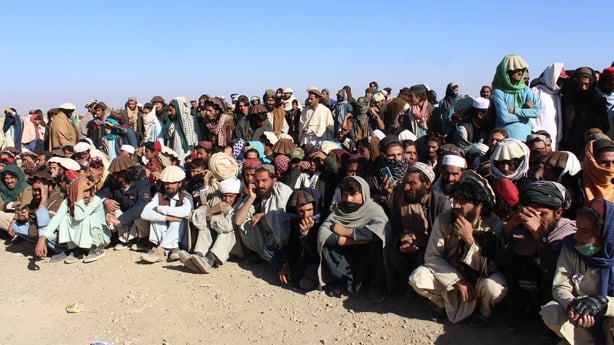 Staff at Indira Gandhi Children's Hospital in Kabul have not been paid for months, but still come to work to help in whatever way they can.
They have noticed a doubling of malnourished children in recent weeks. There are not enough beds and there is not enough medication available.
Only the most severe cases are treated. Doctors and nurse must make difficult choices and work in very difficult conditions.
Sekhine, a nurse at the hospital told reporters: "We had a child here who had been fed only with water for two months. He was kept alive only on water.
"The situation is really bad. I can't find the words to describe it. The patient recovered finally. But when he goes back home it will get worse again, unfortunately."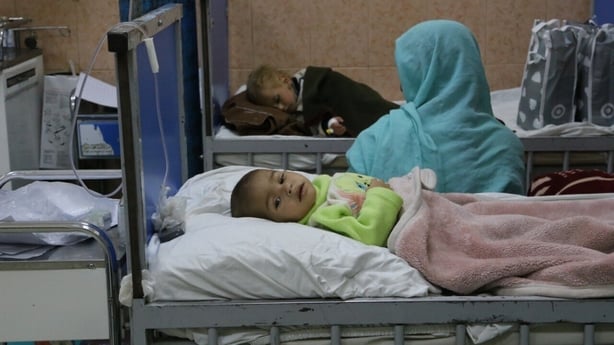 Mir Nazir lives in a house in Kabul with 18 other people. His oldest son has already fled to Iran. Mir explains that as he did not have anything left to sell, he decided to sell his youngest daughter, Safia, to his uncle.
Speaking through an interpreter, Mir Nazir said he went bankrupt and needed the money, adding that his uncle paid close to $300 for the child.
Asked why he did not sell his belongings first, he said they were only worth $50. "To lose your youngest child makes you sad," he added.
Additional reporting by Reuters