Within two weeks of the Taliban takeover in Afghanistan this summer, the Irish Refugee Council received 1,300 calls from members of the Irish Afghan community hoping to bring relatives here.
It has received a thousand more such calls since then.
"They are telling us about the risks their families were facing in Afghanistan... some had been kidnapped to be forcibly married to the Taliban, some were in hiding," Katie Mannion, Managing Solicitor at its Independent Law Centre told RTÉ News.
The centre has so far submitted visa applications on behalf of 60 sponsors in Ireland, and they are working through a further 105.
Its pro bono partners have submitted more than 30 such applications.
It is also advising around 50 people who are preparing to apply for the new Afghan Admission Programme, which was announced in September and is due to open this month.
Nasruddin Saljuqi is the Chairperson of the Afghan Community and Cultural Association of Ireland.
Like so many of his compatriots living in Ireland, he is concerned about family members still living in Afghanistan.
He is also worried about what he sees as the limited options currently available to members of the Afghan community here looking to bring relatives to join them in Ireland.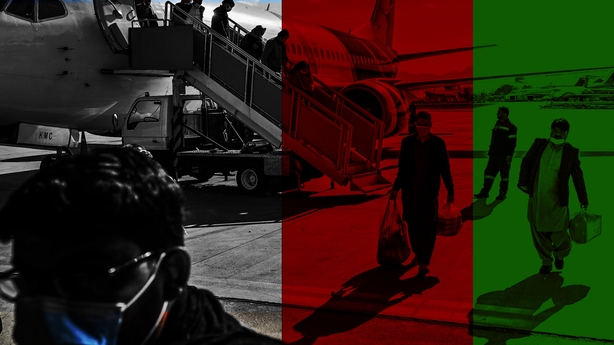 "It is clear to everybody that the situation in Afghanistan is getting worse and worse, day by day, and people are worrying in Ireland because some of their family are at risk," Mr Saljuqi told RTÉ News.
"Some people have made applications for Join (Family) Visas, but these are very difficult to get," he said.
It is currently one of two schemes available to Afghan citizens living in Ireland.
The first is family reunification permission under the International Protection Act 2015.
However, this is only available to those who have recently been given refugee status or subsidiary protection here, and is limited to their spouses and children, or parents and child siblings in the case of a child applicant.
110 of these have been granted so far this year.
Then there is the Join Family Visa, referred to by Mr Saljuqi.
The passport office in Kabul was closed until October, and huge demand has led to long queues and office closures since then.
It is discretionary but, in practice, usually limited to spouses, children and elderly parents.
"There are also very high evidential requirements and there are very high financial thresholds that need to be met," Ms Mannion said.
"People need to supply a lot of documents including original passports issued in Afghanistan, original birth certs, marriage certificates and a whole lots of different original documentation that is extremely difficult for somebody to obtain particularly in a humanitarian crisis," she added.
The passport office in Kabul was closed until October, and huge demand has led to long queues and office closures since then.
"While it was possible for some people to obtain passports, the vast majority cannot," Ms Mannion said. Even attempting to get one can "put people at risk."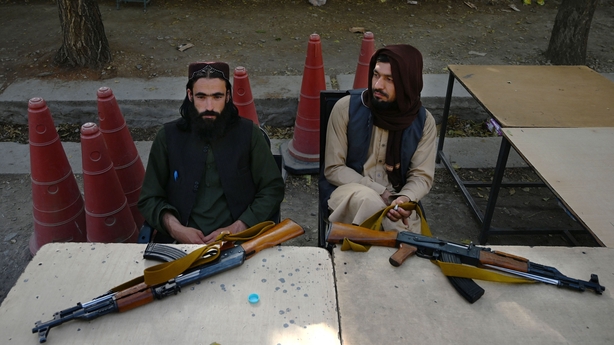 Nevertheless, 102 Join Family Visas have been issued since August this year.
"Some (responses) have been positive, particularly for spouses, we are awaiting a lot of responses, but others are coming back negative because of inadequate documentation submitted," Ms Mannion said.
"We have explained in detail the reason we cannot submit these documents is because it is unsafe to do so."
We need your consent to load this rte-player contentWe use rte-player to manage extra content that can set cookies on your device and collect data about your activity. Please review their details and accept them to load the content.Manage Preferences

Mr Saljuqi agrees that many are experiencing difficulties obtaining a passport in Afghanistan and has called for an "an exception (to be made) for these people".
The Afghan Admission Programme - due to open soon - is expected to be open to a wider number of people.
The final details have not yet been published but it was announced in September that 500 places will be available and Afghan people here will be able to nominate up to four close family members.
The then Minister for Justice Heather Humphreys said that the scheme would prioritise "those who are especially vulnerable in terms of the risk to their freedom and safety, such as: older people; children; single female parents; single women and girls; people with disabilities; and people whose previous employment exposes them to greater risk."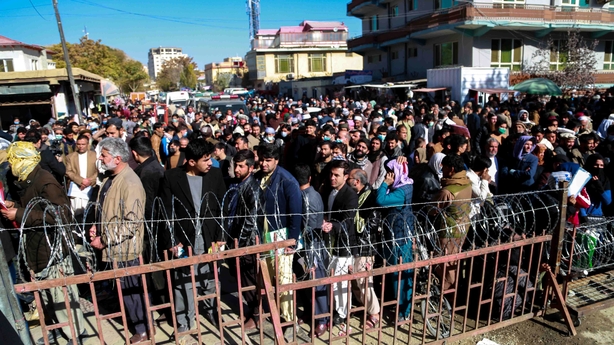 Mr Saljuqi is concerned it will be limited to these categories alone. "Risk is the most important criteria," he said.
Refugee support organisations, Doras, Nasc, the Irish Refugee Council, Crosscare, and the Immigrant Council of Ireland have all welcomed news of the impending scheme.
But they also called for a flexible and inclusive approach to be adopted in its implementation, both in terms of who can qualify and the documentation they need to supply.
"We will need the scheme to recognise the difficulties people have in obtaining original documentation, particularly passports which people in just so many circumstances just cannot obtain," Ms Mannion said.
A statement from the Department of Justice said that "a key focus of the programme will be on establishing the identity of those intending to come to Ireland.
"Therefore, in advance of the programme's launch date, applicants and beneficiaries should focus on ensuring they have as many identity documents as possible," it said.