One million children could die from starvation in Afghanistan in the coming weeks - that is the latest grim prediction from aid agency UNICEF.
The country is already in the midst of one of the world's largest humanitarian disasters.
UNICEF describes Afghanistan as "a country in crisis" and it is not hard to see why, as the agency warns of a desperate situation with an estimated 3.2 million children suffering "acute food poverty".
The country has been in an economic freefall since the withdrawal of Western forces from there last August.
The suddenness with which the Taliban regained power took many by surprise, both inside and outside Afghanistan.
That rapid change is now being repeated in a humanitarian crisis which worsens by the day.
The challenges for Afghanistan were already myriad before the Taliban takeover. Decades of violence and conflict had already made it one of the poorest countries in the world.
Recent protracted drought and the displacement of millions because of conflict has only worsened that further.
International aid – which has proven crucial to propping up the Afghan economy over the last two decades – has been cut drastically.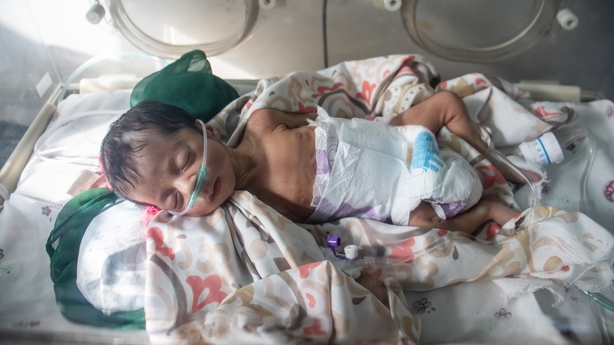 A country is seen as aid dependent if 10% or more of its GDP comes from foreign aid. There are many who argue that once that figure has reached 15%, it can damage the country, as there is an over dependence on external aid.
The World Bank estimates that almost 40% of Afghanistan's GDP came from foreign aid over the course of the last two decades.
The sudden disappearance of that funding once the Taliban took power had a huge impact on the lives of Afghans.
A Taliban administration which caused suspicion, hostility and anxiety in the West was unable to access funds, leaving many workers, such as civil servants, suddenly unpaid.
The economic implosion was exacerbated by the Taliban's ban on women working outside the home.
A UN report this week states Afghanistan's economic growth will not improve in the near term unless women are allowed into the workforce once again, suggesting that restricting female employment could be impacting as much as 3-5% of GDP.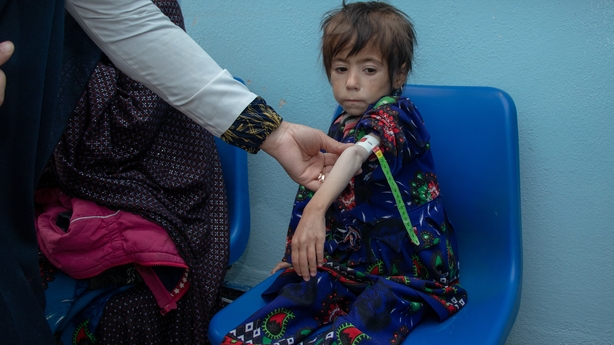 The predictions of what might yet lie ahead for Afghanistan are both staggering and shocking.
A report last month from the United Nations Development Programme warned that about 97% of Afghan people are in danger of slipping below the poverty line if some solution cannot be found to the economic and political crisis facing the country.
Over half of its citizens are already there with almost 23 million people (out of a 40 million populace) described as "acutely food insecure".
The World Food Programme says that more broadly an estimated 95% of Afghans have insufficient supplies of food, with almost 75% of households limiting what little they do eat to protect a dwindling food supply. It is a sliding scale of disaster in which the dial is currently moving in one direction only.
The reality is that in many cases parents go without so they can feed their children. Increased desperation leads to an increased risk of child labour, child marriages and other harmful practices.
Initially many families sold possessions in an attempt to get by, but in recent months more worrying stories of families selling children have emerged. It is increasingly easy to understand why some aid agencies refer to the country as "hell on earth".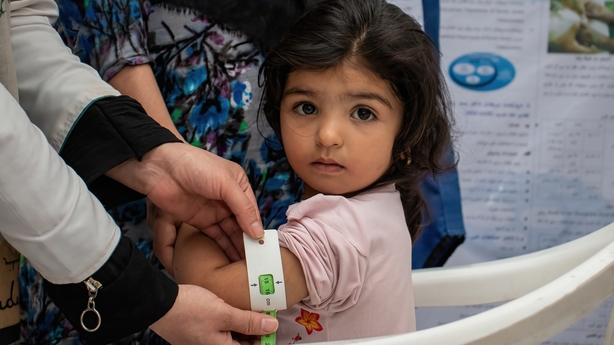 And it is Afghanistan's children who are particularly in peril.
UNICEF is warning that one million children are at risk of dying from starvation within weeks, unless urgent funds are diverted to stop a large scale humanitarian disaster.
The organisation's Afghanistan Representative, Alice Akunga, says the country "is standing on a precipice" with "at least 10 million children across Afghanistan in need of humanitarian assistance to survive".
The situation is made all the more urgent with the approach of brutal winter conditions, when temperatures can fall to minus 25C.
That means acting fast to make sure the most vulnerable are protected, according to UNICEF. "It is not too late for the international community to make a difference" Ms. Akunga says adding that the world has "an opportunity to avert a humanitarian disaster and we must grab it with both hands".