The Department of Foreign Affairs is advising Irish citizens in China whose presence "is not essential" to leave the country, amid the spread of the deadly novel coronavirus.
In a statement, the department said citizens should contact their travel agency or airline regarding available routes out of China before any further restrictions may be imposed.
It comes as China has adopted what are described as "forceful measures" to halt the spread of the coronavirus, according to China's envoy to the United Nations.
The Executive Director of the World Health Organization's Health Emergencies Programme said he has been speaking with public health authorities here in relation to Ireland's preparations for the coronavirus.
The department said the situation remains very fluid and it is likely that increasing containment measures will be deployed by the Chinese government.
It said that due to this environment, the advice of the department is "to avoid non-essential travel to and within China".
Citizens with underlying medical conditions should not travel to China at this time, the department also said.
The Department of Health also said that a new expert advisory group is to meet for the first time tomorrow morning to discuss the coronavirus.
In a statement, the department said the group will provide advice to the National Public Health Emergency Team and the HSE.
It will be chaired by Dr Cillian De Gascun, Laboratory Director at the National Virus Reference Laboratory in UCD.
The department has also reiterated that there are also no confirmed cases of the virus in Ireland.
It added that Ireland is "well positioned" to detect and respond to a case of the disease that may arise here.
Speaking on RTÉ's Drivetime, Dr Mike Ryan said he was in contact with Ireland's Chief Medical Officer Tony Holohan a few days ago to look at the country's readiness for the possibility of the disease arriving in Ireland.
Dr Ryan said Ireland has proved its ability to deal with incidents such as this, as it was able to "host the Special Olympics during the SARS outbreak".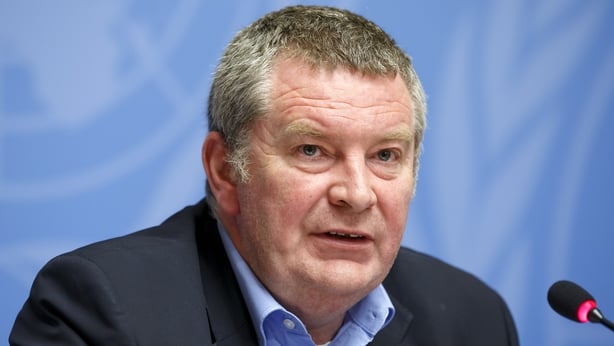 He said it is "quite possible" Ireland could see a confirmed cases of the coronavirus because there have been confirmed cases in Europe and "Ireland is an open and connected country", but he said the transmission speed of the virus is "very slow" outside the centre of the outbreak in China.
Dr Ryan said: "It is important that the public health authorities in Ireland are well prepared. I spoke to Tony Holohan, the Chief Medical Officer, a few days ago, looking at Ireland's preparations.
"Ireland did a very good job during the last SARS epidemic. They were able to host the Special Olympics slap bang in the middle of a SARS crisis and they did that extremely well."
Dr Ryan said the spread of the coronavirus "does not constitute a pandemic", because, he said, the transmission intensity has not been seen outside of Wuhan and Hubei province.
"There are still so many unknowns. It is unclear why the disease has behaved the way it has despite the massive efforts made by China.
"It is still way too early to declare defeat in the face of trying to stop the virus. We believe the virus can still be contained and at a very minimum slowed down to allow us to be prepared with the drugs and vaccines to combat it."
An Irish teacher living in Shanghai has said that she will not be coming home despite the latest advice from the Department of Foreign Affairs.
However, Róisín Conaty from Cavan said she is looking to temporarily relocate to another Asian country as the coronavirus spreads across China.
Ms Conaty, who has been working in China as a preschool teacher for the past four years, said that most of her friends have already left the country to go to other parts of Asia.
We need your consent to load this rte-player contentWe use rte-player to manage extra content that can set cookies on your device and collect data about your activity. Please review their details and accept them to load the content.Manage Preferences
"Myself and my friends were waiting day by day just to see what it was like ... if there was going to be any news from the Irish consulate on whether we should stay here or leave ... and hearing the announcement earlier, we are all thinking of booking flights in the next day or two to go to other Asian countries and just wait it out for the next few weeks and see what happens," she said.
Ms Conaty said she was supposed to be back working at the international school on Monday, but bosses told her that it would not be reopening until 17 February due to the outbreak.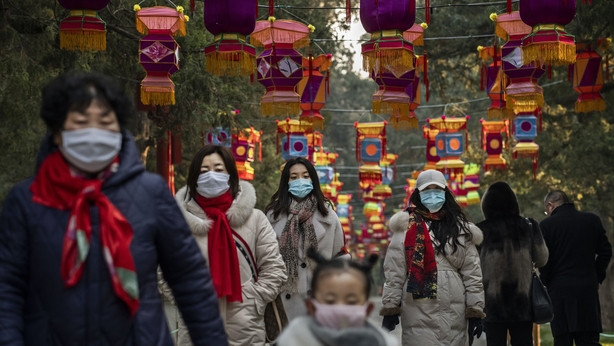 Earlier, the World Health Organization said the outbreak of the virus, which has spread from China to two dozen countries, does not yet constitute a "pandemic".
"Currently we are not in a pandemic," Sylvie Briand, head of WHO's Global Infectious Hazard Preparedness division, told reporters in Geneva.
Instead, she said: "We are at the phase where it is an epidemic with multiple foci."
The disease has killed more than 425 people and infected a further 20,000 in China, nearly all of them in central Hubei province - the centre of the outbreak - and spread to two dozen countries since it emerged in December.
Ms Briand said that while there is rapid spread of transmission in Hubei, outside the province there are mainly "spillover cases" with sporadic clusters of transmission.
"In these other places in China, the strategy currently is to stop transmission," she said, adding that the same was true for affected countries outside of China.
"We would like to make sure that we don't have a second Hubei type of scenario," she said.
---
Read More:

China admits 'shortcomings' in virus response
China accuses US of whipping up panic over coronavirus
---
Authorities in China have taken dramatic measures to halt transmission, while other affected countries have put in place steps to rein in the spread.
"Countries are implementing early case detection, early isolation and treatment of patients, contact tracing to make sure they identify very early contacts that become symptomatic," Ms Briand pointed out.
"We hope that based on ... measures in Hubei but also in other places where we have had spillover, we can stop transmission and get rid of this virus," she said.
She acknowledged that halting the spread of the new pneumonia-like virus would be "challenging".
"I am not saying it is easy, but ... we believe that it can be done," she said.
The respiratory disease spreads through droplets, for instance when people sneeze or cough, or likely through direct contact with infected people or with objects they have touched.
But Ms Briand said it remained unclear how long the virus could linger on an object, stressing the need for frequent hand-washing to protect against transmission.
"To stop transmission of this virus, it is very important that sick people wear masks" to avoid infecting others, she said, adding though the benefits of healthy people wearing masks as a precautionary measure were less clear.
People wearing masks but not taking other precautions such as frequently washing their hands could have a "false sense of security", she said.
"Masks alone are not enough. It is a package of measures that you have to put in place," she said.
"If people use the entire package, it is fine. If they just use masks, I think it is not enough."
Additional reporting AFP