United Nations climate negotiations in Madrid are reported to be deadlocked with countries struggling to find common ground around issues related to climate finance and ambition.
It is now expected that the COP25 summit, which have been ongoing for 12 days, will not finish as scheduled tonight but continue late into tomorrow.
The negotiations, which involve 197 nations, have focused on trying to get all countries to commit to more ambitious reductions in greenhouse gas emissions, far more generous climate finance for poorer countries, compensation arrangements for vulnerable nations affected by climate catastrophes, and tricky technical issues around international carbon markets and how they will work.
Observers and non-governmental organisations have expressed frustration at what they perceive to be the slow rate of progress that has been made.
Different countries have been locked in argument, particularly about the rules about of how low emission countries might be able to sell unused carbon credits to high emission countries.
Some nations, including Brazil, are demanding an arrangement which could effectively allow them to receive a double benefit for carbon sinks such as forestry whereby they would receive credits for the carbon locked away in Amazonian forests but subsequently seek to sell those carbon benefits to high emission countries seeking carbon offsets. This would effectively cause the carbon benefits of the forestry to be counted twice.
Negotiators have been urged to stand firm and not compromise in the face of such demands which experts say would doom international carbon credit markets to failure before they have even begun.
There is broad agreement among climate advocates that on this issue "no agreement" at Madrid would be better than a bad compromise and they would prefer the issue to be postponed until the COP26 summit in Glasgow next year.
Read More:
Pelosi tells COP25 summit they can still count on US 
Spain to host COP25 climate talks after Chile withdraws
---
European Commissioner Frans Timmermans, who is Executive Vice President for the European Green Deal and Climate Action, was emphatic on this issue. He warned that there is no way the European Union will accept a compromise.
He said the EU strongly believes that it needs to show it is ambitious about climate action if it is to have any chance of achieving its long-term goals.
Mr Timmermans highlighted the European Council's endorsement of the Green Deal, a new plan to make the EU climate neutral by 2050. He said he believes this is an important step which he hopes will be followed by many partners across the world.
"We can't lose sight of the fact that we need to start now if we want ultimately to be carbon neutral by 2050. And acting now is creating and implementing concrete plans and concrete steps and I want all of us to be accountable for that" he said.
The EU commissioner noted that other countries are looking for compromise but said he wanted to be crystal clear that there is no way the EU can accept a compromise that jeopardises environmental integrity.
"That is a strong message to all of those listening, and also a strong message to those in the outside world who want us to do something that brings us closer to the reality of not having the world's temperature rise by more than 1.5 degrees. Anything we do will have to help us implement more ambitious climate plans for the future. Anything we do will have to show to the outside world that COP means business," he said.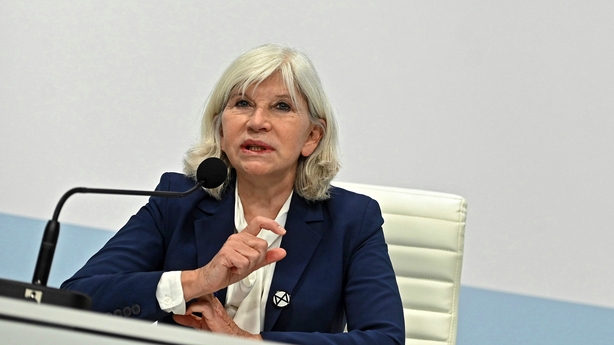 Head of the European Climate Foundation, French economist Laurence Tubiana, said Europe's Green Deal was the best news this week as it thrust the EU into a leadership role on climate policy again.
She also noted that a lot of countries were demanding greater greenhouse gas emissions pledges by next year in response to climate protesters who have taken to the streets worldwide over the past 12 months.