A 25-year-old truck driver from Armagh has been charged with manslaughter over the deaths of 39 people in a container in Essex.
Maurice Robinson, 25, of Laurel Drive, Craigavon, was arrested after the bodies of eight women and 31 men were found at the Waterglade Retail Park in Grays on Wednesday morning.
Essex Police said: "The Crown Prosecution Service has authorised Essex Police to charge a man in connection with the investigating the deaths of 39 people whose bodies were found in Grays on Wednesday.
"Maurice Robinson, 25, of Laurel Drive, Craigavon, Northern Ireland was arrested shortly after the discovery was made at the Waterglade Retail Park.
"He is due to appear at Chelmsford Magistrates' Court on Monday 28 October charged with 39 counts of manslaughter, conspiracy to traffic people, conspiracy to assist unlawful immigration and money laundering.
"Three other people have been arrested in connection with this investigation.
"A 38 year-old man and a 38 year-old woman from Warrington and a 48 year-old man from Northern Ireland, who were arrested on suspicion of conspiracy to traffic people and manslaughter, remain in custody."
Elsewhere, gardaí in Dublin have arrested a man wanted for questioning in connection with the investigation.
He was arrested at Dublin Port this morning after he arrived on a ferry from France.
RTÉ News understands detectives wish to speak with him in connection with the movements of the container.
The man is in his 20s and from Northern Ireland.
Essex Police said: "We are in liaison with the garda police in relation to an arrest they have made today at Dublin Port."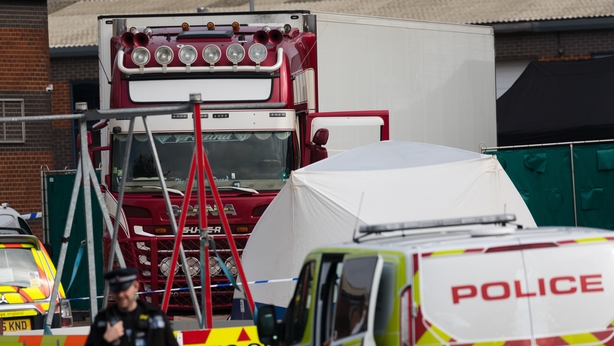 Confusion remains about where the victims were from. Essex Police initially said they believed all 39 were Chinese nationals.
However, a number of Vietnamese families have said they believe their loved ones may have been travelling to England in the trailer.
The force said "this is now a developing picture" amid reports that several may be Vietnamese.
It is reported that some victims may have been carrying falsified Chinese passports.
Vietnamese Prime Minister Nguyen XuanPhuc has ordered local authorities to establish whether Vietnamese citizens were among the victims.
Mr Phuc also ordered the police to launch an investigation into alleged human trafficking activities.
Detective Chief Inspector Martin Pasmore of Essex Police said this afternoon that police were investigating lines of inquiry to "establish whether there is a wider conspiracy involved".
He said trying to identify the victims through people from the Vietnamese community in the UK could be a "complex scenario".
He said: "It may well be that there are people watching this tonight that are thinking 'I'm here in the UK and I'm here illegally and I want to come forward, I want to obviously try and identify my loved ones and be reunited', but they are frightened to come forward."
The BBC said it had been in contact with six Vietnamese families who fear their relatives are among the dead, with some having the smuggling fees repaid.
Relatives of 26-year-old Pham Tra My told the broadcaster they have not been able to contact her since she sent a text on Tuesday night saying she was suffocating.
"I am really, really sorry, Mum and Dad, my trip to a foreign land has failed," she wrote.
"I am dying, I can't breathe. I love you very much Mum and Dad. I am sorry, Mother."
---
Read more
---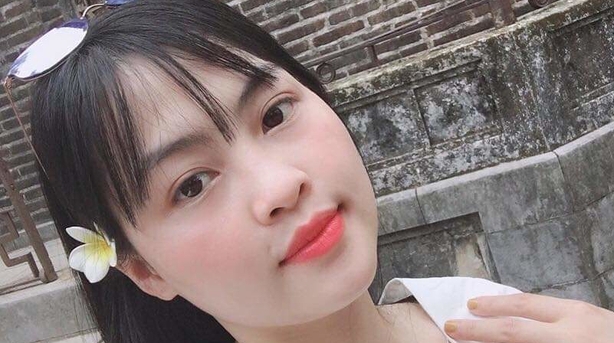 Her family said they had paid £30,000 for her to be smuggled into Britain, which has now been repaid.
Another Vietnamese man is also feared to be among the victims, with his father telling the AFP news agency that he had received the news this week.
Nguyen Dinh Gia said his son told him two weeks ago he planned to travel to Britain from France, where he had been living illegally since 2018.
His 20-year-old son Nguyen Dinh Luong said he would pay 11,000 pounds (€12,700) for the journey.
But Mr Gia got a call several days ago from a Vietnamese man saying "please have some sympathy, something unexpected happened," he told AFP.
"I fell to the ground when I heard that," Mr Gia said. 
"It seemed that he was in the truck with the accident, all of them dead," he added.
If the fridge on the hermetically sealed trailer was not running there would be no air coming in, suffocating people inside, according to Richard Burnett, chief executive of the Road Haulage Association.
It is not yet known when the victims entered the trailer, where temperatures can be as low as -25C if the fridge is activated, or the exact route it travelled.
Belgian officials said the trailer arrived at Zeebrugge at 2.49pm on Tuesday and left the port the same day en route to Purfleet.
The trailer arrived at Purfleet at around 12.30am on Wednesday, and was picked up by the cab, known as the tractor, which arrived from Northern Ireland via Holyhead in north Wales on Sunday.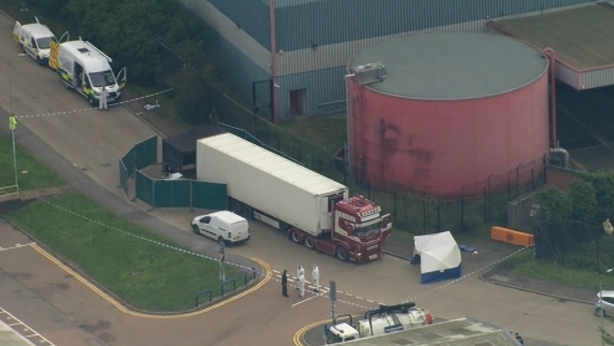 The lorry left the port at Purfleet shortly after 1.05am before police were called to the Waterglade Industrial Park on Eastern Avenue in Grays at 1.40am.
Police are trying to track down the driver who delivered the trailer to the port in Zeebrugge, the Belgian prosecutor's office has confirmed.
A spokesman told the PA news agency: "We're trying to identify the driver."
He said Belgian authorities were also working to "track the route of the container" and find anyone responsible for "collaborating with the transport".
Additional reporting Vincent Kearney, PA and AFP