US President Donald Trump will host next year's Group of Seven economic summit of developed world leaders at one of his own properties, according to a White House Official.
Acting chief of staff Mick Mulvaney said the meeting will take place at the Trump National Doral golf resort near Miami.
Mr Mulvaney said the US President would not profit from use of the property and defended the decision, which comes as the president faces ongoing criticism and congressional investigations over his finances and potential conflicts-of-interest.
Last month the Trump Administration was criticised after Vice President Mike Pence stayed at the Trump Doonbeg resort in Co Clare during a visit to Ireland.
The Co Clare hotel is owned by US President Donald Trump, who also used it as his base while visiting Ireland earlier this summer.
Democrats in the US House of Representatives began an investigation into the decision to stay at the Trump property.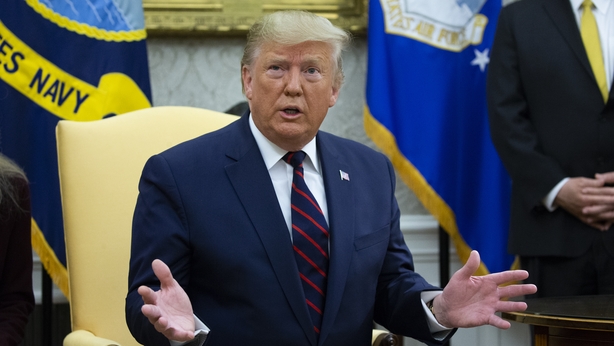 Today, Mr Mulvaney told reporters the summit would take place at Doral on 10-12 June, 2020.
He said the administration selected Mr Trump's resort after initially looking at about 12 potential locations in various other US states.
"Doral was by far and away the best physical facility for this meeting," he said at a news briefing.
"It's almost like they built this facility to host this event."
Mr Mulvaney said the event would be "at cost" and that using the Trump site would save millions of dollars and was cheaper than the other potential sites.
Mr Trump has repeatedly attacked Joe Biden, a leading Democratic presidential candidate and former vice-president, over his son's business ties in Ukraine and China, which Mr Trump has repeatedly called corrupt, without evidence.
Asked how the president's use of his private business properties to host official government events differed from Mr Trump's allegations against the Bidens, Mr Mulvaney told reporters there would be no profit and said the family had made their money before Mr Trump became president in January 2017.
Mr Trump has said he is not involved with the day-to-day operations of his private company and that his sons run the business.
Members of Congress and civil society groups immediately rebuked Mr Trump for what Democrats called "among the most brazen examples yet of the president's corruption."
"He is exploiting his office and making official US government decisions for his personal financial gain," Jerry Nadler, the chairman of the powerful House Judiciary Committee, said in a statement.
Mr Nadler vowed that Mr Trump's "latest abuse of power" would not distract from the Democratic-led impeachment investigation.
Democrats were already probing Mr Trump's suggestion at the most recent G7 gathering in France in August that the next one could be hosted at one of his resorts.
Critics say the move would violate both the foreign and domestic emoluments clauses that are designed to shield a US leader from outside influence.
"This is unbelievable," Noah Bookbinder, the executive director of the Citizens for Responsibility and Ethics in Washington pressure group, said in a statement.
"Given the potential consequences the president is facing for abusing the presidency for his own gain, we would have thought he would steer clear of blatant corruption at least temporarily; instead he has doubled down on it."
Trump National Doral is vital to Mr Trump's overall finances and was once one of his biggest money-makers - but it has been in steep decline, according to the Washington Post.
The newspaper reported in May that the resort's net operating income - the amount left after expenses are paid - had fallen by 69% in two years.