A 50-year-old woman and her five-year-old grandson have died from Ebola in Uganda, days after returning from the neighbouring Democratic Republic of Congo.
The Ugandan health ministry said that five people, including one with Ebola, had been repatriated to the DRC after coming into close contact with the two deceased victims.
The virus crossed into Uganda when a family with small children and their nanny travelled to the DRC to take care of a relative, who later died of Ebola.
The six people "escaped" an isolation ward in DRC and returned to Uganda via an unofficial border crossing on Sunday, according to the World Health Organization (WHO).
The next day a five-year-old boy was checked into hospital in western Bwera vomiting blood.
Both he and his grandmother have since died from Ebola, and his three-year-old brother is fighting the virus.
"Both victims had attended the burial of an Ebola patient in Congo, but returned to Uganda," a health ministry official said.
The ten-month-old epidemic has killed more than 1,400 people in DRC, officials there have said.
The WHO announced that an emergency committee would meet on Friday to determine whether to upgrade its assessment of the situation to "a public health emergency of international concern", having held off previously because the outbreak was contained to one part of DRC.
East Africa has been on high alert since the outbreak was declared in the eastern DRC provinces of North Kivu and Ituri last August.
According to the WHO, Uganda has vaccinated nearly 4,700 health workers in 165 facilities.

---
Read More:
Ebola: Profile of a killer 
WHO to hold emergency meeting on Ebola in East Africa
More than 2,000 Ebola cases recorded in DR Congo 
---
We need your consent to load this rte-player contentWe use rte-player to manage extra content that can set cookies on your device and collect data about your activity. Please review their details and accept them to load the content.Manage Preferences
Uganda has experienced several outbreaks in the past, most recently in 2012, while in 2000 more than 200 people died in an outbreak in the north of the country.
South Sudan has also declared a state of alert and vaccinated health workers.
The Red Cross said it was scaling up efforts to contain the spread of the virus since it was detected in Uganda.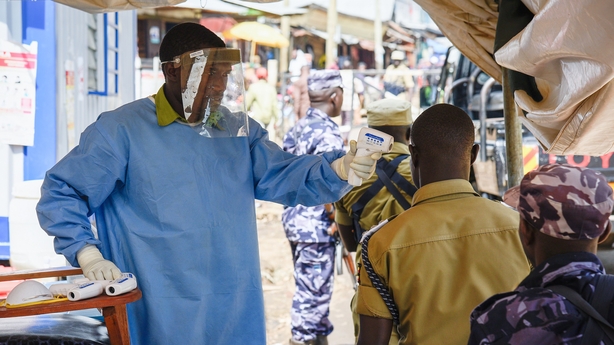 Concern's area co-ordinator in North Kivu said the rate of infection has risen and Ebola responders are being targeted by armed groups and communities who mistrust non-governmental organisations and health workers.
Speaking on RTÉ's Morning Ireland, Mark Johnson said the primary aim is to reduce the rate of infection and contain it.
He said the main hotspot is the city of Butembo, which has a population of 800,000 and if the virus was to continue to North Kivu's capital, Goma, there are concerns it could become a real international crisis. 
Mr Johnson said efforts were being made to "break the chain of transmission"by educating communities.
But, he said, health infrastructure in the region is very weak and health surveillance is a massive challenge because it is difficult to access areas controlled by armed groups.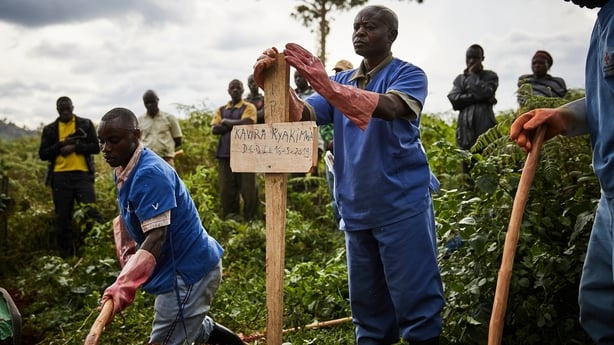 He said that while it was significant that the virus had crossed an international border to Uganda, it was not hugely surprising because the virus has been on the Ugandan border since the outbreak began.
Additional Reporting AFP