Venezuela's Foreign Minister Jorge Arreaza has denied there is a military coup attempt under way to oust President Nicolas Maduro and accused opposition leader Juan Guaido of operating under orders from Washington.
"It is not a coup attempt from the military. This is directly planned in Washington, in the Pentagon and Department of State, and by Bolton," Mr Arreaza said in a phone interview from Caracas, referring to US national security adviser John Bolton.
"They are leading this coup and giving orders to this man (Venezuelan opposition leader Juan) Guaido," he said.
Armoured car drives at protesters as violence breaks out in Caracas #venezuela Read more: https://t.co/BRHqLZGiN1 pic.twitter.com/STGmZ5EpuP

— RTÉ News (@rtenews) April 30, 2019
Earlier, Mr Guaido said he has begun the "final phase" of his plan to oust President Nicolas Maduro, calling on Venezuelans and the military to back him to end Mr Maduro's "usurpation".
However, Mr Maduro said he had spoken with military leaders and they had shown him "their total loyalty".
Mr Guaido, in a video posted on his Twitter account, was speaking in the company of men in military uniform and opposition politician Leopoldo Lopez, who is under house arrest. 
En el marco de nuestra constitución. Y por el cese definitivo de la usurpación. https://t.co/3RD2bnQhxt

— Juan Guaidó (@jguaido) April 30, 2019
He said he was at the Caracas air base La Carlota. Mr Lopez said he had been "freed" by troops supporting Mr Guaido.
"The national armed forces have taken the correct decision, and they are counting on the support of the Venezuelan people," Mr Guaido said.
"Nerves of steel!" Mr Maduro responded on Twitter.
"I call for maximum popular mobilisation to assure the victory of peace. We will win!"
The European Union has called for "utmost restraint" in the Venezuela crisis.
"The EU is closely following the latest events in Venezuela. We reiterate that there can only be a political, peaceful and democratic way out for the multiple crises the country is facing," EU diplomatic chief Federica Mogherini said in a statement.
Information Minister Jorge Rodriguez said that the government is confronting a small group of "military traitors" that are seeking to promote a coup.
We need your consent to load this rte-player contentWe use rte-player to manage extra content that can set cookies on your device and collect data about your activity. Please review their details and accept them to load the content.Manage Preferences
Venezuelan security forces fired tear gas at Mr Guaido at the air base.
They also brought out armoured vehicles to disperse protesters, with footage showing some Guaido supporters being run over by the vehicles.
The country's army chief warned of possible "bloodshed" as the military moved to put down what it said was an attempted coup.
General Vladimir Padrino, who is also the defence minister, said he held the opposition "responsible for any act of violence, death or bloodshed".
Mr Padrino was addressing the military high command in a speech in which he reiterated the army's support for Mr Maduro.
¡Nervios de Acero! He conversado con los Comandantes de todas las REDI y ZODI del País, quienes me han manifestado su total lealtad al Pueblo, a la Constitución y a la Patria. Llamo a la máxima movilización popular para asegurar la victoria de la Paz. ¡Venceremos!

— Nicolás Maduro (@NicolasMaduro) April 30, 2019
---
Read More:
US-Venezuela relations in deep freeze as sanctions take effect 
Maduro loyalists strip Venezuela's Guaido of immunity
EU nations recognise Guaido as Venezuelan president
Who is Venezuela's self-appointed interim president? 
---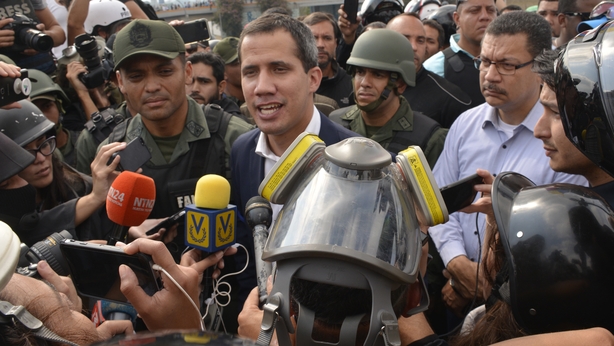 In January, Mr Guaido, the leader of Venezuela's opposition-controlled National Assembly, invoked the constitution to assume an interim presidency, arguing that Mr Maduro's re-election in 2018 was illegitimate.
He has been travelling outside the capital, Caracas, more and more in recent weeks to try to put pressure on Mr Maduro to step down.
Protests are planned for tomorrow, including what Mr Guaido has said will be "the largest march in Venezuela's history", part of what he calls the "definitive phase" of his effort to take office in order to call fresh elections.
Mr Maduro calls Mr Guaido a US-backed puppet who seeks to oust him in a coup.
The government has arrested his top aide, stripped Mr Guaido of his parliamentary immunity and opened multiple investigations.
It has also barred him from leaving the country, a ban Mr Guaido openly violated earlier this year.
Last week, Mr Guaido said his congressional ally Gilber Caro had been detained and that 11 members of his team had been summoned to appear before the Sebin intelligence agency.