With just two petrol stations, one post office and a few hundred residents, Sutherland Springs was too tiny to be incorporated as a city, but it became a focus of global attention when it suffered the worst mass shooting in modern Texas history.
The heavily-Christian community set amid farmlands and rolling hills about 65km east of San Antonio is too small to have its own police force and much of its social activity is centered on its two churches.
They include the modest, white-painted First Baptist Church, where a lone gunman burst in brandishing an assault rifle during a Sunday service and killed at least 26 parishioners.
"We wouldn't believe that something like this would happen here," said Paul Buford, pastor of River Oaks Church, the other house of worship in Sutherland Springs.
"We are holding up as well as we can. We are a strong community. We are strong in our faith and strong in believing that anyone that was killed in the church there is present with our Lord."
Authorities did not name the gunman, but the New York Times and other media cited unnamed law enforcement officials who said he was a white, 26-year-old man, Devin Patrick Kelley.
Soon after the shooting, the suspect crashed his vehicle near the border of neighboring Guadalupe County and was found dead inside with a cache of weapons.
In a small town like Sutherland Springs, everyone will be affected by the shooting, Mr Buford said. Police said the youngest shooting victim was five years old.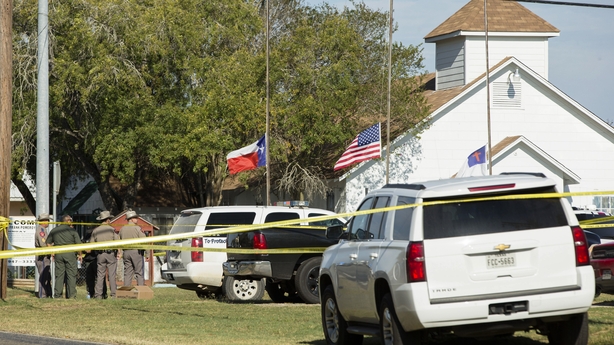 The massacre came only about a month after the deadliest mass shooting in modern US history when a gunman killed 58 people at an outdoor country music concert in Las Vegas.
The killings have stoked a simmering national debate about how easy access to firearms contributes to the carnage.
@AFP Graphic looking at weapons used in the biggest US mass shootings of the past five years pic.twitter.com/pYHVD7bdOU

— AFP news agency (@AFP) November 6, 2017
Texas church shooting: What we know
Many Sutherland Springs residents said their town is safe, the people are friendly, and that what happened was unthinkable.
"Most people go to a small town to get away from stuff like that. That's why they come here. They never expected that to happen, not in a million years," said Chris Speer, 33, who works as a clerk at the petrol station near the church.
He was sitting outside the store when the bullets began flying. He ran inside to take cover, his 11-month-old son clinging to his leg.
"There was nothing I could do but protect him," he said.
Sutherland Springs started life as a stage coach stop in the mid-1800s and attracted tourists who visited nearby sulfur springs. Farmers and ranchers moved in and the area still remains heavily dependent on agriculture.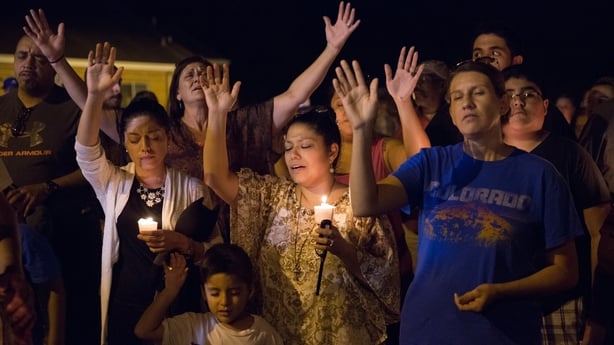 On Sunday night, townspeople and many mourners from outside the community gathered for a candlelight vigil.
Resident Courtney Lee, 25, sobbed as she said: "I just want to know why? How can someone just take a child's life?"
Wilson County Sheriff Joe Tackitt said at a news conference that police had yet to establish a motive. Small town America is not immune from mass shootings, he added.
"We all in here know what happened today and it is something we all say doesn't happen in small communities. But we found out today it does," Mr Tackitt told reporters.