British police say they have resumed sharing information with US agencies after receiving "fresh assurances", ending a suspension in the wake of leaks to US media about the Manchester suicide bombing.
"While we do not usually comment on information sharing arrangements ... having received fresh assurances, we are now working closely with our key partners around the world including all those in the 'Five Eyes' intelligence alliance," said Mark Rowley, Britain's lead officer for counter-terrorism policing.
The Five Eyes alliance is made up of Britain, the United States, Canada, Australia and New Zealand.
Intelligence sharing between the two nations was briefly suspended because of repeated leaks in the wake of the attack.
Earlier US President Donald Trump vowed to bring anyone caught leaking intelligence to justice.
In a statement released after Mr Trump arrived at the NATO military alliance, the president said he would seek an official review to stop leaks that he said posed a serious security threat.
"The alleged leaks coming out of government agencies are deeply troubling," Mr Trump said in the statement.
"I am asking the Department of Justice and other relevant agencies to launch a complete review of this matter, and if appropriate, the culprit should be prosecuted to the fullest extent of the law."
He said the relationship between the United States and Britain was the most cherished of all US ties.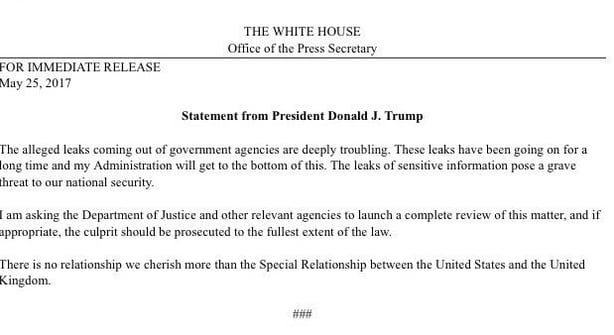 Mr Trump was speaking as he unveiled a 9/11 memorial at the alliance's new headquarters in Brussels.
Surrounded by NATO leaders, Mr Trump said the attack in Manchester was "savage" as he led a minute's silence.
He said the bombing demonstrates the depths of the evils of terrorism and it was a "barbaric attack on our civilisation".
He added that militants are "losers" who must be driven out of our societies and he has renewed hope that nations can unite to defeat terrorism because without taking steps, Manchester-style attacks will continue.
Meanwhile, US Secretary of State Rex Tillerson will make his first official visit to Britain tomorrow in an expression of solidarity following a suicide bombing in Manchester earlier this week, the British government has said.
During his visit Mr Tillerson will meet British Foreign Secretary Boris Johnson in London.
---
Read More:
---
Arriving at the NATO summit, British leader Theresa May said: "Part of that trust is knowing that intelligence can be shared confidently and I will be making clear to President Trump today that intelligence that is shared between law enforcement agencies must remain secure."
Following a meeting of the emergency response committee, Mrs May said the terror threat level "will remain at critical" - meaning an attack could be imminent - and the public should continue to be "vigilant".
It is understood the decision to suspend intelligence-sharing over the Manchester bombing involves the "law enforcement" authorities rather than the intelligence agencies.
That would indicate that, while police forces may not be sharing information with counterparts across the Atlantic such as the FBI, the national intelligence-sharing arrangements involving MI5, MI6 and GCHQ are not affected.
UK Home Secretary Amber Rudd yesterday described the leaks as "irritating", after details about bomber Salman Abedi, including his name, first appeared in US media, adding that Britain's allies were perfectly clear that it "shouldn't happen again".
We need your consent to load this rte-player contentWe use rte-player to manage extra content that can set cookies on your device and collect data about your activity. Please review their details and accept them to load the content.Manage Preferences
But the leaks continued yesterday, culminating in a New York Times article that included detailed forensic pictures of the crime scene outside the Manchester Arena, including the remains of the bag that Abedi used.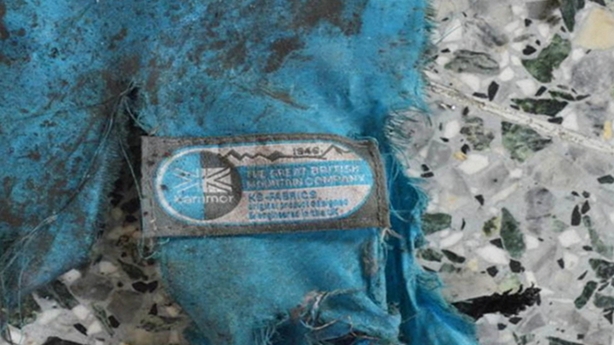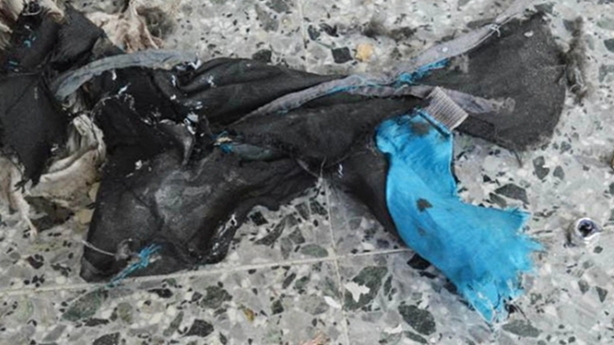 The newspaper has defended its decision to publish the photographs, saying that the "images and information presented were neither graphic nor disrespectful of victims".
The New York Times said in a statement: "The images and information presented were neither graphic nor disrespectful of victims, and consistent with the common line of reporting on weapons used in horrific crimes.
"We have strict guidelines on how and in what ways we cover sensitive stories. Our coverage of Monday's horrific attack has been both comprehensive and responsible."
British police said leaks from the investigation into the terror attack are undermining the investigation.
A spokesman for anti-terror police said investigators relied on trust with security partners around the world, adding: "When that trust is breached it undermines these relationships and undermines our investigations".
The leaks included suggestions that the bomber's family had warned security officials he was dangerous.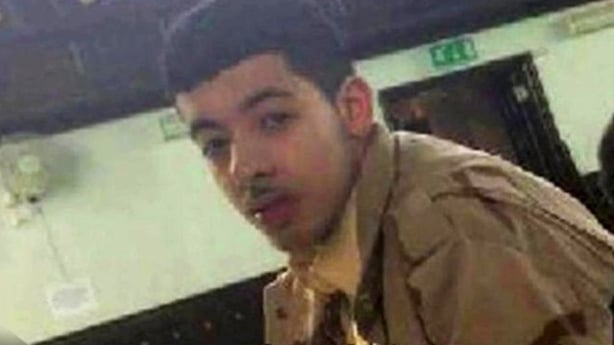 There were also reports Abedi's parents were so worried about him being radicalised in Manchester that they got him to join them in Libya and confiscated his passport.
It was apparently returned when he said he wanted to go on a pilgrimage to Mecca.
Ms Rudd has admitted that Salman Abedi was known to the security services "up to a point".
But further details have emerged about the UK-born bomber's radicalisation, and the warnings that were sounded, which will raise questions about why he was not more closely monitored.
Responding to the leak in the New York Times of crime scene photos, the National Police Chiefs' Council said it "undermines our investigations and the confidence of victims, witnesses and their families".
But in the US, politicians were openly briefing the media on what they had been told about Abedi and his "cell of Isis-inspired terrorists".
US congressman Mike McCaul, Republican chairman of the House Homeland Security Committee, said the bomb was of a "level of sophistication" that might indicate its maker had foreign training.
He described it as "a classic explosive device used by terrorists", using the same substance as the one used in the deadly November 2015 attacks in Paris and the March 2016 attack in Brussels.
Mr McCaul said evidence so far suggests "we're not dealing with a lone wolf situation", adding: "There's a network - a cell of ISIS-inspired terrorists."
Sky News, citing German intelligence, reported this morning that Salman Abedi was in Dusseldorf, Germany four days before the attack.
Eight people are in custody in the UK and two in Libya as police scramble to close down a network around the Manchester suicide bomber.
Police in Tripoli yesterday arrested Abedi's younger brother and his father, who said he did not expect the attack.
A minute's silence was held across the UK at 11am in remembrance of all those who lost their lives in the Manchester concert bombing.