In a dramatic development late last night, US President Donald Trump fired FBI Director James Comey.
Referring to a series of letters released last night by the president, the Attorney General, and the Assistant Attorney General, the White House confirmed James Comey had been "terminated".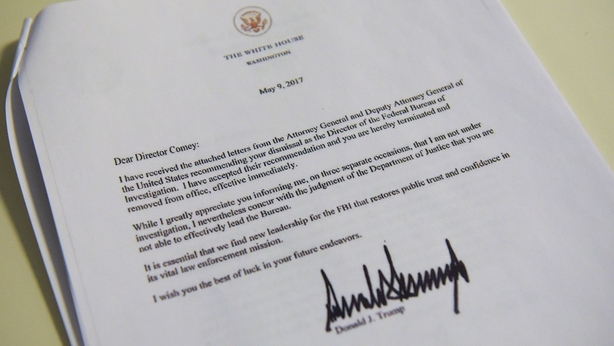 The president said that Mr Comey was "not able to effectively lead the agency" anymore.
Mr Comey had been carrying out an investigation into Russian interference in the US election and any possible collusion involving the Trump campaign.
RTÉ's Washington Correspondent Caitríona Perry explains the significance of this move and what is likely to happen next.
---
Q. This was completely unexpected, what do we know about why the president did this?
It is not just unexpected, but unprecedented and somewhat illogical too. All throughout the campaign Donald Trump praised James Comey for his bravery and courage over his handling of the investigation into Hillary Clinton's emails.
There were no notable Republican voices clambering for his head, although Democrats do blame him in large part for Mrs Clinton's loss.
Yet, the president has chosen this moment to fire the FBI director for his conduct in relation to that email investigation.
He fired Mr Comey on foot of a recommendation from Attorney General Jeff Sessions, who was acting on the basis of a memo from Deputy Attorney General Rod Rosenstein who is less than two weeks in office.
That memo criticises Mr Comey's handling of the email investigation. Much of it is compiled of quotes taken from media articles, rather than a lengthy and formal investigation.
Mr Rosenstein's memo points to Mr Comey's press conference last July about Mrs Clinton's emails when he declared that there was not evidence to press criminal charges, and also singles out his decision in late October, less than a fortnight before polling day to reveal that the FBI was looking at emails sent by her aide Huma Abedin, which were potentially relevant to the investigation. (He later said they were not of substantive importance.).
Key dates in Trump-Comey relationship
Letter of recommendation from Attorney General Jeff Sessions
Memorandum for the Attorney General from Rod J Rosenstein
Deputy Attorney General Rosenstein concluded that the FBI was "unlikely to regain public and congressional trust until it has a director who understands the gravity of the mistakes and pledges never to repeat them".
So acting on that the president fired Mr Comey over Mrs Clinton's emails, something President Trump has had no issue with at all until now.
But James Comey is also the man who is leading the investigation into Russian interference in the Presidential election and examining whether there was any collusion between Russia and anyone attached to the Donald Trump campaign.
He was fired on the day when subpoenas were issued to associates of former National Security Adviser Michael Flynn seeking information about his dealings with Russian officials.
The other slightly unusual thing is that in President Trump's letter firing Comey he says that while he "greatly appreciated" Mr Comey "informing him on three separate occasions that he was not under investigation", he concurred with "the decision of the Department of Justice that he was not able to effectively lead the bureau".
That reference to Mr Trump not being under investigation, is a direct reference to the Russia investigation, and is nothing to do with the Clinton email investigation.
---
Q. What is the significance of this firing? Is there a precedent for it?
This is not a normal political happening; the extraordinary nature of this cannot be overstated. There is nothing in recent records to compare to it.
It is the first time an FBI director has been fired by the president while that person is carrying out an investigation into personnel at the White House and connected with the president's campaign.
Whatever the actual motivations, it looks bad.
The only other time an FBI director was fired by a president was during Bill Clinton's tenure in 1993, when he fired Williams Sessions after a six-month investigation resulting in a 161-page report detailing abuses of office, including misappropriation of government funds - in one case to build a $10,000 fence at his home.
Last night is also being compared to Richard Nixon's so-called "Saturday Night Massacre" when his Attorney General and Deputy Attorney General resigned rather than carry out his order to fire the Watergate special prosecutor Archibald Cox who was later fired by the Solicitor General.
The FBI director was not fired that night. In fact, the Richard Nixon library was at pains to highlight that last night, as some commentators referred to this as "Nixonian".
FUN FACT: President Nixon never fired the Director of the FBI #FBIDirector #notNixonian pic.twitter.com/PatArKOZlk

— RichardNixonLibrary (@NixonLibrary) May 9, 2017
---
Q. What has the reaction been like?
One of collective bipartisan shock. There has not been a steady stream of Republicans coming out to praise the move.
Senator John McCain said he regretted the president's decision and called for the appointment of a special committee to continue the Russian investigation.
Removal of Director Comey only confirms need for select cmte to investigate #Russia's interference in 2016 election https://t.co/LfKlwSw6iQ

— John McCain (@SenJohnMcCain) May 9, 2017
The head of the Senate Intelligence Committee Republican Richard Burr, who is leading the Russian investigation, said he was "troubled by the timing & reasoning of Director Comey's termination".
My statement on the dismissal of FBI Director Comey https://t.co/ovoe34xajZ pic.twitter.com/1hB0QveczE

— Richard Burr (@SenatorBurr) May 9, 2017
Republican Senator Jeff Flake from Arizona said he had spent "several hours trying to find an acceptable rationale for the timing of Comey's firing", but couldn't.
Senate Minority Leader Democrat Chuck Schumer said unless a special prosecutor was appointed to continue the investigation it would look like a "cover-up".
---
Q. Have we heard from James Comey?
Nothing at this stage. He was in California giving an FBI recruitment lecture yesterday and reportedly learned of his firing through breaking news alerts on the television.
He then went straight to the airport and flew back to Washington DC.
President Trump tweeted last night to say "Cryin' Chuck Schumer stated recently, "I do not have confidence in him (James Comey) any longer." Then acts so indignant. #draintheswamp", suggesting that the President and his advisers had expected a different reaction.
Cryin' Chuck Schumer stated recently, "I do not have confidence in him (James Comey) any longer." Then acts so indignant. #draintheswamp

— Donald J. Trump (@realDonaldTrump) May 10, 2017
Democrats were not James Comey's greatest fans to begin with because of the handling of the Clinton email investigation, but they are now concerned, as are many Republicans, with the timing of and reason behind Donald Trump firing the man who is in the middle of an investigation involving people close to him.
---
Q. What happens next to the investigation and also to the leadership of the FBI?
That is largely down to the Republican Party, and specifically the Republicans in the Senate, and what they deem to be indefensible.
There are several investigations in Congress into Russian interference in the election and connections to the Donald Trump campaign, but they had all always held that the criminal investigation by the FBI was the most important one.
The future of that investigation is now uncertain.
There is a possibility that the Deputy FBI Director now Acting Director Andrew McCabe, or whoever Trump appoints to succeed Mr Comey permanently, could decide to shut down the Russia investigation.
We have to say that there is no evidence in the public domain of any collusion, but sacking the man leading the investigation in the middle of it, for something he did almost a year ago does not look very good.
The White House has said they started the search for the successor immediately.
That person has to be confirmed by the Senate, with a 51 majority, the Republicans have 52 seats there it would seem a fait accompli, but given those early reactions from Republican Senators last night, maybe it will not be completely smooth sailing.
---