US President Joe Biden said the most "devastating" comment made after his election was when Taoiseach Micheál Martin criticised the United States' handling of the Covid-19 pandemic.
Commenting on the rise of China and other global powers in the New York Times, Mr Biden quoted the Taoiseach as saying the US could not lead because they could not "even get their arms around Covid".
Mr Biden said grew up when America was a world leader, a power he sees diminishing in today's world.
"We're kind of at a place where the rest of the world is beginning to look to China," Mr Biden told the newspaper.
"The most devastating comment made after I was elected - it wasn't so much about me - but it was by the Irish Taoiseach saying that 'Well, America can't lead. They can't even get their arms around Covid'."
The US has recorded more than 33 million cases of the virus and over half a million deaths.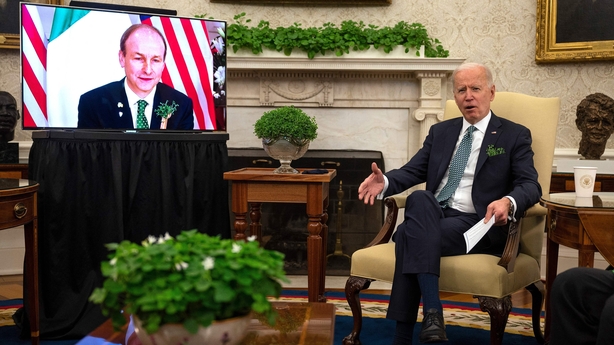 In the same interview, Mr Biden described the Irish influence on his worldview, referencing his focus on human dignity.
"I think the Irish most often use the word 'dignity' of any other group of people," he said.
"I think it's because when you've been deprived of dignity you put a high, high premium on it."
He added that in white American communities in the middle of the last century, "to be Irish was to be second class".
"The English owned the town," he said.
Mr Biden has made no secret of his connections to Ireland, referencing it in many of his speeches both before and after he won the presidency.
During his first formal press conference as president in March, he talked about his own family history when asked about the plight of migrants at the US-Mexico border.
"When my great-grandfather got into a coffin ship in the Irish sea, the expectation was if he was going to live long enough on that ship to get to the United States of America but they left because of what the Brits had been doing," he said.
"They were in real trouble, they didn't want to leave, but they had no choice," he added.
After Joe Biden's election, he and Mr Martin spoke for more than 20 minutes in a wide-ranging phone call that covered climate change, US-EU relations and the GAA.