Figures released this week show that cases of measles in the US have hit their highest level in 25 years.  
There have been outbreaks across 22 states but many of the cases have occurred in Orthodox Jewish communities in Brooklyn, New York.
I recently visited one such neighbourhood in Williamsburg.
Outside the local doctor's surgery, a sign urged parents not to bring their children inside if they are showing symptoms of the measles.
This area has been described by authorities as the "epicentre" of New York's measles outbreak.
Dr Nancy Messonnier from the US Centers for Disease Control says it is because of under vaccination.
"The outbreaks in New York are being fuelled by myths and misinformation that is leading people to not get vaccinated," she said.
More than 390 cases of measles have been recorded in New York since October, mainly among children in Orthodox Jewish communities like Williamsburg.
We need your consent to load this rte-player contentWe use rte-player to manage extra content that can set cookies on your device and collect data about your activity. Please review their details and accept them to load the content.Manage Preferences
---
Read More: 
Mandatory vaccines ordered amid Brooklyn measles outbreak 
Emergency declared over NY measles outbreak 
---
One man said he felt vaccinations were important but had his doubts. "Obviously there are two perspectives to the story," he said.
I asked him if he vaccinated his own children.
"Yes I do", he replied, "but over a slow period of time, not all at once."
Another woman told me how she vaccinated all her children and grandchildren and said the members of her community who were refusing to vaccinate were being irresponsible.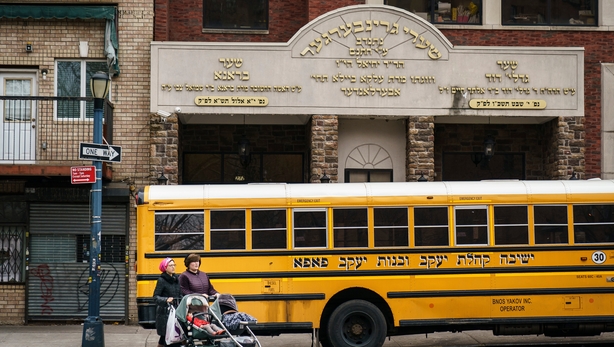 She said she was aware of groups of people in the neighbourhood who were against vaccinations but she did not know them personally.
Measles was eliminated from the US in 2000 but is now back.
More than 700 cases have been reported and authorities believe the current outbreak can be traced to people who contracted the illness when they travelled abroad to countries like Israel, Ukraine and the Philippines.
In the past, US President Donald Trump has expressed doubts about the safety of vaccines but now he is urging people to get them.
"They have to get the shots. The vaccinations are so important," he told reporters last week.
"This is really going around now. They have to get their shots."
Back in the Orthodox Jewish district of Brooklyn, there are reminders of tradition and religion everywhere, but those I spoke to insisted that refusing vaccines is not part of their faith.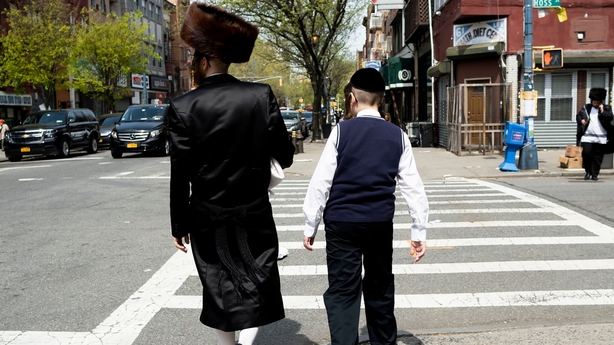 "Our religion says you should watch yourself and your health," one mother told me.
She said she knew some people were not vaccinating their children but she did not understand why they were putting the community at risk.
"To be a good mother is to vaccinate your kids," she told me.